Update Burndown Charts
2015-09-14 10:13:46
azalea
10749
Last edited by Taotao on 2021-01-28 14:48:04
Share links
The data in the Burndown chart should be updated daily in the following ways.
1. Update by the scripts provided (
Recommended
)
1.1 Refer to
8.1.1 Initialize Scripts
to initialize all the scripts.
1.2 Go to
zentao/bin/
to execute
backup.bat
or
backup.sh
.
Execute
computburn.bat
in Windows,
I:\xampp\zentao\bin>computeburn.bat
I:\xampp\zentao\bin>i:\xampp\php\php.exe I:\xampp\zentao\bin\ztcli "http://pms.5upm.com/project-computeburn"
Test project:   2013-04-29    1
Execute
computeburn.sh
in Linux,
z@colinux:/opt/lampp/zentao/bin$ ./computeburn.sh
Test Project:  2013-04-29      0
1.3 Once updated, it can be added to the Cron to be updated every day.
2. Manually update
2.1 Go to
Company
->
Group
, assign privileges to users who can update the Burndown chart.
2.2 Go to Project->Task-> Burndown and you will see the Update button. Click the button to generate the data for the Burndown chart.
3. How to schedule the update
In Windows, use Cron to update regularly. In Linux, crontab. Please refer to relevant documents. It is recommended to execute the cron after work every day, e.g. at 8 or 11 PM every day.
Click Edit and you can change it according to your requirements.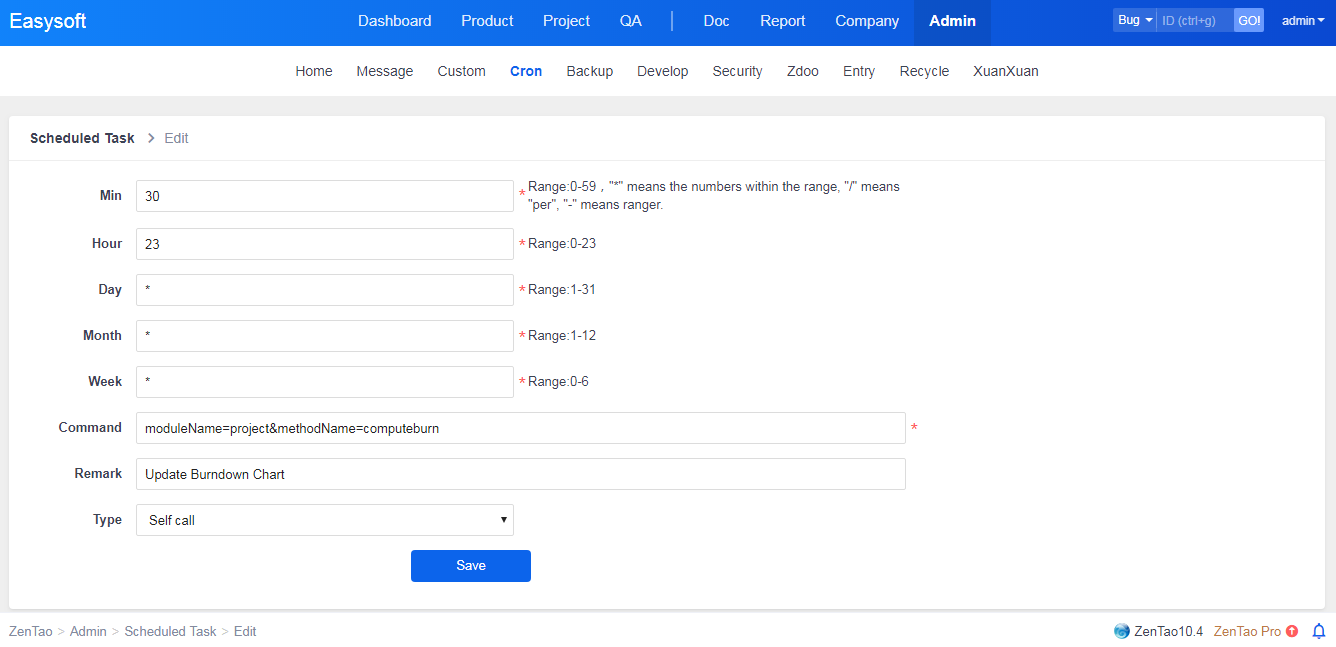 ---
You can also read the following articles on Burndown Chart,