ZenTao ManualBook Info
1

Introduction

2

How to Install ZenTao

3

Upgrade ZenTao

4

Users and Groups

5

Simple Application

6

Basic Application

7

Advanced Application

8

Configuration

9

Custom Development

10

Other Relevant Issues
Basic Workflow
2015-09-10 16:21:23
azalea
2392
Last edited by Renee on 2018-01-08 09:50:23
In the last chapter, we have talked about the simple workflow of ZenTao. You can customize your workflow according to your actual situations. However, we still want you to make full use of all features of ZenTao. So let's look at the basic workflow of ZenTao.
In ZenTao, there are three key roles, product owners, Development teams and QA teams. The three roles cooperate with each other through stories, representing the Tripartite in project management. Product managers gather stories; Development teams perform tasks, and QA teams ensure qualities. Their relations are shown as below,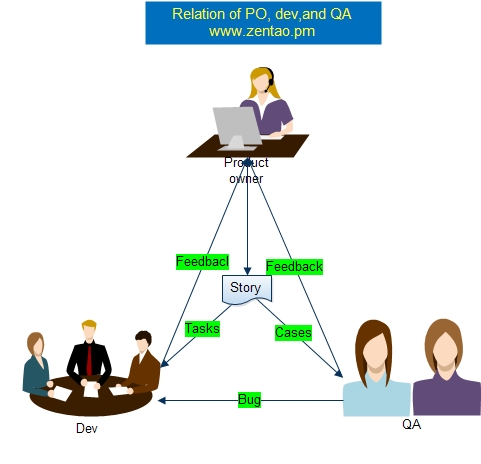 The basic workflow of ZenTao,

Product owners create products;
Product owners create stories;
Project managers create projects;
Project managers identify the stories of projects;
Project managers do task breakdown and assign tasks to team members;
QA teams do test cases and report bugs.
If you have more questions, you could leave a message below by login your ZenTao account, or email us at Renee@cnezsoft.com or Liujun@cnezsoft.com.