ZenTao ManualBook Info
1

Introduction

2

How to Install ZenTao

3

Upgrade ZenTao

4

Users and Groups

5

Simple Application

6

Basic Application

7

Advanced Application

8

Configuration

9

Custom Development

10

Other Relevant Issues
One-click Installation for Windows
2015-09-09 16:14:35
azalea
4166
Last edited by Pedro on 2018-02-09 10:30:55
In order to simplify installation, a one-click installation for Windows has integrated with Xampp, a very famous AMP integrated environment.
1. Installation
1.1
Download
the latest
one-click installation
( .exe file).
1.2
Double click to unzip it to a directory, such as d:\zentao.
1.3 Double click Xampp\start.exe to launch control panel shown below
(If VC is not installed, there will be a prompt asking you to instal VC++.)
1.4 You can config your ports by "Services->Config port",then click 'Start Zentao',wait a moment for start.
2. Change MySQL password
2.1 Once started, a promp will remind you to change the database password. You can use the password suggested or set your own.
2.2 You can later check and change the password by "Password->MySQL setting".
3. Login Zentao

3.1 Determine if enable 'Apache authentication' described in next paragraph.
3.2 Use Super Admin account to login ZenTao (default account is admin and its password is 123456).
3.3 If the password is too weak, ZenTao will remind you to change it.
3.4 If you want to use weak password, login ZenTao as Super Admin and go to Admin->Security to change it.
4. Apache authentication(
Optional

)


4.1 Once started, Apache user authentication is ON by default. Uncheck "Enable Apache authentication", if you want to set it OFF.

4.2 If Apache authentication is on, users have to enter that account and password beforevisiting ZenTao,unless by clicking "Visit Zentao" on control panel. Non-Admin users have to ask for account and password from the Admin.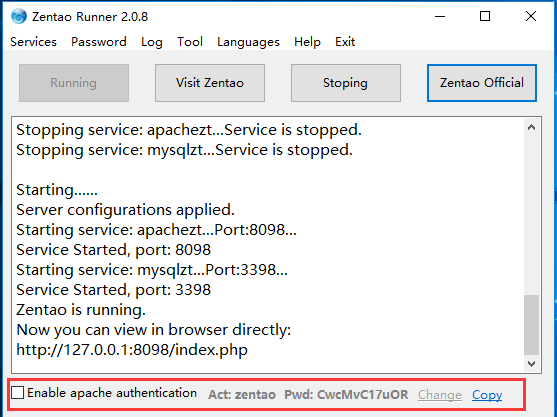 5. Reuse your Apache and Mysql (Optional)
For ZenTao 9.2.stable+, the security of one-click installation package has been improved that PHP parse is forbidden.

If you want to install Zdoo (our opensource OA collaborative product) , Zsite (our opensource CMS product) , Xuanxuan(our opensource IM for self host) or other third-party software, you have to change the file /opt/zbox/etc/apache/httpd.conf

Modify SetHandler text/plain to SetHandler application/x-httpd-php then restart Apache. Welcome to try Zdoo , Zsite and Xuanxuan : )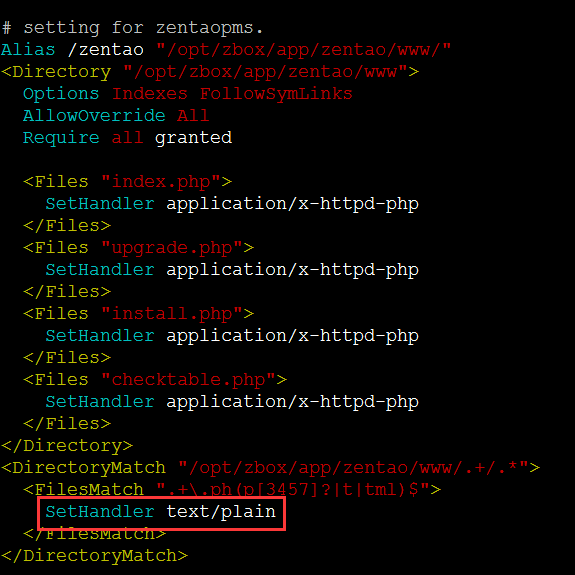 6. Access database(
Optional

)

6.1 It is default setting that database can only be login on ZenTao sever.

6.2 Browse http://127.0.0.1:PORT (Port is required, if it is not 80.), then click "MySQL" on login page to enter "ZenTao Adminer".




Type config in xampp/zentao/config/db.php to access ZenTao database.

Note: your browser may autofill Username and Password, it is not right. Refer to what have been mentioned above and change it.