XAMPP-VM Installation for macOS
2019-04-17 14:06:05
Renee
8221
Last edited by Hongyan on 2021-12-28 08:56:29
Share links
Summary : You can use source code package to install ZenTao in macOS, and configure the Apache+Mysql+PHP runtime environment for it.
You can use the source code package to install ZenTao in macOS and configure the Apache+Mysql+PHP runtime environment for it.
1. ZenTao RTE
Apache + PHP(7.0/7.1/7.2) + MySQL(5.5/5.6)/mariadb is recommended, Nginx is the second-best
The modules of pdo, pdo_mysql, json, filter, openssl, mbstring, zlib, curl, gd, iconv are needed for ZenTao running, please make sure they are uploaded in the PHP environment.
2. Use XAMPP-VM to configure RTE
XAMPP-VM is an Apache distribution that is easy to install and includes MySQL, PHP, and Perl. It contains the installation environment required by Zen Tao and is easy to deploy and use. The difference between XAMPP-VM and XAMPP is that the version of XAMPP-VM is to create a virtual host and run in it.
Download XAMPP-VM HERE.
After you install XAMPP-VM, click Start.
Start all services(Apache+Mysql+ProFTPD).
Go to Volumes and click Mount to load the files.
Open Finder->Shared and load 192.168.64.2 and lampp will show.
3. Install ZenTao
3.1 Download the package from ZenTao official website HERE.
3.2 Unzip the package and get a folder "zentaopms". Save it to lampp\htdocs.
Visit 192.168.64.2/zentaopms/www in your browser and start the installation.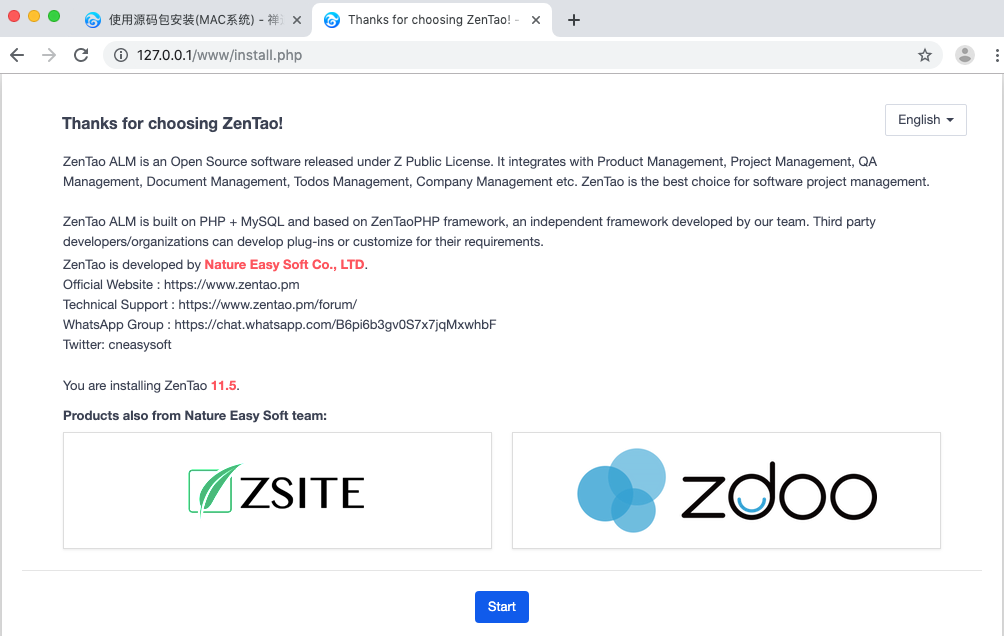 Database configuration.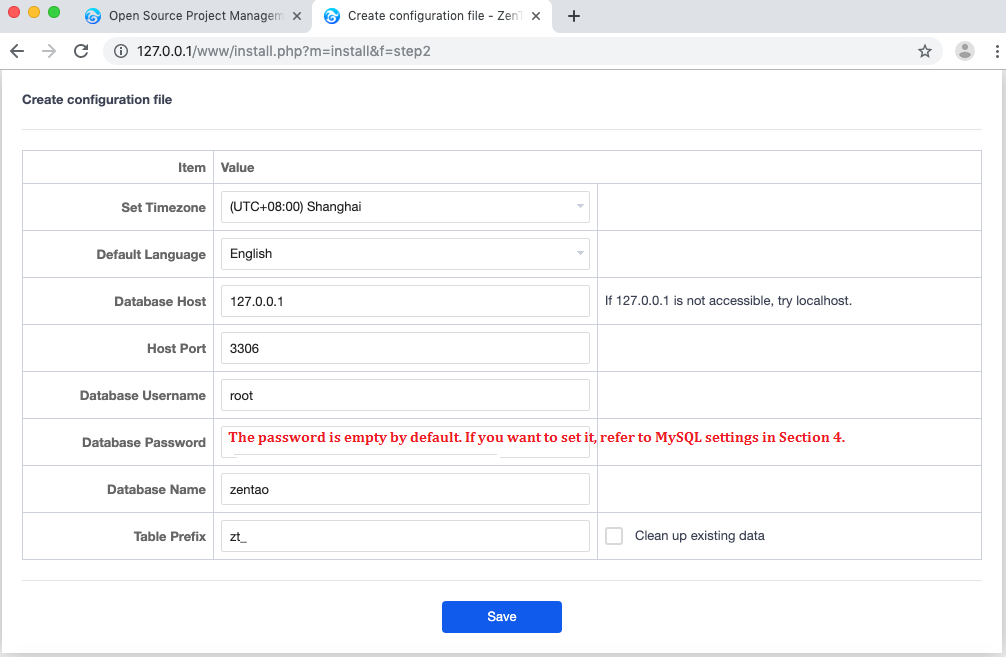 4. Other optional configuration
Set MySQL root.
Start MySQL and change the root password.
set password for root@localhost = password('Password');
If you cannot visit ZenTao after you change the root password, you have to change the configuration of the database. Run as below:
 sudo vim /opt/lampp/htdocs/zentaopms/config/my.php
Enter the root password you want for it and refresh your browser.
To access ZenTao from other computers on the same LAN, you need to turn off the Mac firewall, configure the port mapping of XAMPP, and switch to the Network tab. As the picture shows below (please disregard the Chinese Characters in red), the Local Port 8989 is mapped to the Remote Port 80 and closed the Require Local.
After the configuration, ZenTao can be accessed at LOCAL HOST IP: PORT NUMBER/zentaopms/www. If it is not working, restart the configuration.