1

Introduction

2

Installation

3

Update

4

Users and Groups

5

Quick Start

6

Basic Application

7

Advanced Application

8

Configuration

9

Customization

10

MIsc
Email Notification
2015-09-14 11:25:16
azalea
5113
Last edited by Renee on 2019-03-15 09:13:58
Email notifications can be sent via ZenTao, if there is any change to stories, tasks, and bugs, etc. You can set triggers for email notification in Admin->Message->Email->Setting, if you use ZenTao 9.8+.
Notifications on changes that can be sent by email including:
Bug: Send to Assignee and Mailto, if Add, Edit, Assign, Confirm, Resolve, Activate, Close, or Import.

Story: Send to Assignee and

Mailto

, if Add, Edit, Change, Activate, Review, Close, change Plan/Branch/Stage, or Assign.

Task: Send to AssignTo and

Mailto

, if Add, Edit, Assign, Start, Finish, Activate, Close, Cancel, or Restart.

Build: Send to Owner and

Mailto

, if Create or Edit.

Send to all member involved in the project, if any changes to Story which has been linked to the Project.
Send to QD(QA manager), if a Build is submitted for QA.




Configure your email following the steps below.




1. Log in ZenTao as an administrator.


2. Click "Admin" ->"Message"->"Mail" to set up.
3. Enter your email address and click Next.

4. Enter the Sender name and click "Save".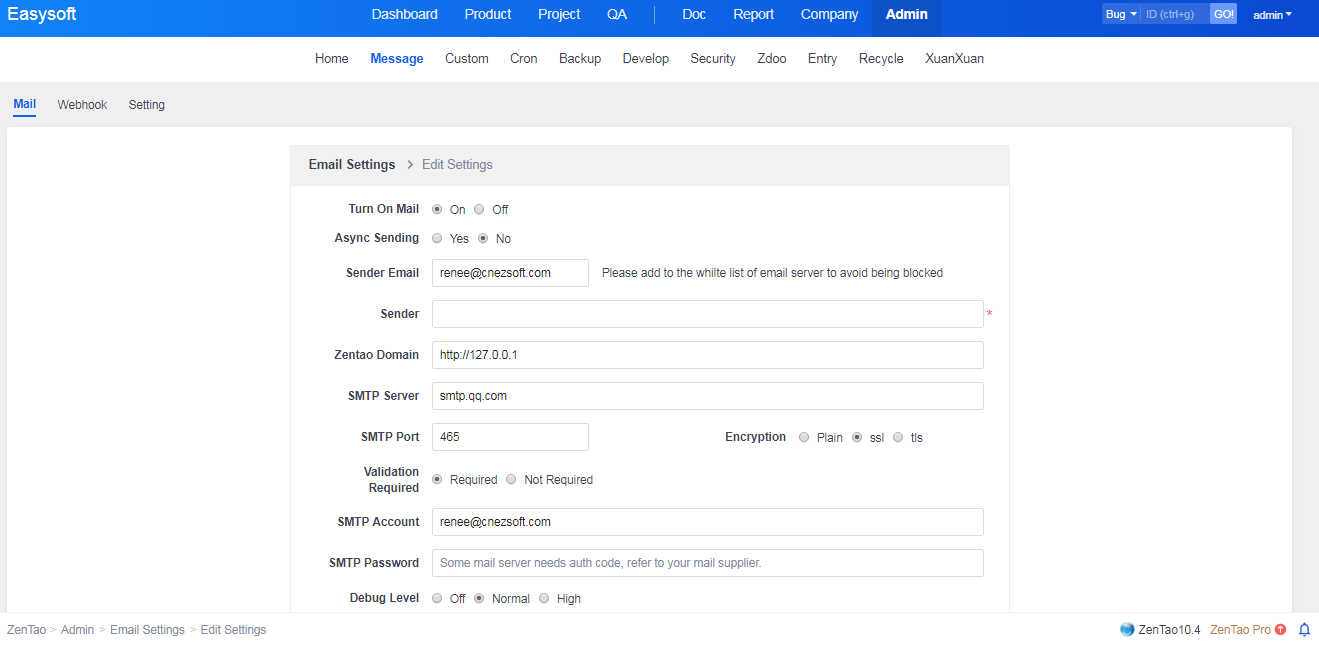 Notes
Async means that emails will be sent in 5 minutes. You can config the delay in 'Admin/Cron' ( editing the 'Min' of 'Async sending Message' to '*' ). If the email does not work, shut down the 'cron', restart your HTTP server , then Restart the 'cron'.
ZenTao will NOT send emails to the one who changes the story/bug/.etc, because s/he knows the change.


If you use the third-party email service, you have to turn on SMTP in the configuration of the Email service provider.

If the email data is not received, check whether the email service providers have restrictions on sending frequencies or other

issues

such as security.

If it cannot connect to SMTP server, usually it is because ZenTao server cannot connect to the SMTP server. Then you have to check whether the domain can be analyzed, whether the port number is right or whether the firewall has blocked the connection.
Contact Us

Email : Philip@easysoft.ltd
WhatsApp : 0086 18563953295
Skype : philip517