Edit Privilege
2022-01-27 14:56:44
Hongyan
1712
Last edited by philip on 2022-01-27 14:57:14
Share links
Edit Privilege

Under "Admin" - "member" - "Privilege", set permissions according to privilege groups through different operation buttons. The buttons in the operation section are in order

Manage sight: Set the view that this group can view and access.
Manage privileges by group: Set all permissions involved in Zen Tao, such as specific actions that group members can operate.
Manage members: Edit group members.
Edit Group: Edit the name and description of the group.
Copy Group: Copy the permissions and users of a group, which can be used to quickly create groups with similar permissions.
Delete group: delete group.


1. Manage Sight
Click the Field Manage Sight button for a group, such as "QA".

1.1. Accessible Views
"Sight" refers to the view in the Zen Tao, that is, the part that can be seen. The default here is to see all views.

If you do not select a view in "Accessible Views", such as "Products", members belonging to the "QA" permission group cannot access any products, and "Products" will disappear. When members of the "QA" permission group log in to ZenTao, the product view will also disappear from the left navigation bar.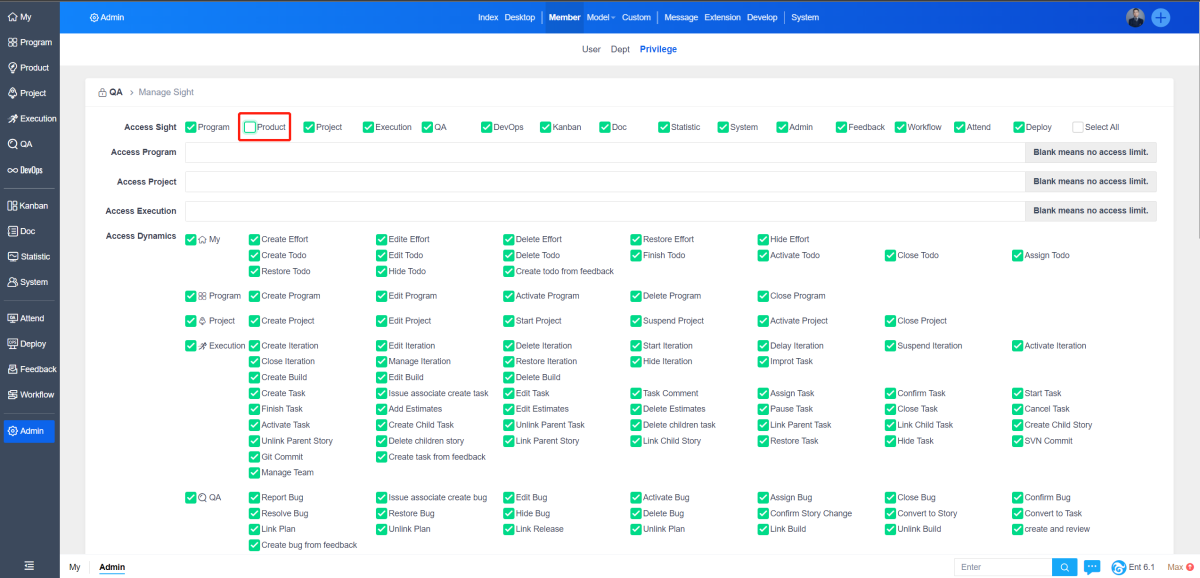 At the same time, when setting the access rights of a "program" and "project", also pay attention to whether the member has access permission.
1.2.Access to programs, products and projects
In "Accessible Products", select "ZenTao biz", then members of this group can only access this product, and other products cannot be seen . If no product is selected, it means that all products are accessible.

The settings for "Accessible Project" and "Accessible program" follow the same rules.

Note:

When "null means no access restrictions", it is controlled according to the access permission set by the product, program and project.
2. Manage privileges
In "Adimin" - "Member" - "Privilege", click "Manage privileges by group".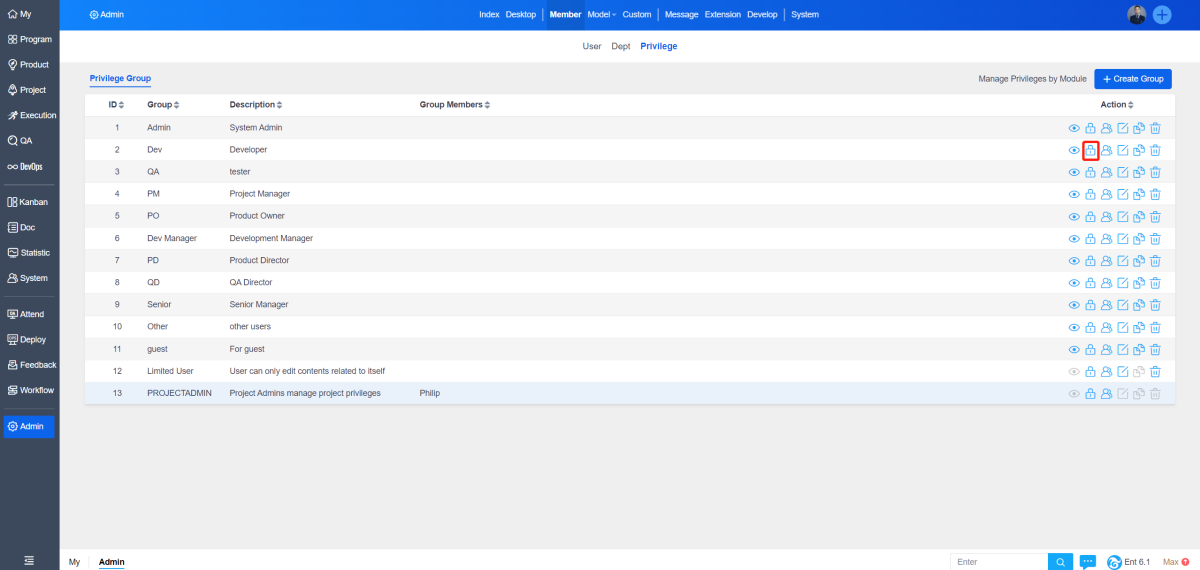 On the "Permission edit" page, you can set very detailed permission settings for Zendao's modules and methods. For example, if the "Add todo" of the "dev" permission group is checked, then the members of this group will not be able to add todo when they login to ZenTao.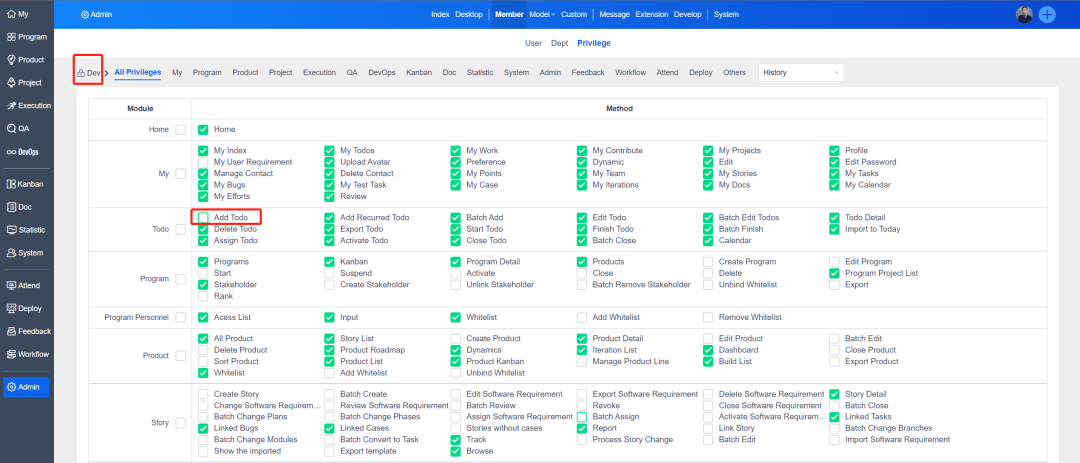 You can also filter modules through different tags, and set permissions under a module.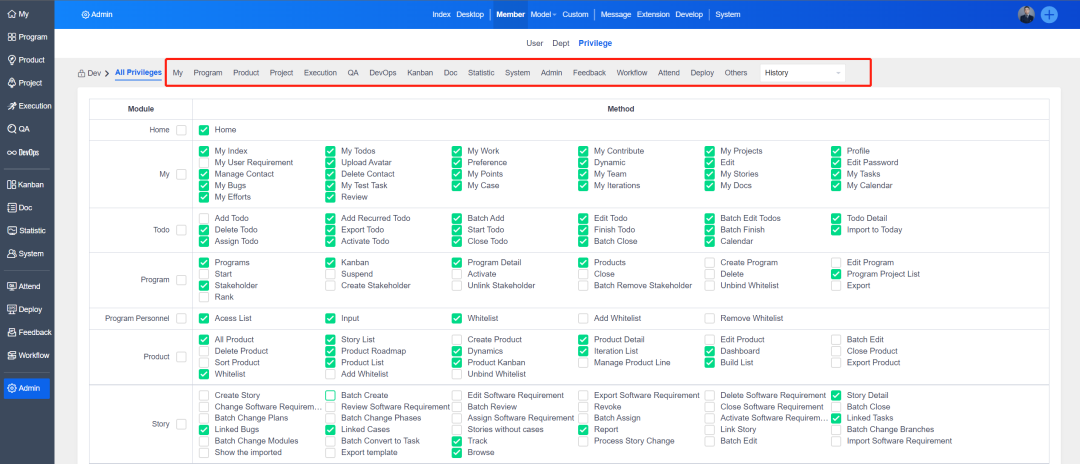 3. Permission description
3.1. Restricted users
In the permission group, there is a permission group of "Limited User".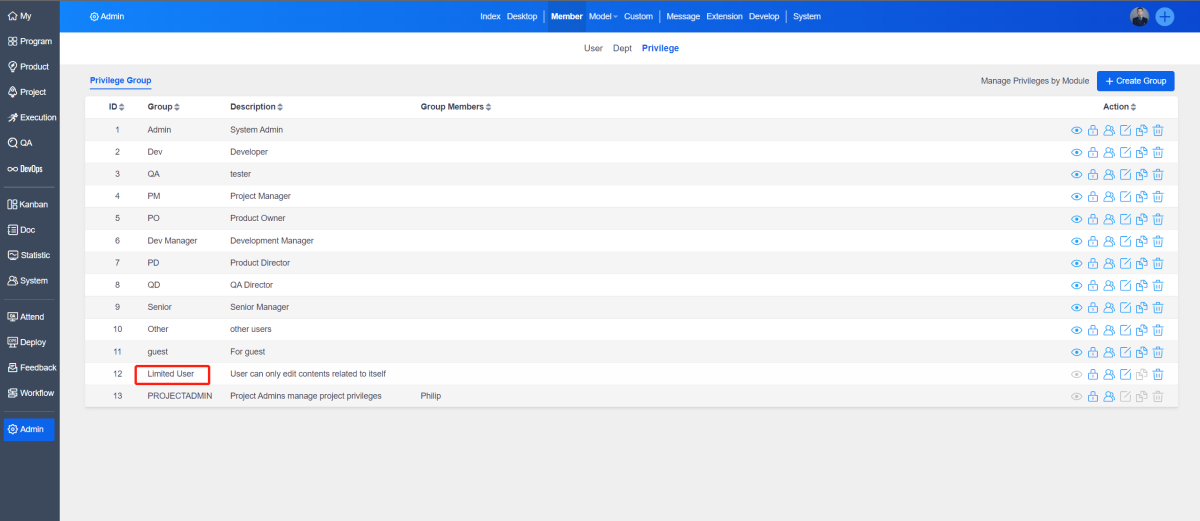 Note:
Users belonging to this group can only edit requirements, tasks, bugs, etc. related to themselves in ZenTao, but cannot add new requirements, tasks, bugs, etc.
Content related to
themselves
, including Assigned To, Completed, Cancelled, Closed, Last Edited, excluding CC.
If the user was not a restricted user before, it is now a restricted user. The requirements, tasks, bugs, etc created before he still has relevant operation permissions.
The permission grouping of "restricted users" is suitable for the permission settings of new employees of the company, so as to avoid misoperation caused by their unfamiliarity with the company's business.
Admin--member--Privilege-- Restricted user grouping, the limited operations set are limited to the use of the entire Zen Tao system.
In Project--Team--Team Management, the limited user set is limited to a certain project, and other projects are not affected.
In Project--Iteration/Phase--Team--Team Management, the limited users set are limited operations only for a certain iteration/phase, and other iterations/phases are not affected.
2. Permissions for products, programs, and projects

Product Access Control

Public (with product view permissions, you can access)
Private (accessible to product stakeholders, stakeholders of owning programs, team members and stakeholders of associated projects)
Access whitelist
Top level program access control
Public (with program view permission, you can access)
Private (accessible to program leaders and stakeholders)
Subprogram Access Control
All public (you can access it if you have program view permissions)
Open within the program (all superior program leaders and stakeholders, this program leader and stakeholders can access)
Private (accessible to this program owner and stakeholders)
Independent project
Permission Control:

Inheritance (take the union of project permissions and organization permissions)
Redefine (only take project permissions)
Access control:

Public (with project view permissions, you can access)
Private (accessible to project team members and stakeholders)
Program to which the program belongs
Permission Control:

Inheritance (take the union of project permissions and organization permissions)
Redefine (only take project permissions)
Access control:

All public (with project view permissions, you can access)
Open within the program (all superior program leaders and stakeholders, the project team members and stakeholders can access)
Private (accessible to project team members and stakeholders)