1.

A Brief Overview of ZenTao

2.

Best Practices Comparison: ZenTao VS Jira

3.

Use cases Comparison: ZenTao VS Jira

4.

Get started with ZenTao

5.

Import Jira Data to ZenTao Tutorial

6.

Reference: Glossary of items in ZenTao VS Jira
For Product Management teams
2022-08-04 14:33:25
WANG JING
714
Last edited by Yujia Li on 2022-11-14 10:35:18
Share links
Summary : Introduce the concept of product in ZenTao, and how to set up the product management workflow in ZenTao or Jira.
There is no concept of product in jira.
A great Product Manager innovates and motivates more than they make plans or resource management. A Jira-based product manager is no exception to that rule: a simple roadmap and cross-team dependency board are tools to go with.
If a Product Manager finds him-/herself in Atlassian/Jira environment, how they set it up for the Product Management workflow? Typically, you'll use a plugin with the three below tools:
1. Roadmap
For agile Product Management, it could be the Roadmap. For a hybrid or waterfall project manager, it could be the Gantt chart. The two tools blend into each other. You use the roadmap to align your teams and internal stakeholders. Sometimes a Product Manager maintains another roadmap for the customers (public roadmap).
2. Product Requirements
Product Requirements Document could be as simple as a text document attached to a Jira ticket. Or, perhaps, a set of Jira tickets, with a detailed description of each feature or story, could constitute the PRD. All these tickets would have priorities set, they could also link to Confluence pages, and they would collectively make the backlog.
3. Board with the backlog
For a simple product, it could be a regular Kanban board available in Jira. For a complex product, however, it would typically be a Program board with iterations, Program Increments, and cross-team dependencies.
In ZenTao
Product is one of the important concepts of ZenTao. Product is related to program, project, execution, etc. It can be said that all activities revolve around the product. In "Product" - "Dashboard", you can view statistics about products and related requirements in the system. On the "Product" - "Product List" page, you can view its related products by program or item. You can also add products, edit product lines, or export product lists.
Product Kanban to view products, product plans, and projects, executions, and releases under a product. The operation process is: create product - maintain product line - create plan - Input research and development requirements - requirements review - link requirements to plan - development - create release.
3.1 Product dashboard
Under the product module, the dashboard displays an overview of all products in the ZenTao system, including product development needs, plans, and the number of releases.
3.2 Product Kanban
The product owner can use the product kanban to track the plan, progress, release and related projects and execution of the product kanban.
When viewing a list of product plans, you can switch to Kanban view mode to view the plans.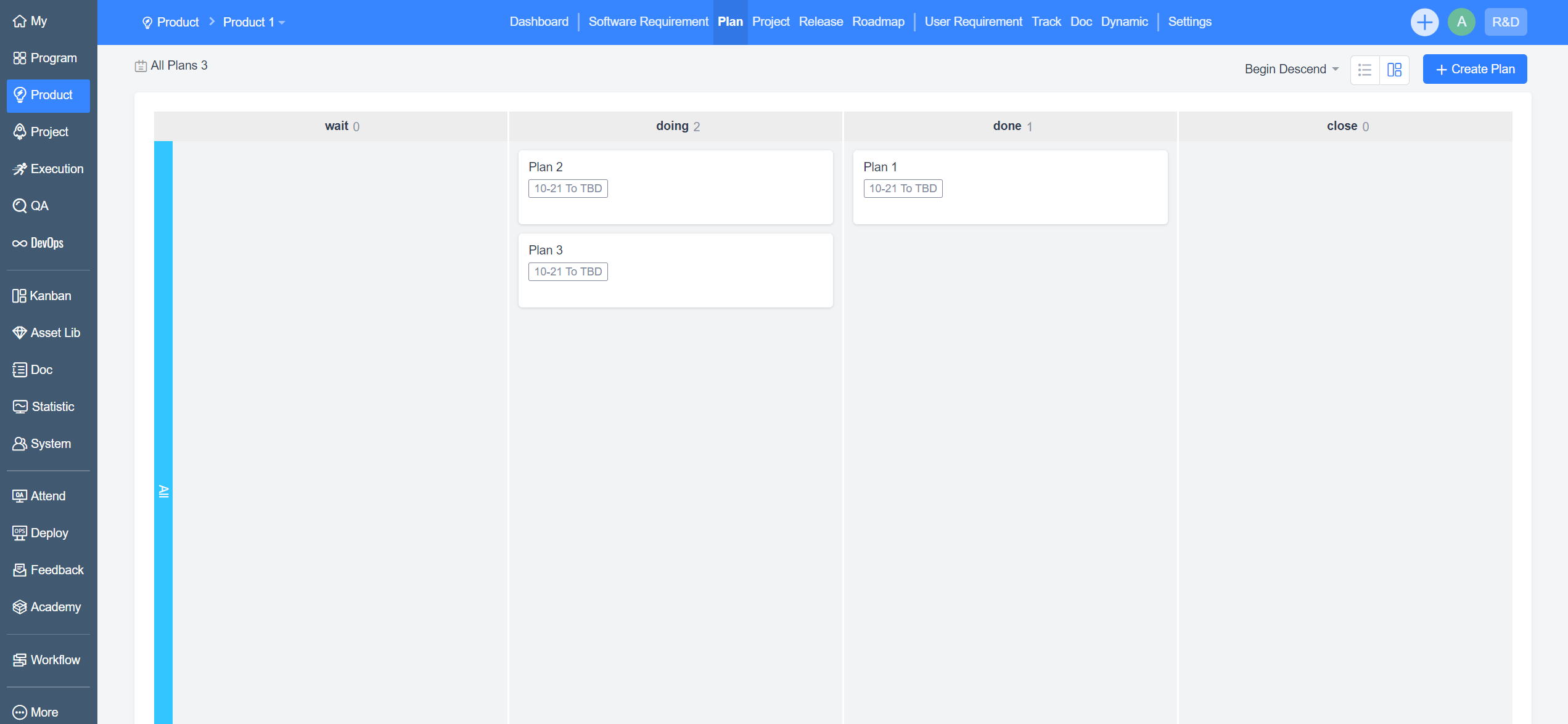 The roadmap shows released versions and unexpired plans.

3.3 Matrix
In "Product" - "Matrix", you can view R&D requirements and their related tasks, use cases, and bugs.