1.

A Brief Overview of ZenTao

2.

Best Practices Comparison: ZenTao VS Jira

3.

Use cases Comparison: ZenTao VS Jira

4.

Get started with ZenTao

5.

Import Jira Data to ZenTao Tutorial

6.

Reference: Glossary of items in ZenTao VS Jira
Best practices of Users and Roles in ZenTao vs Jira
2022-08-04 14:24:46
WANG JING
842
Last edited by Yujia Li on 2022-11-09 10:16:09
Share links
Summary : Introduce how to add new users and how to manage project roles, permissions, as well as admins in ZenTao and Jira.
1. How to add new users?
1.1 In ZenTao
The first thing that the super administrator needs to do after installing ZenTao is to set departments and add users.
Add new users -- Administrators could add new users in "Admin"-"Member"-"User". It's also supported to batch add users in ZenTao. Besides, there are options for external users and internal users, and you can set the interface types to the selected user.
Add new department -- Administrators could add new departments in "Admin"-"Member"-"Department". It is possible to divide the organization into unlimited levels.
1.2 In Jira
There are two options to create a new user in Jira. You could create a user manually in "Administration"-"User Management", or may you prefer to send an email with the invitation to join Jira to the target users.
Go to "Administration"-"User Management"-"Create User" and fill in the detailed information, and then click the button "Add User" to confirm.
Go to "User Management"-"User" and click the button "Invite Users". Next, enter the email address(es) of the users that you want to invite, and then click the button "Send". The users are created after they accept the invitation.
2. Project roles management
2.1 In ZenTao
There are various roles in ZenTao such as leader/PMO, product owner, Scrum Master, Dev team, QA team, etc, and different roles take different responsibilities and follow different using procedures. And you can customize the roles in ZenTao.
In a specific project, you can edit team members and set their roles in "Project"-"Settings"-"Team".
In a specific execution, you can edit team members and set their roles in "Execution"-"Settings"-"Team".
2.2 In Jira
When you install Jira applications, the Administrators role is automatically created, along with project roles specific to each application. You can create, edit, and delete project roles according to your organization's requirements.
First of all, project roles are defined by Jira administrators, that is, all projects have the same projects roles available to them. Project administrators assign members to project roles specifically for their project(s). (A project administrator is someone who has the project-specific 'Administer Project' permission, but not necessarily the global 'Jira Administrator' permission).
To view project roles: Go to "Settings"-"System"-"Security"-"Project Roles", the Project Role Browser displays, which contains a list of all the project roles in your Jira site. To see where a project role is used, click the View Usage link. Then, click any of the View links in the Project Role Members Per Project column to see which users/groups are associated with a project role for a particular project.
To define a new project role: Go to "Settings"-"System"-"Security"-"Project Roles"-"Add Project Role", then enter your desired role's name and description. Next, click the button "Add Project Role".
To add members to the role: Click on Manage Default Members in the Actions column for your newly created project role. Then, Click Edit under Default Users or Default Groups. Next, enter group names in the Add user(s) to project role field. Or, select the user picker icon to add individual users. Finally, click the Add button.
3. Permissions management
3.1 In ZenTao
Permission (Privilege) Management - User permissions in ZenTao are assigned through privilege groups. Administrators can assign permissions according to privilege groups in "Admin"-"Member"-"Privilege". ZenTao provides a variety of privilege groups built-in, which can be adjusted according to the actual using situation. The permissions in ZenTao include 2 parts: view permission (view and access) and action permission (specific actions and other all the permission involved in ZenTao).
Assign permissions of team members in a particular project - Go to "Project"-"Settings"-"Privilege" to set. Be noted that the permissions are only valid for the current project.
3.2 In Jira
There are three types of permissions in Jira applications, and they are global permissions, project permissions, and issue security permissions.
Global permissions - These apply to applications as a whole, not individual projects.
Project permissions - Managing project permissions; permissions for company managed projects; permissions for team managed projects.
Issue security permissions - Configuring issue-level security.
Referring to how the permissions get assigned to users, please check the picture below: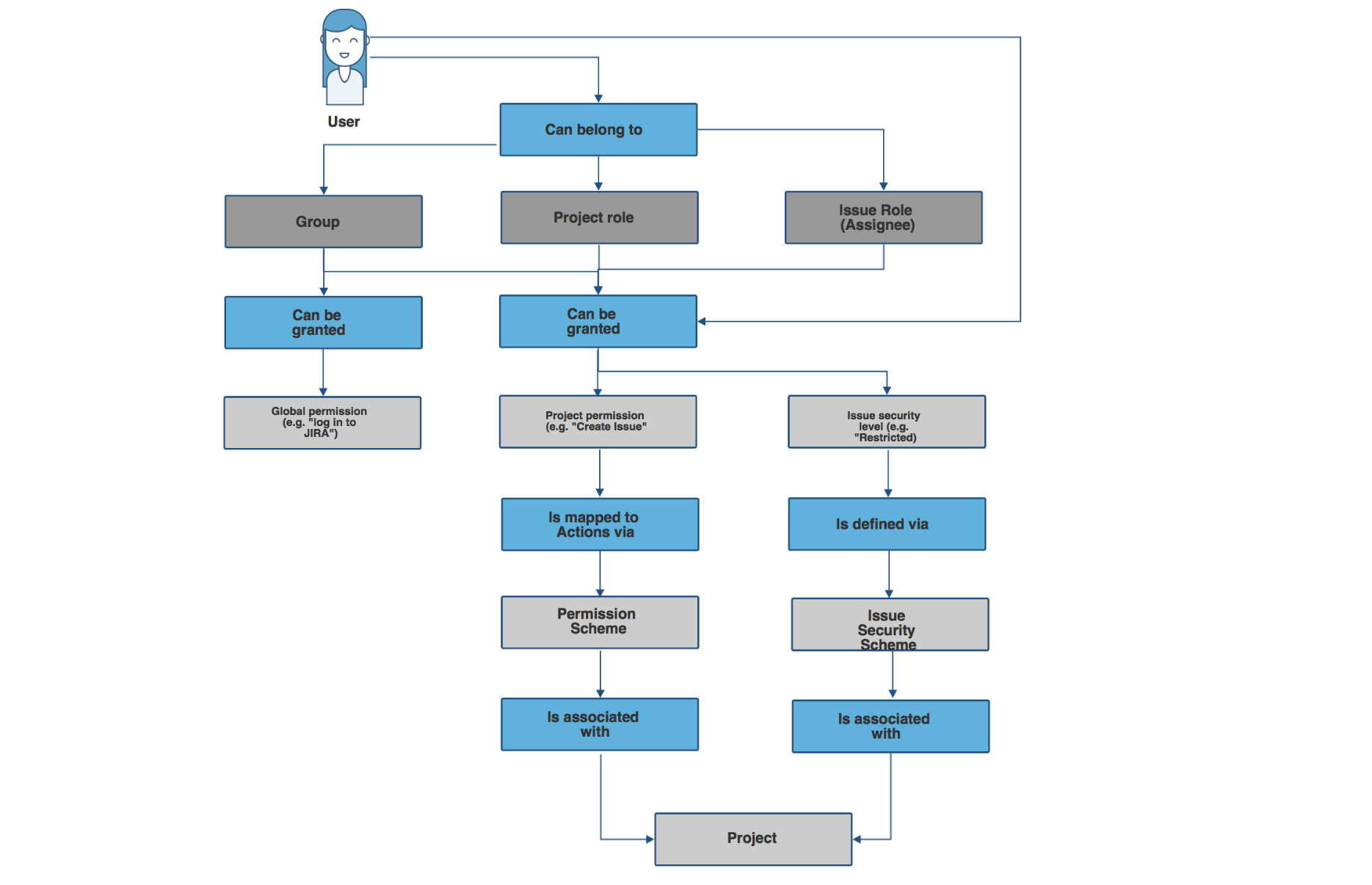 Image Source: Atlassian
Referring to who has the rights to set permissions, please check the chart below:

Image Source: Atlassian
4. Admins management
4.1 In ZenTao
There are three types of administrators in ZenTao:
Super administrator: The user with id=001 in "Admin"-"Member"-"User" is the super administrator. All the operations of the super administrator are not controlled by permissions.
System administrator: The administrator of ZenTao system, has all the permissions in the privilege list.
Project administrator: The permissions of the project administrator are assigned to the project owner automatically.
ZenTao provides built-in groups of administrator permissions, where you can check the details in "Admin"-"Member"-"Privilege", and the members in this group are the administrators.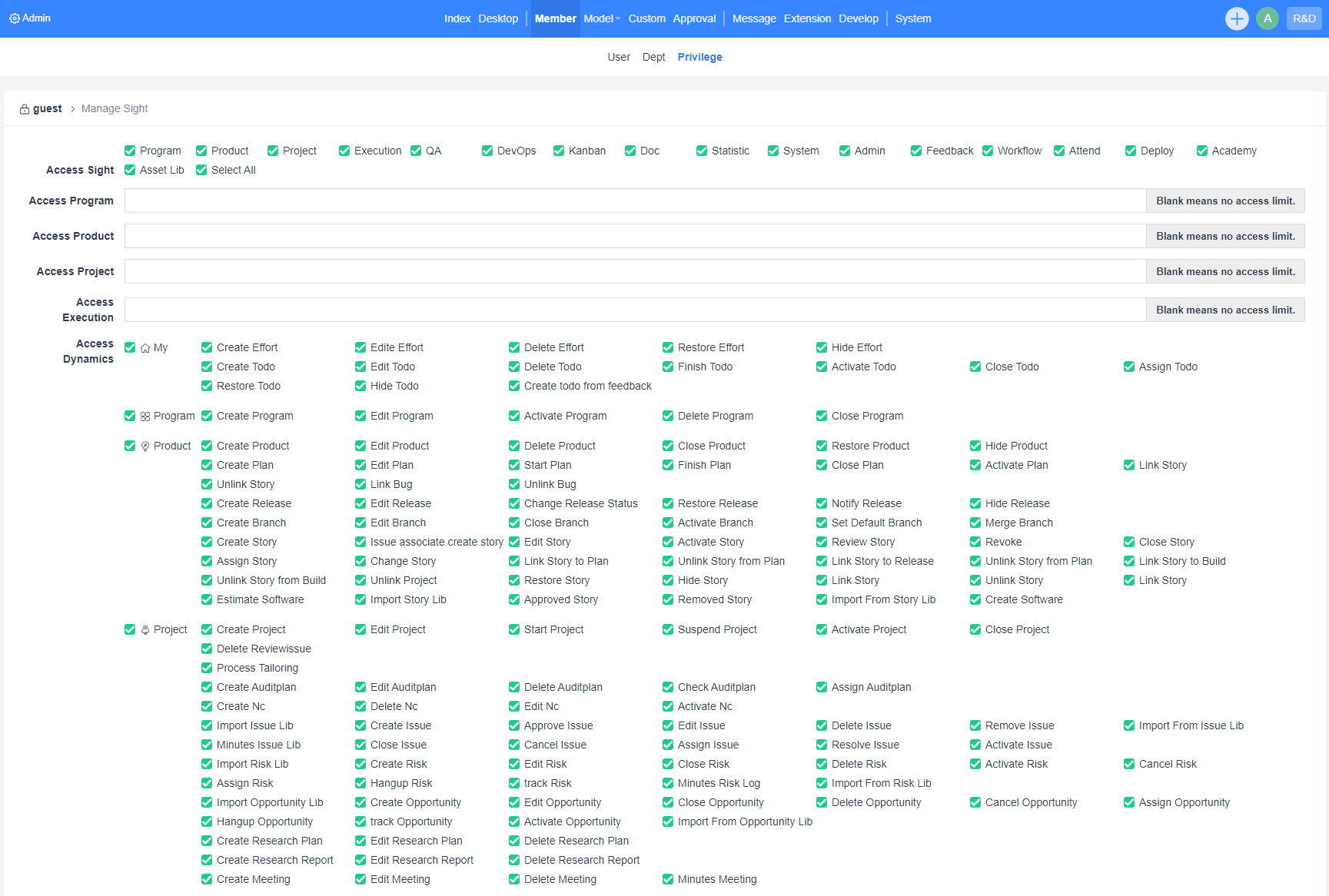 4.2 In Jira
As a Jira administrator, you have the power to set up projects and processes to suit the needs of your teams. You can control who has access to your Jira products and give them the right permissions to perform their roles, configure and manage projects to track team progress, create and manage issue workflows and issue workflow schemes, etc.
Referring to administering Jira, you can:
Create and administer projects, issue types, fields, workflows, and schemes for all projects. Users with this permission can perform most administration tasks, except managing users, importing and exporting data, and editing system email settings.
Users with the Administer Jira permission can log in at any time but may be restricted depending on their application access.
Site admins can grant this permission in user management.