1.

A Brief Overview of ZenTao

2.

Best Practices Comparison: ZenTao VS Jira

3.

Use cases Comparison: ZenTao VS Jira

4.

Get started with ZenTao

5.

Import Jira Data to ZenTao Tutorial

6.

Reference: Glossary of items in ZenTao VS Jira
Best practices of Project in ZenTao vs Jira
2022-11-08 11:16:15
WANG JING
908
Last edited by Yujia Li on 2022-11-08 11:33:50
Share links
Summary : A brief introduction about best practices of the project in Jira and Zentao.
1. Best practices of Project in Jira
Project management helps teams organize and prioritize tasks to better achieve business goals. JIRA project can be called as a collection of issues, and can be of several types.
At a base level, a JIRA project is a grouping of work items or, in JIRA terms, "issues" that are held in common. If JIRA issues are a variety of different colored, shaped, and purposed LEGO pieces, projects is a box that hold them. Each issue contained within it will share a common key. So, for project "Lego Castle," issues will be itemized as, LC-1, LC-2, LC-3, and so on.
There is no "right way" to organize Jira projects, but there are some best practices.
Jira delivers a comprehensive suite of project management tools. Features are available for every project stage, from project creation to execution and completion. These five steps summarize Jira's key capabilities along the project life cycle.
Step 1: Project configuration
Choose a Jira template to set up your project. Templates are a quick way to configure your project based on the processes used at your organization.
Step 2: Project plan
Every project requires planning. Jira offers the ability to sketch out a project plan for a time-based project, or a roadmap for ongoing, iterative projects such as software development.
Step 3: Team set up
With a plan in hand, it's time to parse out work to initiate project execution. Before you can do that, every project teammate must be set up in Jira. Not all project team members need equal Jira access. You can set permissions so that some individuals cannot view specific tasks. Some use Jira only to track work and complete tasks, while the Jira administrator configures Jira's settings, connections to third-party apps, and other functions that require unlimited access.
Step 4: Tracking
Jira offers several tools to track project progress. Time-tracking capabilities enable you to track the time each task takes. If Jira's default time tracking features don't meet your needs, Atlassian Marketplace also supplies the third-party options. However, it should be noted that these third-party plugins are not free and you should pay for them additionally.
Step 5: Project completion
Once a project reaches its goals and all tasks are completed, it's time to wrap up the project. Jira offers two approaches. You can use its built-in archive function to close out a project and remove it from active use within the system.
Archiving a project means it's no longer available to edit or to view except in Jira's archived projects section. You can also shut down permissions to a project so it's read-only, preventing users from adding new tasks to a closed project while still enabling you to search for and view items in the project.
2. Best practices of Project in ZenTao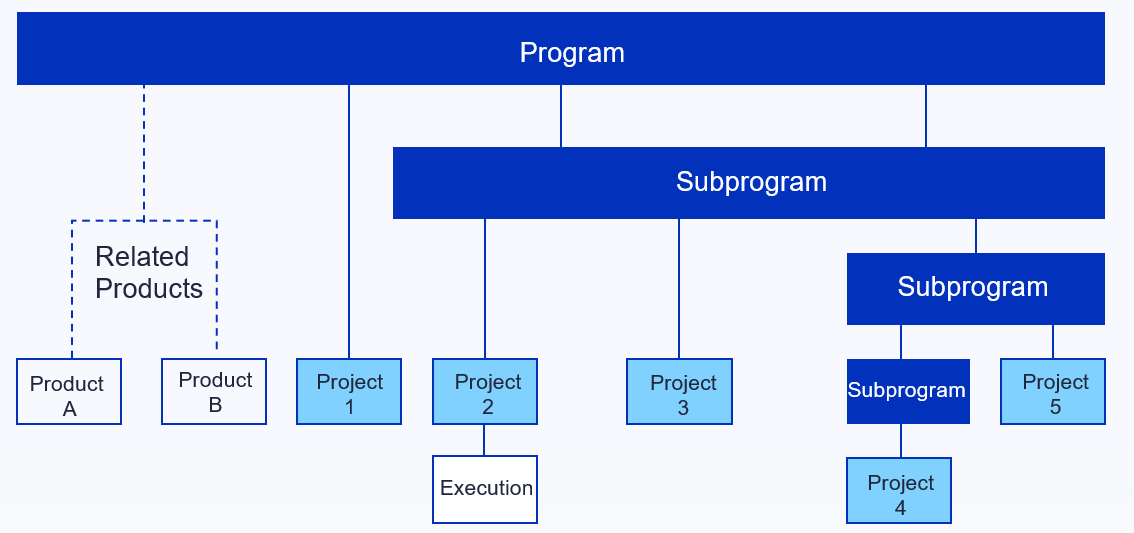 The concepts of program, product, project are used in ZenTao.
A program is a collection of interlinked projects managed at the highest level and belongs to the strategic level concept. Programs provide multi-level project management, helping leaders set strategic direction and allocate resources from a macro perspective. It also supports hierarchical authorization, where the programs, subprograms, and projects can be separated from each other through permissions.
In common terms, a project is the completion of something by some people within a certain period of time. Project management, on the other hand, is the process management of how to accomplish these things more quickly and with less effort. After planning the program and product at the company's strategic level, the strategy is implemented through projects.

In ZenTao, a project is a business-level concept that refers to the completion of various tasks of a project within the specified time, budget, and quality objectives. After the project is launched, the three project management models, Agile (Scrum), Waterfall or Kanban, can be integrated for process management according to the actual needs of project management.

ZenTao project management software provides life cycle project management solutions, designed based on agile and CMMI management concepts and completely covers the core project management process.
Here is an overview of agile project management process in ZenTao.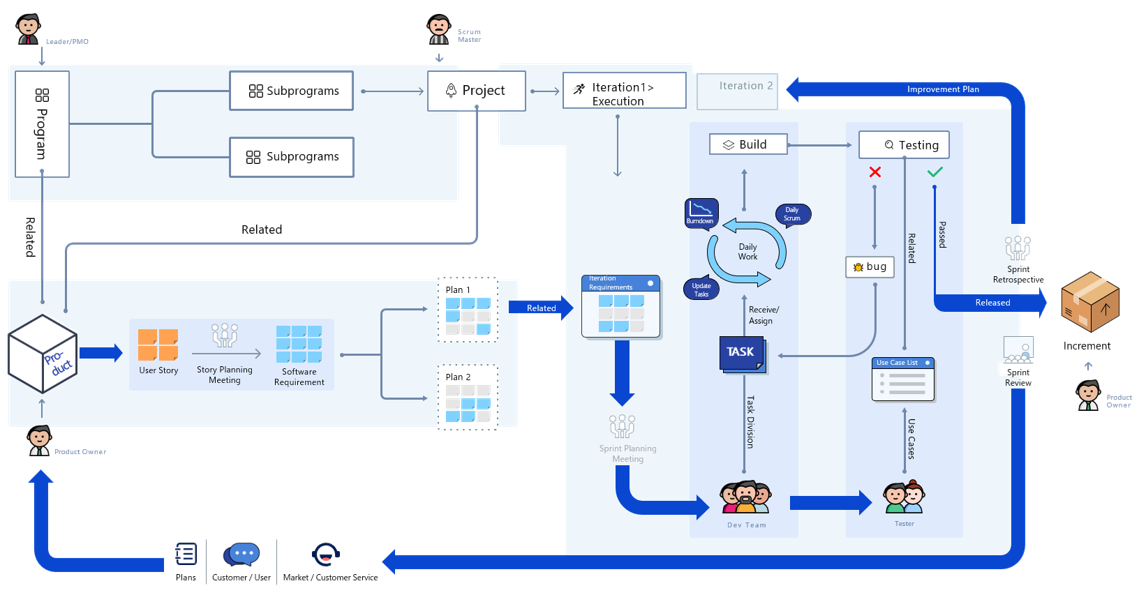 Overview of Waterfall Project Management Process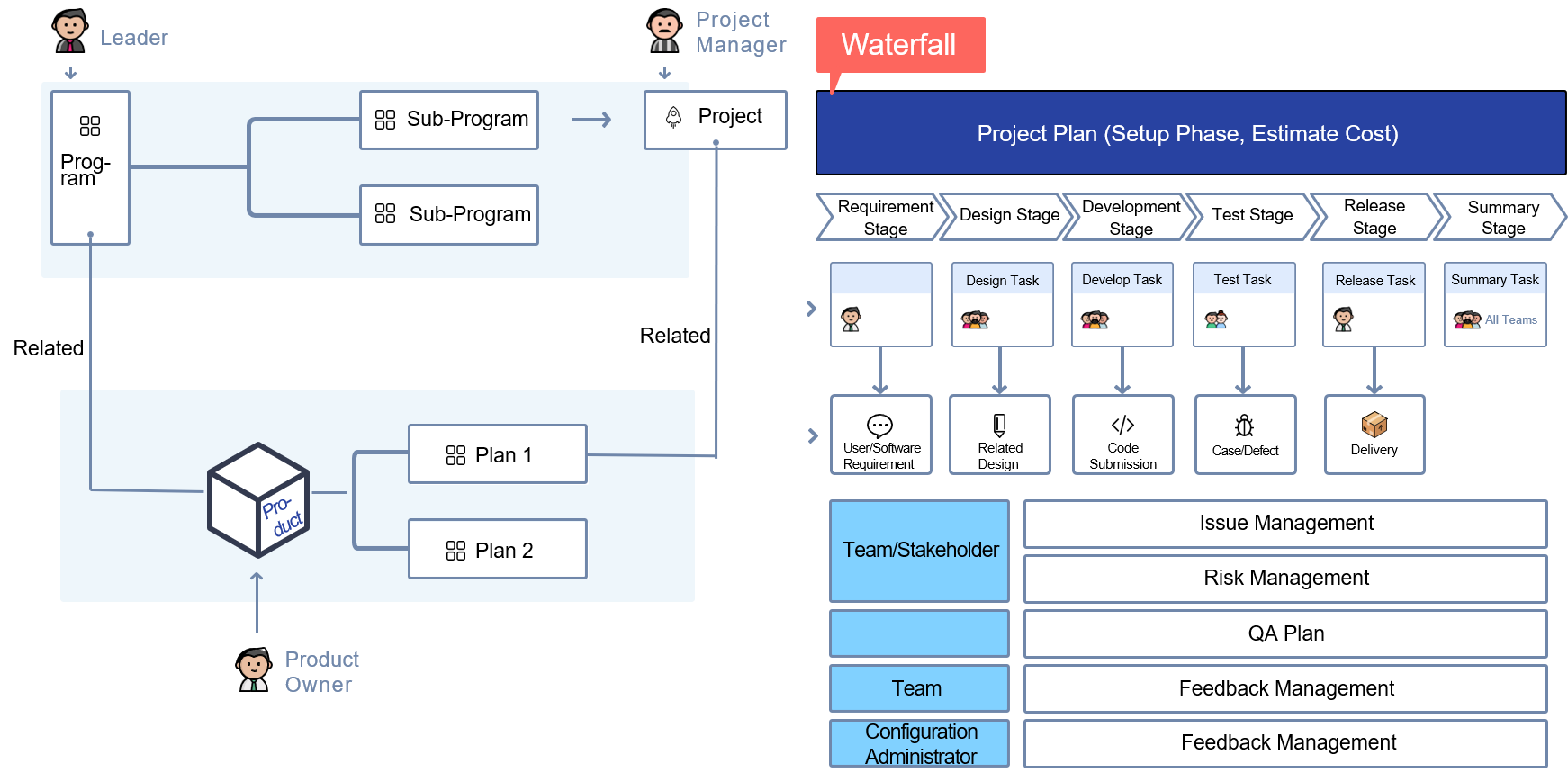 Overview of Kanban Project Management Process