1.

A Brief Overview of ZenTao

2.

Best Practices Comparison: ZenTao VS Jira

3.

Use cases Comparison: ZenTao VS Jira

4.

Get started with ZenTao

5.

Import Jira Data to ZenTao Tutorial

6.

Reference: Glossary of items in ZenTao VS Jira
Best practices of Dashboards in ZenTao vs Jira
2022-08-04 14:25:38
WANG JING
696
Last edited by Yujia Li on 2022-11-09 14:26:44
Share links
Summary : Introduce how to work with dashboards, how to create more efficient dashboards with gadgets, and how to create a beautiful agile dashboard in ZenTao and Jira.
1. Working with dashboards in ZenTao and Jira
The dashboard is the main display you see when you log in the software. Both Jira and ZenTao can help you create multiple dashboards from different projects, or multiple dashboards for one massive overview of all the work you're involved with.
1.1 In Jira
You can create a personal dashboard and add gadgets to keep track of assignments and issues you're working on. Dashboards are designed to display gadgets that help you organize your projects, assignments, and achievements in different charts.
The gadgets on the default dashboard can be reordered and switched between the left and right columns.
All changes made to the default dashboard will also change the dashboards of all users currently using the default dashboard.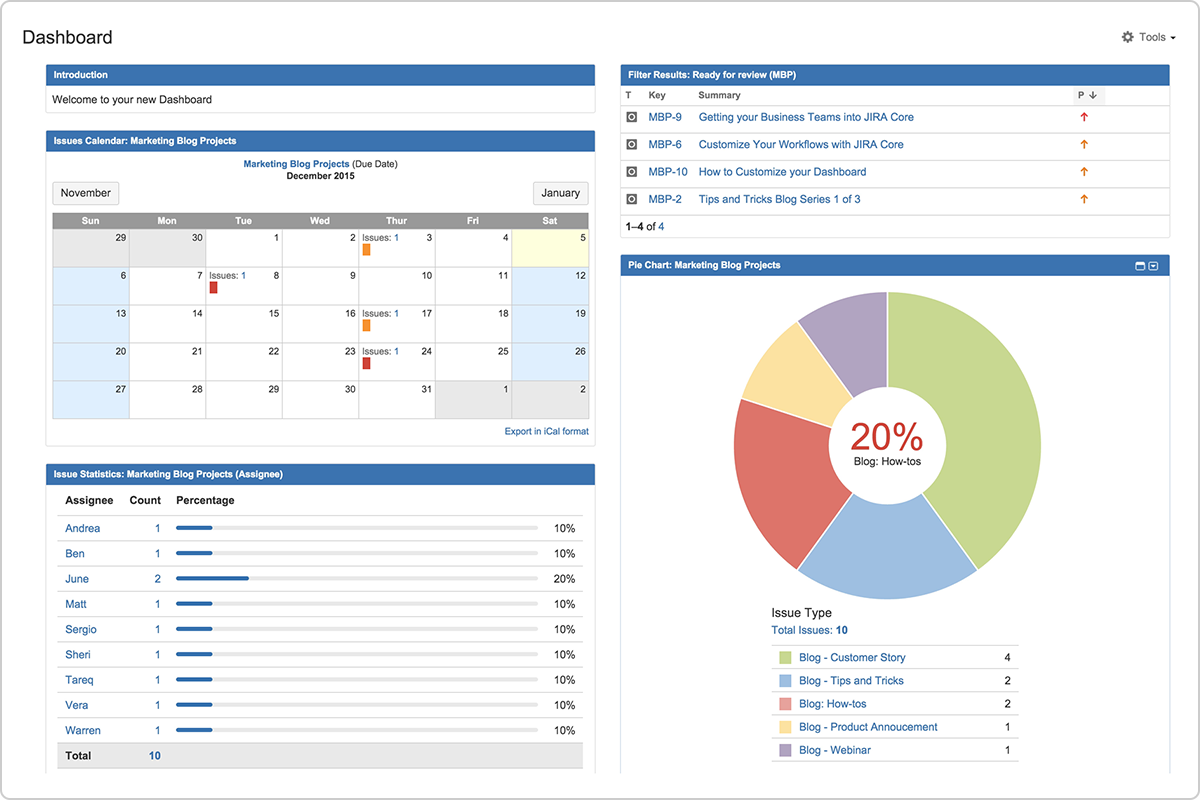 Image Source: Jira Core dashboard: your project status at a glance
1.2 In ZenTao
My dashboard of ZenTao is relatively fixed and comprehensive, so that users can find the corresponding function buttons. You don't have to spend time studying the adjustment of interface style, but just concentrate on doing substantive work. But this is not to say that the interface of ZenTao is rigid. In ZenTao, you can set different display contents according to different permission groups. Each group of users log in to Zen and see different contents.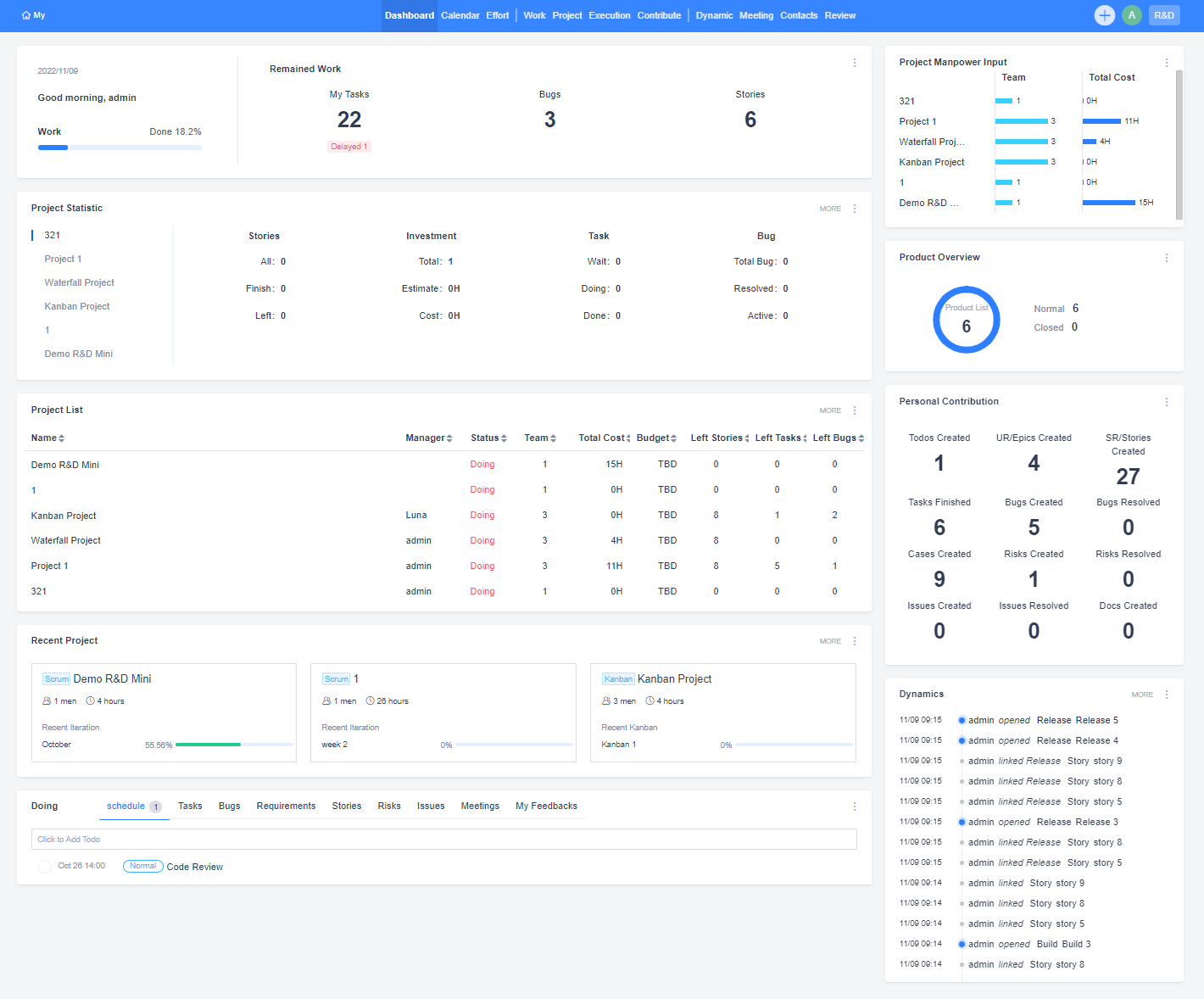 2. How to create more efficient dashboards with gadgets?
2.1 In Jira
Gadgets are used in Jira to display summaries of project and issue data on the dashboard. Users can customize gadgets to display project and issue details.
2.2 In ZenTao
Block are using in ZenTao.You can add, hide and permanently close existing blocks on the page of my dashboard.
Blocks that can be added includeing: project, product, execution, test, todos, assign to me, dynamic, flowchart, welcome, HTML, personal contribution, etc. The position can also be moved.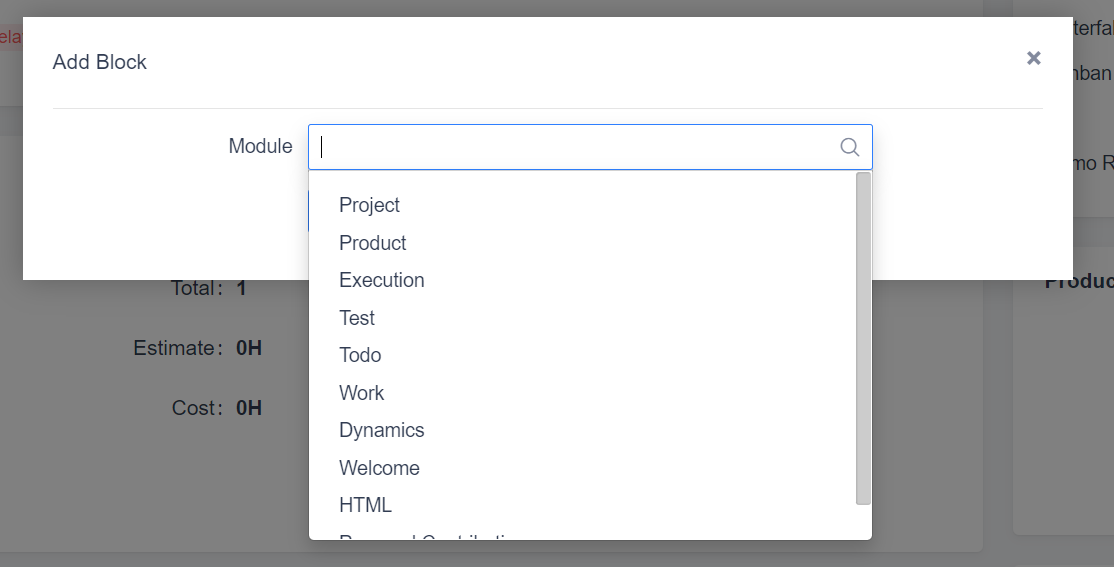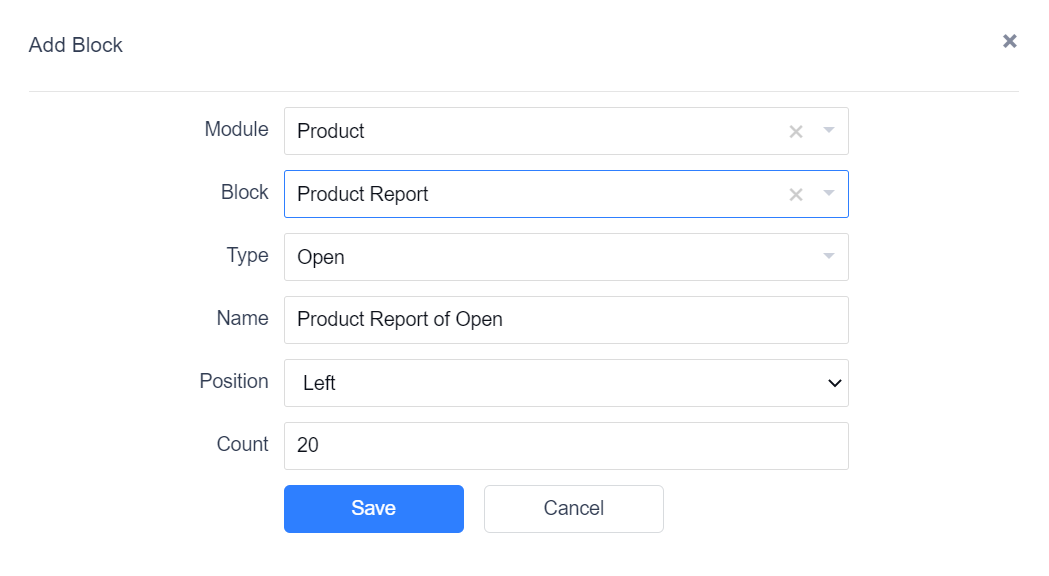 3. How to create a beautiful agile dashboard?
3.1 Jira
It's focusing on a dashboard for a scrum team here, but many of these tips apply to Kanban teams as well. In Jira you need to create a new dashboard and add gadgets, you need to finish the seven steps to get one beautiful agile dashboard just like:
Sprint Health gadget;
The Sprint Burndown gadget;
High-priority issues;
The Two-Dimensional Filter;
Statistics gadget;
Continuous integration;
The Assigned to Me gadget;
Level up.
So, more time to handle it, right?
3.2 In ZenTao
After the initial installation of ZenTao, it has been configured by default (products, projects, assigned to me, Human Resources, todo, contributions, dynamics, etc.). Customers also can set the content of different blocks by themselves. All data is displayed by default. Don't need to spend time designing.