Current Page : Blog Home
All You Need To Know About What Is Statement Of Work In Project Management
All You Need To Know About What Is Statement Of Work In Project Management
2022-11-19 15:30:00
Nico Prins

Original

824
Summary : The Statement of Work indicates what needs to be done in your project and how it will be done. It's an effective document to ensure that everyone involved in the project performs what is required. In this article, we'll dive deep into all there is to know about Statement of Work (SoW).
When working on a project, it's essential for your team to clearly understand the project's scope and identify possible challenges that may impede project completion or increase costs. One way to do this is by clearly defining the project scope and other helpful details. Documents like the project plan, project schedule, and Statement of Work help you achieve this.
The Statement of Work indicates what needs to be done in your project and how it will be done. It's an effective document to ensure that everyone involved in the project performs what is required.
In this article, we'll dive deep into all there is to know about Statement of Work (SoW).
I. Understanding Statement Of Work (SoW)
A Statement of Work in project management is a legally-binding formal document. It contains and clearly explains the scope of work a project team (including vendors) must carry out within a period.
Here's a great sample SoW template: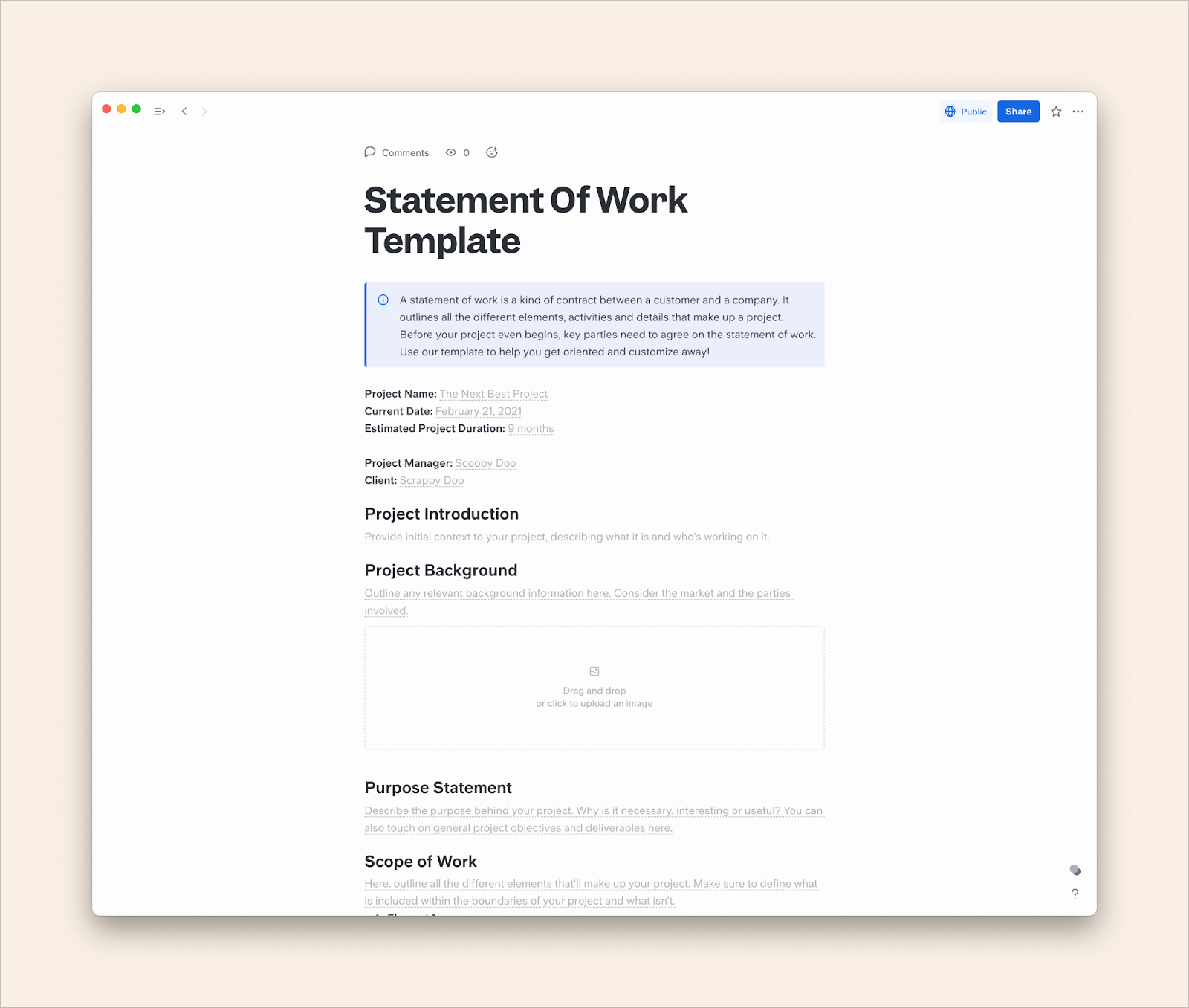 Image Source: Slite
Some vital components of the SoW include:
The project goals

Project location, period of performance for team members

Scope of work the team will perform throughout the entire project

Hardware or software tools needed

Standard of quality and acceptance criteri

a for deliverables

Project costs and deadlines for payments

All project deliverables, their success criteria, and their due dates

Governance process (who's in charge, and how do they carry out their responsibilities?)
SoW is mainly used for large projects that require an external workforce or contributors to make the process effective. However, project managers can also choose to create SoWs for internal projects.
The SOW is usually included in bid or contract documents such as Master Service Agreements or Requests for Proposals. It is paired with these documents to clarify the quality levels of deliverables, project costs, payment terms, and delivery timelines to every relevant party.
The crucial point is that a project Statement of Work differs from the Scope of Work.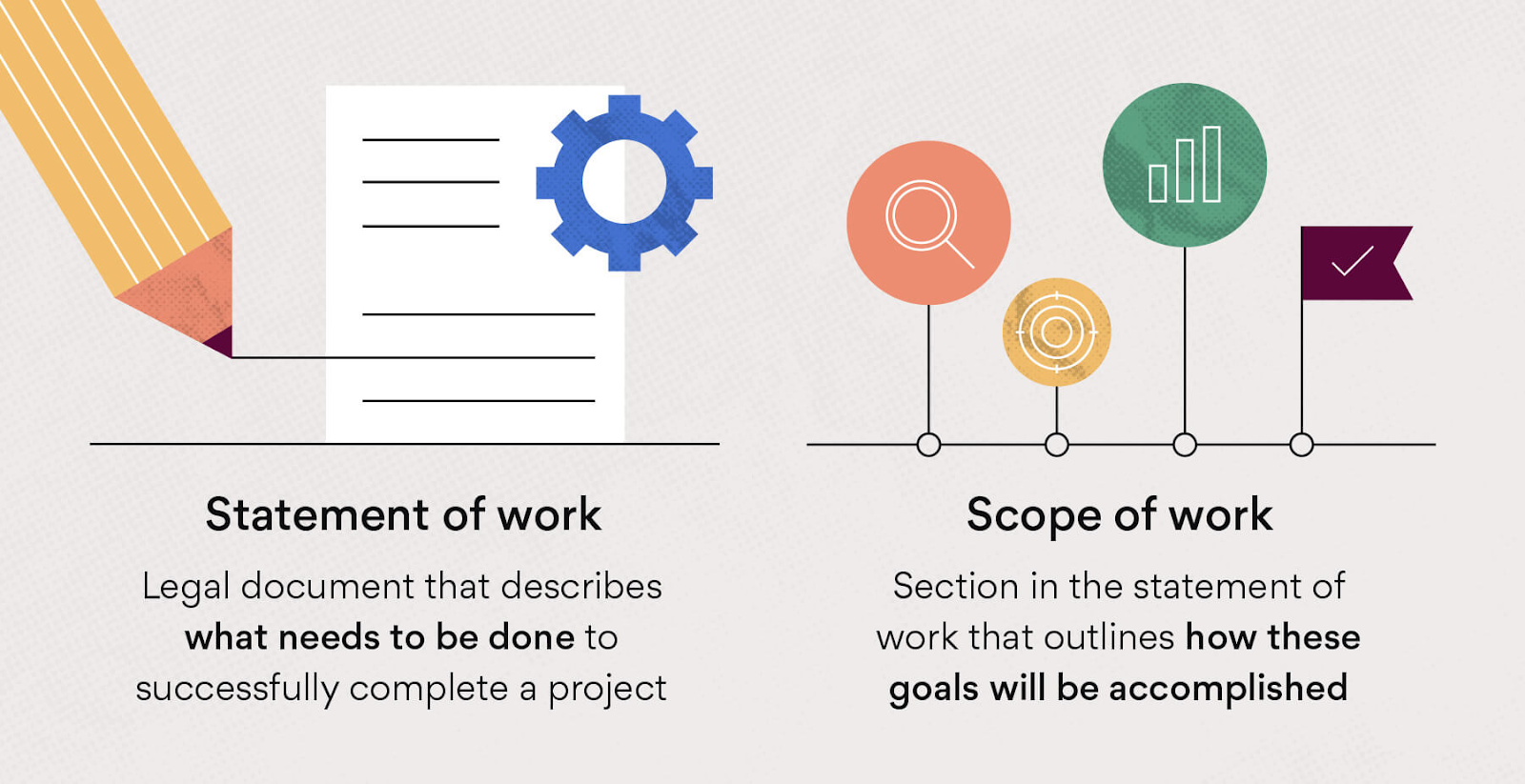 Image Source: Assets of Asana
The scope of work is a core element within the Statement of Work and, as such, cannot be used interchangeably with the other. Scope of work describes the tasks assigned to team members, including contractors, vendors, or freelancers. This will be discussed in detail further in this article.
II. Importance of Having SoW
Statement of Work in project management helps ensure a successful project outcome. It's vital in eliminating problems arising from potential scope creep. Scope creep when project requirements change without any control procedures.
The outlined deliverables and set milestones in SoWs help teams avoid change requests once the project has kicked off.
Project managers also use SoWs to set up a defined structure for planning the project. The essential information it contains helps them set up work processes in line with the SoW ensuring better collaboration and project success.
In addition, keeping records of project requirements also ensures a higher level of accuracy in communicating deadlines, project milestones, project scope, and other project resources. It serves as reference material that provides better project visibility which helps resolve breaches that often stem from miscommunication.
III. Types of SoW
There are three main types of Statements of Work in project management, and the preferred one for your team will depend on your industry, client, or project. The three types of SoW are as follows:
1. Performance-Based Statement of Work
This is the preferred SoW for complex projects focusing on results rather than processes. The SoW details the results the clients hope to see after the project rather than the steps it takes to achieve it.
Digital project managers prefer this type of SoW over others because it aligns with their usual work procedures. It mainly focuses on the project intent, the resources needed to carry it out, and the quality level expected of the deliverables.
Performance-based SoW will be valuable for SaaS marketing teams, for instance, when they want to implement new SaaS marketing strategies for a client. It allows the team much autonomy in performing their project tasks without following a specific marketing process.
2. Design / Detail SoW
Unlike Performance-Based SoW, Design SoW is mainly concerned with the processes through which the team achieves results throughout the project timeline. Why? Because the integrity and quality of the project depend on how well the project team sticks to the production process.
Engineering project management officers use this type of SoW, especially for manufacturing or construction projects. Projects like this require every project phase to be monitored for consistency with industry-specific standards.
The design/detail SoW thoroughly describes all the steps the team will take to complete the project. Most of the details to include in this SoW are the needed materials and resources and the project plan the team will work with. Of course, the project team is expected to stick strictly to the project plan, even the tiniest detail.
3. Level of Effort SoW
This is a popular SoW for regular types of projects. It outlines the project tasks that need to be carried out, how much effort (time) every team member will need to perform their tasks, and the materials and cost per individual.
The Level of Effort SoW is mainly added in short-term contracts like project bids on service-based agreements. Agile project management software like Zentao helps teams create and manage this type of SoW.
This Statement of Work helps teams show a reasonable commitment to the client's project. These details also help to clarify what the team will need from the client to help them achieve a successful project outcome.
IV. 4 Steps To Writing A Statement Of Work
Writing a well-defined Statement of Work is important because it's the reference document every project member will work with throughout the project lifecycle.
When drafting your SoW, explain the terms you use—especially if they are complex or industry-specific. This will ensure that every stakeholder who goes through the document can quickly understand it.
For soft copy SoWs, you can create a table of contents and hyperlink each document section within a folder for easy navigation. Here's an example from ZenTao's online doc manager: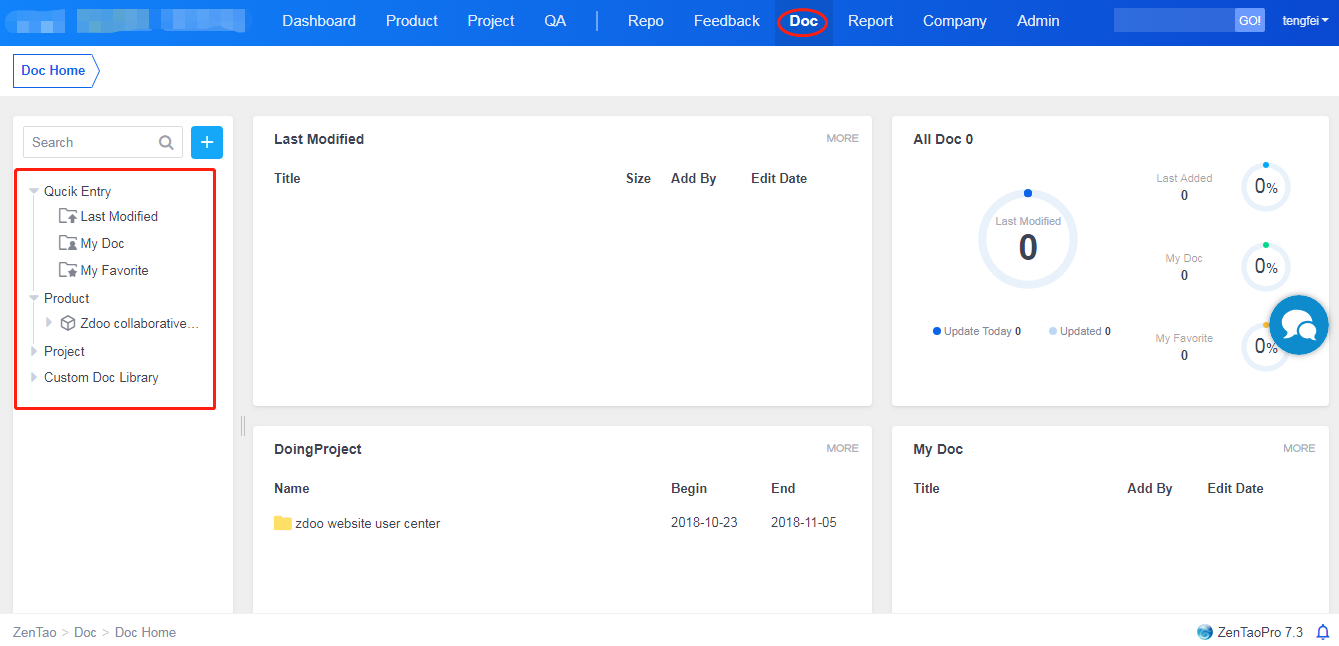 Image Source: ZenTao
The ZenTao Project Management Software will help your team manage project documents online. It also allows easy editing and faster distribution to relevant parties.
So, here are four key steps that can help you draft a precise SoW for project management.
1. State The Purpose
Specificity and context are key elements of writing a Statement of Work in project management proceedings. Hence, it would help if you highlighted the purpose of the project.
Start by answering specific questions like:
Which problem does the project intend to solve?

What will be the approach (method) in developing the project?

What is the overall goal of the project?
See how the purpose statement is drafted in the template below: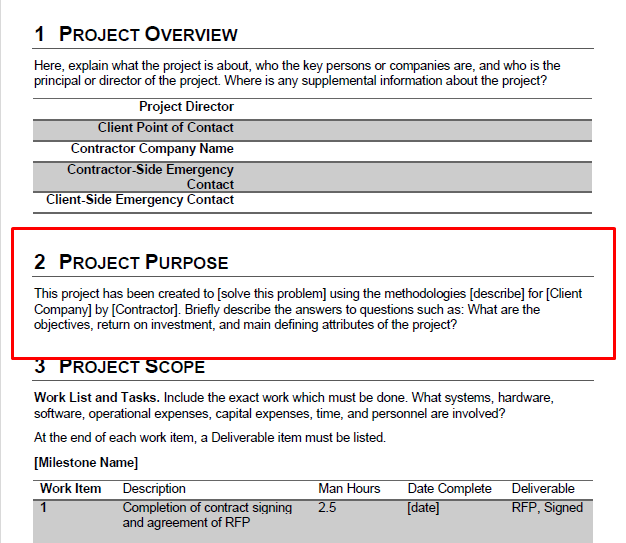 Image Source: cms.kdanmobile.com
As seen in the above image, your purpose statement should indicate who the project deliverables benefit and the expected ROI from the project. A purpose statement can also be within a project summary or background.
2. Define The Scope
Once the project purpose and introduction are complete, the project scope is the next aspect of your SoW that you need to tackle. It gives the project stakeholders and other readers a big picture of your process, team, and the timeline for completion.
Create your project scope to serve as a vision that the team will run with. It should help the team identify project goals and objectives to create achievable and realistic expectations. But don't just identify the project objectives—it's also important to state why they are necessary for achieving the project. See the sample template below.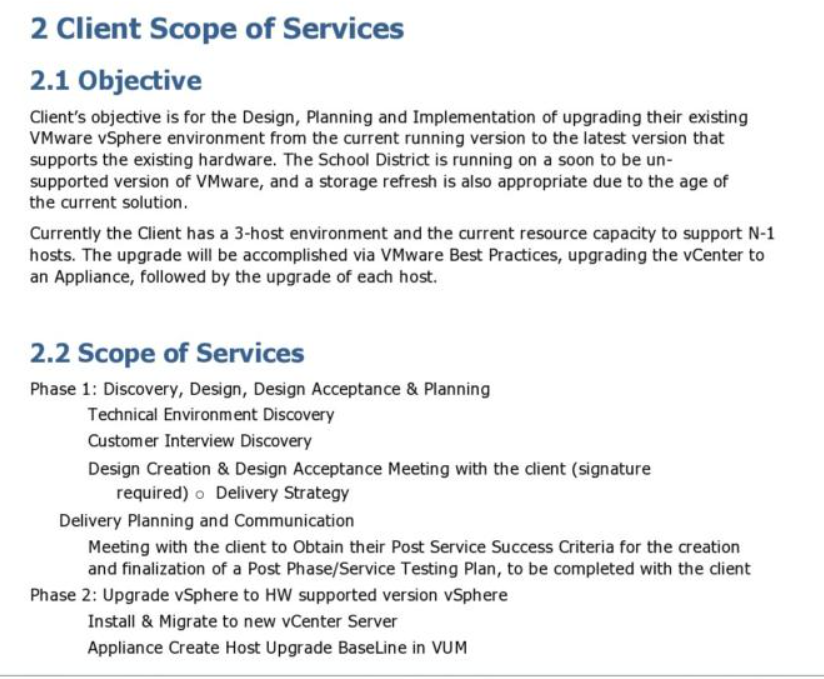 Image Source: Template lab
To define the scope, map out the general milestones that the teams, vendors, contractors, or suppliers will achieve and how they will execute them. What duties are assigned to the parties and what are they not responsible for? This is to ensure all stakeholders align with the project goals and what is expected of them.
Another vital element in the scope is the project's cost. Stating the project costs will help the team and project manager not to exceed the defined budget. When recording the project's costs, indicate the estimated cost for each milestone, and don't forget to include the payment terms.
3. List Project Activities And Requirements
Here, the SoW provides the exact tasks the team will need to perform (see how to write activities in the sample template below.) The level of detail and description you provide for project tasks and activities depend on the type of SoW you're creating, your project industry, and your client.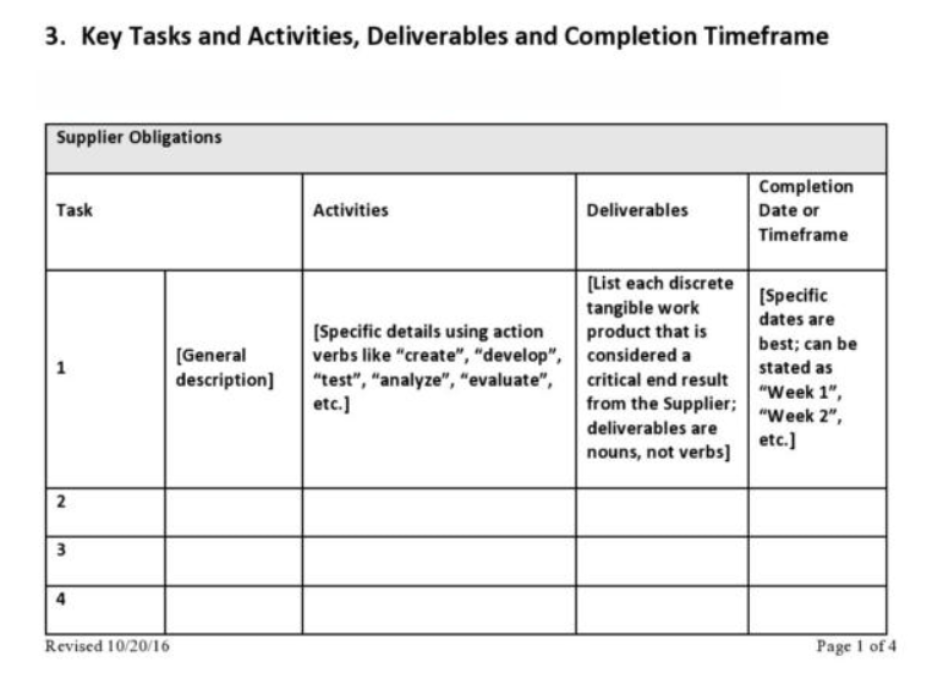 Image Source: Template lab
As we discussed earlier, not all clients require to see detailed steps and processes in the project. Some prefer to see details of what the results will look like instead. Whatever the case, it is essential to highlight project tasks and activities in all types of SoW—whether or not you give further details about them is what will vary.
In addition to providing information about the tasks, project requirements should also be in the SoW. This information indicates whether the team will require specific tools, equipment, or software to carry out the tasks.
It also specifies whether they'll need special clearance or certificates to ensure the team complies with quality assurance or testing procedures. Lastly, state how you intend to procure these resources and requirements.
4. Define The Project Deliverables
This is the final crucial part of writing an SoW. Deliverables are the results that are expected from the team and the clients at the end of every milestone. For teams, a project deliverable can be a function or feature in a software product, a signed contract, reports on work progress, etc.
For instance, a website development project will have deliverables like:
Designing the wireframe

Creating the home page

Designing web images and so on
Here's an example below: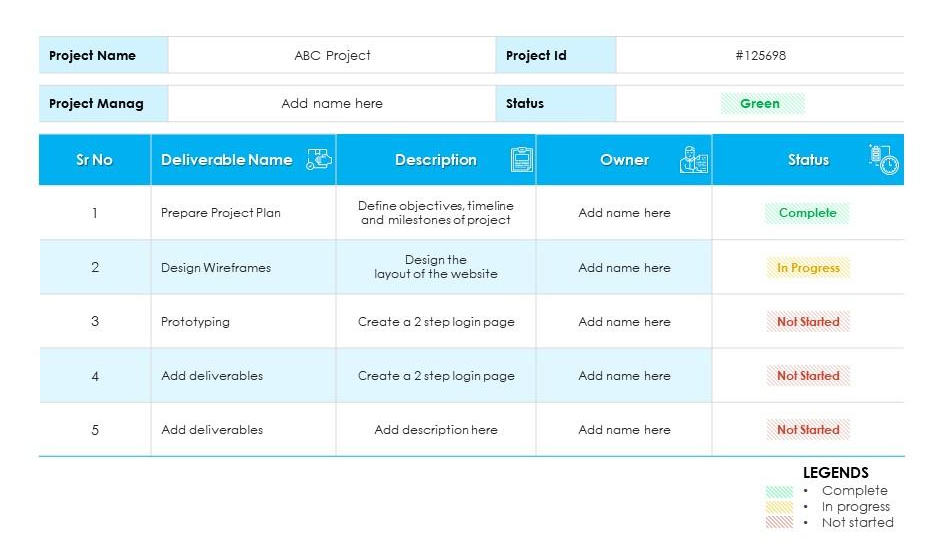 Image Source: Slideteam
Deliverables must always be precise and measurable to help check the project's progress in line with its completion schedule. Two success criteria that can help you define the success of your project deliverables are KPIs (Key Performance Indicators) and completion requirements.
Set measurable KPIs that will help the teams track the progress status of the deliverable. Also, include the specific metrics that indicate the successful completion of a deliverable.
V. In Closing
Statement of Work is a vital project management document that clarifies expectations between teams and stakeholders during a project lifecycle. It also encourages full transparency between all parties involved and sets clear metrics that help project managers avoid scope creep. To create your SoW, start by defining the project's purpose and then the scope. Be sure to include a list of tasks, activities, and requirements to carry out the tasks. Finish off with a list of deliverables for every milestone to ensure a successful project closure.
Finally, you can use Project management tools like ZenTao to manage your SoW and other project documents successfully.
Now, go ahead to create effective project management SoWs with these tips. Good luck!
Need more help? Check out the Zentao blog. They have more articles on project management tools, software management, building cross-functional teams, and so much more.
---
Author bio :
Nico is the founder of Crunch Marketing. The company works with enterprise SaaS clients, helping them scale lead generation globally across EMEA, APAC, and other regions.