The directory structure of ZenTao
2022-12-21 11:26:31
Kelsea
382
Last edited by Hongyan on 2022-12-29 16:34:36
Share links
1. Top-level directory structure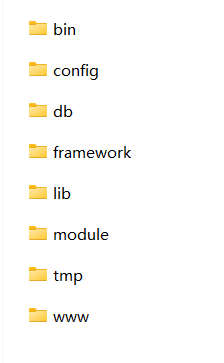 "bin" is where the command line scripts for ZenTao are stored.
"config" is where the main configuration file and database configuration file for running ZenTao are stored.
"db" is where the sql files of each version are stored and the sql files that need to be executed when upgrading the version.
"framework" is where the core files of ZenTaoPHP are stored.
"lib" is for class library files and basic files. Such as database access, sending emails, data verification, etc.
"module" is where the specific modules are stored. ZenTao currently has more than 30 modules.
"tmp" is where the temporary files are stored while the ZenTao program is running.
"www" is for the website directory including js files, picture files, entrance program of ZenTao, and index.php.
2. www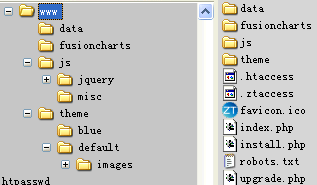 "data" is where the upload attachments are stored.
"fushioncharts" is where the flash files needed by the report solution.
"js" is where the various jquery plugins and corresponding functions used by ZenTao are stored.
"theme" is where the style sheets are stored.
"index.php" is the entrance program of the whole ZenTao, and all the requests come in through this program.
"install.php" is the installation program.
"upgrade.php" is the upgrading program, and every time when we upgrade ZenTao we need to access this file.
".htaccess" and "".ztaccess" files are configuration files used by apache. You can configure ZenTao to use static access with the rewrite module open.
3. module
There are more than 30 modules in total under the "module" directory, each corresponding to a particular functional module in ZenTao. The entire functionality of ZenTao is a combination of these modules. Now let's check a specific module.
"lang" is where the language files for the current module are stored. "zh-cn" is for simplified Chinese, "zh-tw" is for the traditional Chinese, and so on. If you need to change the name or configuration of certain fields inside ZenTao, you need to open the corresponding file to make the changes.
"view" is where the template files for each page are stored. Such as the bug browsing page, its corresponding template is "browse.html.php".
"config.php" is where the configuration items for the current module are stored.
"control.php" is the entrance for all pages in the bug module. In other words, all bug-related pages browsing can be found the corresponding method definitions in this file.
"model.php" is a list of methods for bug-related database operations.