Current Page : Blog Home
The Role of Project Managers in Digital Transformation Initiatives
The Role of Project Managers in Digital Transformation Initiatives
2023-10-27 22:00:00
Gaurav Sharma

Original

278
Summary : Discover the pivotal role of project managers in digital transformation initiatives. Learn how they guide change and ensure successful technological shifts.
Digital transformation is revolutionizing how businesses operate and deliver value to customers. Companies today must undertake major technology initiatives to improve processes, operations, and customer experiences. They must do so to stay competitive and relevant, while keeping pace with digital disruption. The role of project managers in digital transformation has never been as critical as it is in this landscape.
As technology continues to evolve, so does the need for adept project managers. These managers must have a unique blend of strategic thinking, leadership, and adaptability.
In this article, we delve into the profound impact of project managers on digital transformation initiatives.
The Role of Project Managers in Digital Transformation
Digital transformation represents a new era of change and innovation for many organizations. However, executing large-scale transformations require meticulous planning and oversight to succeed.
This is where skilled project managers prove their worth. In fact, they're often the central hubs steering digital transformation. Project managers align complex initiatives to business goals using their:
In-depth knowledge of available tools

Keen organizational insight

Leadership abilities
Their multifaceted responsibilities span the project lifecycle. Here's how.
1. Defining the Project Scope and Building the Business Case
Digital undertakings impact all facets of an organization. Thus, transformations require clear scoping and alignment to strategic objectives from the start. Project managers ensure that the scope is realistic, feasible, and aligned with the business needs and expectations.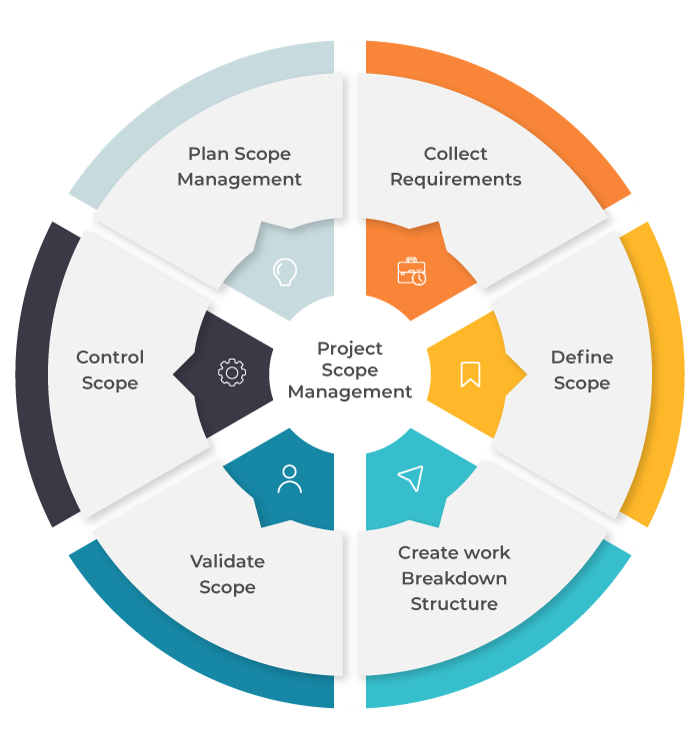 Image Source: Invensis Learning
They monitor and control the phases of project management throughout the project lifecycle, managing any changes or issues that may arise. Additionally, project managers collaborate with executives, IT leaders, and department heads to define the goals, costs, timeline, resources, and risks of initiatives. They help build the rationale and secure buy-in from stakeholders.
This upfront work of framing the project provides the foundation for success.
2. Meticulous Planning and Effective Resource Management
With a firm vision in place, project managers shift their focus to tactical planning.
Detailed project plans outline all necessary tasks, dependencies, and timeframes. Tools like work breakdown structures and Gantt charts add structure. Budgets are defined, communication strategies developed, and risk management processes formalized.
Effective planning also entails selecting and allocating the right technological resources. Project managers choose tools that enhance team collaboration, task management, and transparent reporting.
For example, they may use a form builder to survey employees or adopt solutions like ZenTao to centralize work execution. These platforms help connect contributors and give managers greater oversight throughout initiatives.
3. Managing the Complexities of Organizational Change
Beyond project execution, guiding cultural and organizational change is a core responsibility of project managers during transformations. They must develop strategies to prepare stakeholders for major transitions in technologies, processes, and mindsets.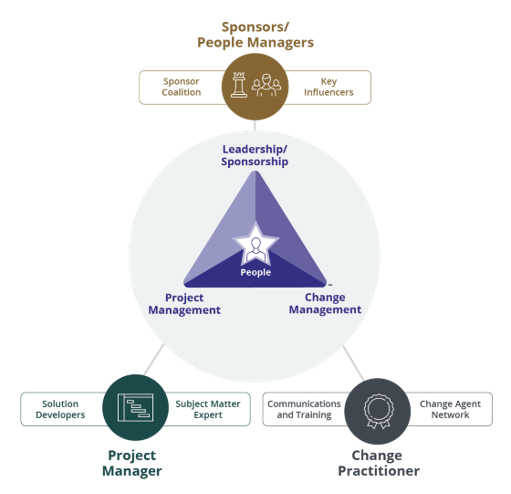 Image Source: Prosci
Project managers use training programs to ensure users understand new systems. Implementing organizational change management techniques eases uncertainty. Similarly, ongoing communications provide visibility into timelines and rationale.
The concept of brand ambassador marketing can be leveraged during rollouts, where influential team members spotlight the benefits of new solutions.
So can communication campaigns that inform, excite and support employees throughout initiatives. By acknowledging concerns and clearing up confusion, project managers smooth the path for digital adoption.
4. Navigating Uncertainty and Mitigating Risk
Inevitably, uncertainties emerge in major transformation programs.
Project managers play a pivotal role in addressing issues decisively to keep initiatives on track. With broad visibility, they identify potential risks and develop mitigation plans proactively. When roadblocks do arise, they take corrective actions to resolve problems.
If an organization needs to replace a legacy system mid-project, the project manager researches alternatives that integrate smoothly. For instance, during a digital transformation, a business might find itself overwhelmed by managing multiple projects simultaneously.
To streamline this process, project managers can seek out specialized tools, like those given in this project management tools list by Attrock. These tools help centralize tasks, timelines, and resources.
Researching alternatives during a transformation ensures smooth integration and prevents workflow interruptions. After all, project managers must conduct contingency planning to build resilience into digital initiatives. This combination of proactive planning and real-time responsiveness enables project managers to navigate uncertainties.
5. Monitoring Progress and Promoting Accountability
Throughout initiative lifecycles, project managers closely oversee workstreams.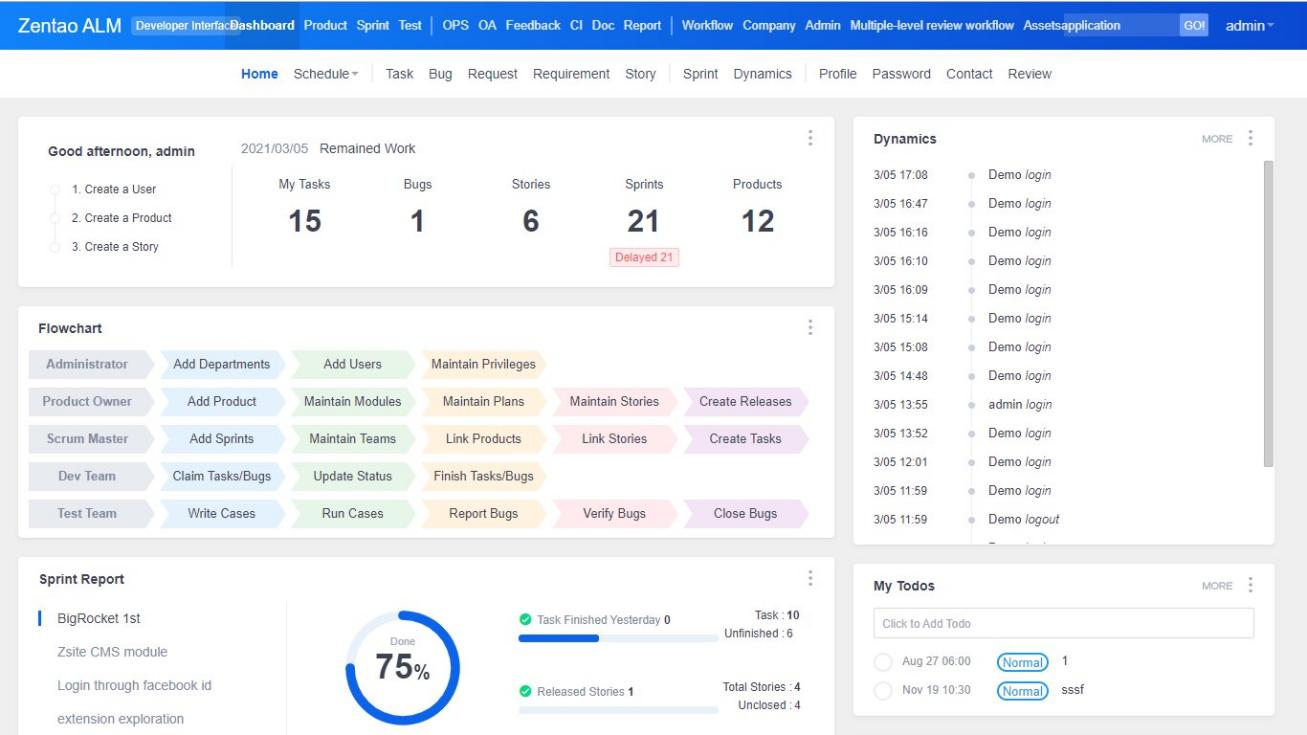 Image Source: ZenTao
They run team meetings, provide status updates, and ensure plans are fulfilled. Performance is continually tracked against targets. When lags emerge, they take steps to get efforts back on schedule.
Project managers also leverage data to inform decisions and promote accountability.
Product and routine management functionality in tools like ZenTao give full visibility into all aspects of projects. Timely and accurate bookkeeping practices further enable data-driven leadership.
The importance of bookkeeping cannot be overstated during transformations. Timely financial data helps project managers provide accurate reports to executives and optimize budget allocations. By rigorously monitoring progress, project managers keep initiatives aligned to overarching goals.
6. Guiding Successful Adoption and Implementation
A common pitfall of technology transformations is perfecting the technical build while overlooking user adoption needs.
Project managers bridge this gap by fostering collaboration between IT implementation teams and business units. They verify that solutions meet both functional objectives and human requirements. During testing and training, project managers gather user feedback on system designs. They surface pain points and resolve issues prior to go-live.
For instance, confusion may arise about the best tools to use when user testing website designs. When this happens, project managers might compare popular choices like Attention Insight and Hotjar and its alternatives to find the best solution.
Ongoing support during the post-implementation phase also helps cement new technologies within business workflows. By keeping end user perspectives at the forefront, project managers smooth the integration of technical and human elements.
7. Celebrating Successes and Continuing the Digital Journey
Once initiatives cross the finish line, project managers lead closure activities to bring teams full circle. They ensure all objectives have been met and outstanding work resolved.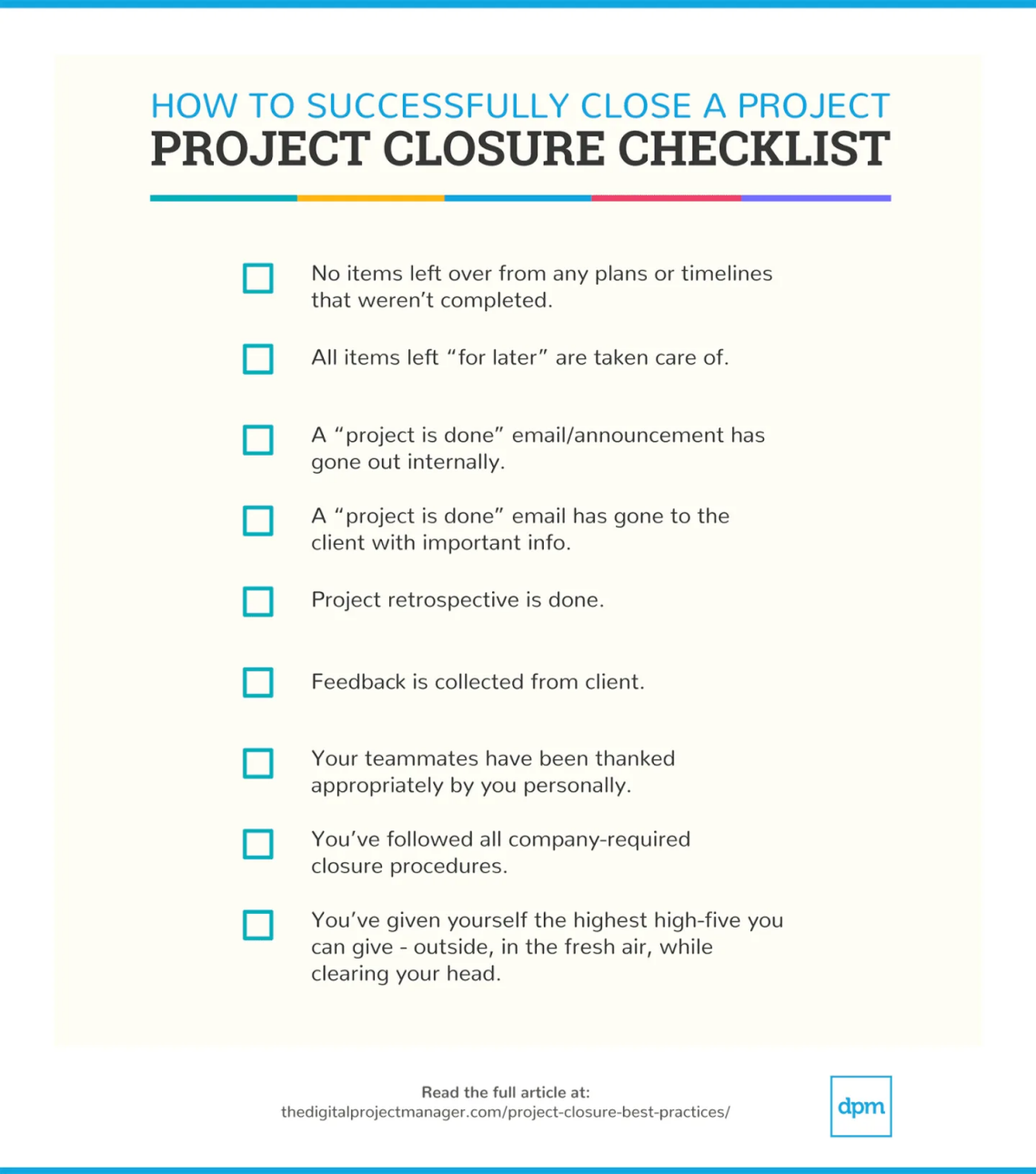 Image Source: The Digital Project Manager
Project retrospectives capture lessons learned, before resources are reassigned. But most importantly, successes are celebrated collectively before dispersing.
Yet, digital transformation is not a one-time event. As customer expectations and technologies continuously evolve, change is the new normal.
As such, effective project managers remain flexible as needs evolve. They anticipate risks and roadblocks. When challenges inevitably occur, they work to quickly break down project management issues, resolve them, and keep teams productive.
Thus, capable project managers remain indispensable in shepherding organizations confidently into the future, one initiative at a time. With their unique skills, digital transformations can unfold smoothly and successfully.
Embracing the Digital Shift: The Pivotal Role of Project Managers in Digital Transformation
The role of project managers in digital transformation is far-reaching. While subject matter experts focus on the details of new systems and processes, project managers keep initiatives aligned with overall business objectives. They coordinate resources, manage budgets and timelines, and facilitate collaboration between IT, business units, and external vendors. With so many moving parts, project managers prevent initiatives from going off track.
By acknowledging and embracing this critical role, organizations of all sizes can confidently pursue technology modernization. Project managers' unique skills can empower them to turn digital disruption into digital opportunity.