Current Page : Blog Home
The Key Challenges Of Agile Project Management And How To Deal With Them
The Key Challenges Of Agile Project Management And How To Deal With Them
2022-12-22 17:00:00
Sarah Watson

Original

315
Summary : If you plan on utilizing agile project management in your company, here is what you need to know about the challenges you'll face and how you can effectively deal with them.
What is Agile Project Management?
Agile project management can easily be described as:
Working software that trumps documentation

Adapting to changes instead of following a fixed plan

People and their experiences above tools and systems

Customer collaboration instead of negotiations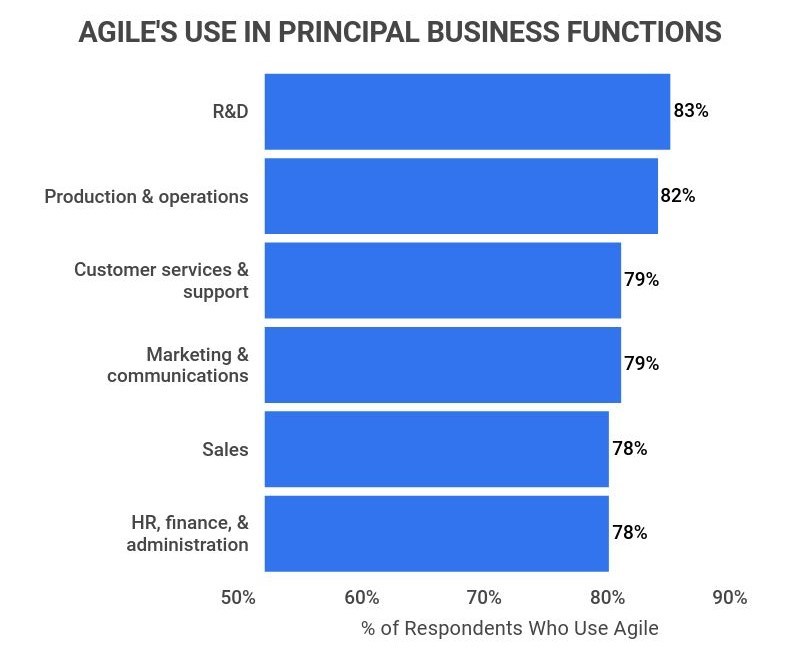 Image source: Consultancy
Currently, up to 71% of organizations claim to use agile approaches in management. On top of that, the statistics suggest that by 2030, AI will automate around 80% of regular agile tasks. If this prediction is accurate, we need to be fully aware of and prepared for all the possible changes and challenges that will appear in the IT industry.
For that reason, you should consider getting familiar with some of the most common Agile project management challenges and how you can overcome them.
1. Gathering Requirements Precisely
The initial phase is always the most important part of project management. In this stage, you need to understand the objectives, manage expectations, and grasp the scope of the project you need to manage. IT projects aim to reach realistic solutions, and you need to know how to plan your projects accordingly.
So, the first challenge you will face is gathering your requirements precisely. It's always a smart move to start small and then slowly reveal the systemic infrastructure issues that you need to work on. This will allow you to remove obstacles one at a time and keep track of your progress.
In the process of doing so, it's the job of IT leaders to actively demonstrate the benefits of agile working methodologies and how to incorporate them. With proper training and resources, IT professionals can better understand the shift.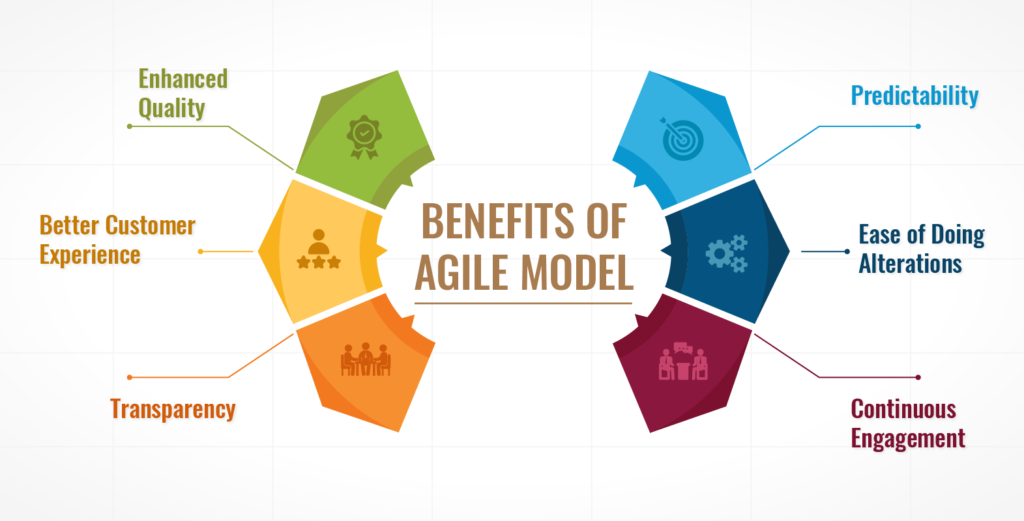 Image source: Atliq
2. Using the Waterfall Methodology
The majority of IT teams have a tendency to use agile project processes in two-week sprints. In doing so, they fail to realize that agile is not an updated version of a waterfall. These two are very different methodologies and should be approached differently.
On the one hand, waterfall projects design the solution up-front before they even get started based on assumptions. They base their project on how they assume the solution will look in the final outcome. On the other hand, the focus of agile projects is on overcoming business challenges. Agile projects don't work with predetermined solutions and assumptions.
Every sprint is like a little science experiment that tests out a certain hypothesis. You won't know what the solution looks like and then design it that way. A sprint is there only to give you a better idea of what the results will be like in the next sprint, not in the final outcome. The majority of organizations still use the waterfall approach and expect to use it successfully in the agile framework. However, this common misconception needs to be fixed since these two methods shouldn't overlap.
3. Stringent on Traditional Methods
Agile project management is completely different from the original Agile manifesto created in 2001. However, a lot of traditional business leaders are still used to approving IT development projects based on this traditional method. If they neglect the changes that have since been introduced and refuse to handle projects with defined time frames, costs, and functions, they won't be able to use Agile.
As a very important part of agile methodology, scrum incorporates users' stories into backlogs and examines how many of them can be resolved within one sprint. The aim is to produce working software at the end of every sprint. However, this software is either a subset of the anticipated product or just a minimum viable product (MVP). Using a scrum board, you can make all of the sprint backlog items visible, which helps you keep track of the work you planned, the progress you made, and what you have completed.
As such, agile project management focuses on reaching sprint goals and providing a sense of achievement. So, make sure you utilize scrum boards to avoid unnecessary multitasking and overloading a single resource.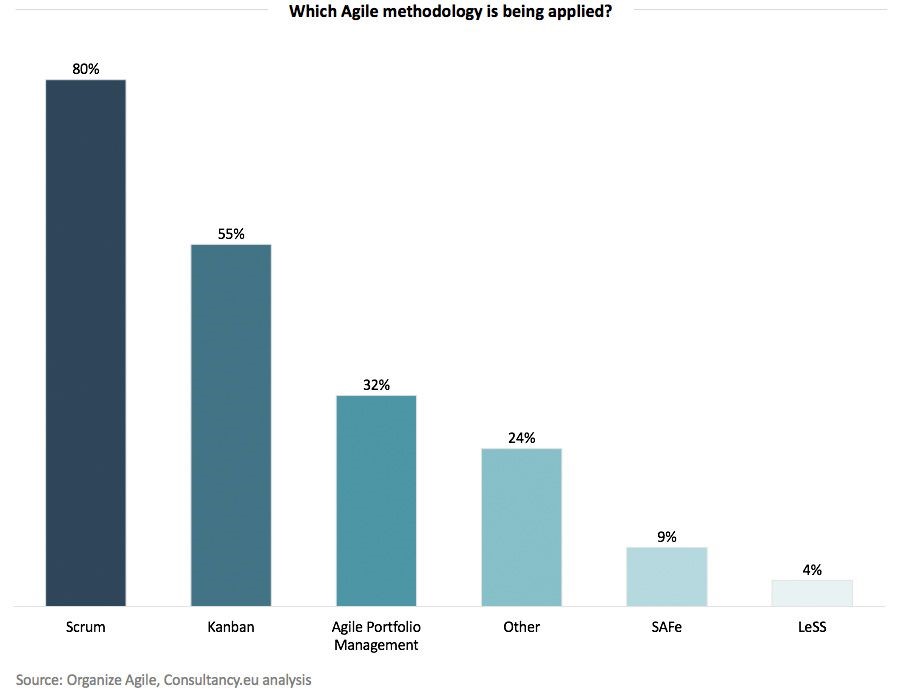 Image source: Consultancy
4. Lack of Clarity Around Roles
Agile is the best when it comes to unknown and complex solutions. This can introduce some confusion regarding the different roles that come with agile management. These roles include scrum master, product owner, and agile team member.
To avoid such confusion, leaders need to assign specific characteristics to these roles. They need to formalize specialized roles in order to drive alignment for data, tools, and test plans. They can even introduce different categories, such as project manager or master, based on the specific needs of the project.
5. Agile Project Burnout
Overcommitting to a project in its early stages is a mistake that can happen to anyone. You get excited and ambitious to work on a new project, and you take on too many responsibilities. In a rush to commit to every aspect of handling projects, IT managers can easily end up facing burnout and having to deal with defects and delays.
For that reason, it's always a good option to hire some extra help. For instance, you can consider partnering up with some of the professional rfp software development companies whose experts can take some of the responsibilities off your hands and help you focus on other parts of the project you need to deal with. They can test your work progress, examine if any bugs need to be fixed, and report to you on your current progress.
6. Inadequate Office Arrangement
Utilizing agile project management will also require you to make some physical changes in your office. Since agile methods heavily rely on cooperation and communication, your office needs to accommodate the needs of your employees and create a space where communication can work flawlessly. The workspace your team works in can either help them work as a team even better or completely ruin their dynamics.
So, start by rethinking the floor plan of the office space. Ask your employees what they think may be affecting their communication in the space they work in. If they work in inadequate spaces, agile project management will be very tiring for them and disorganized.
7. Lack of Communication
Speaking of communication, another challenge that you will face in agile project management is the lack of communication or poor communication that leads to poorly organized agile management. With a remote team where people may be working in different time zones, you will have certain obstacles to face. Without proper and regular communication, agile project management serves no purpose.
In other words, you need to find an efficient channel where your employees can keep in touch with each other regularly. It's even better if it's a multipurpose channel or if you opt for gamification.
8. Skipping Daily Meetings
At first, everyone is excited about working on a new project and is present at all meetings. However, with time, more and more employees start missing out on daily meetings, which can be a problem. As you already know, daily meetings are crucial for agile project management. This is how team members gain clarity on current issues, create work schedules, and discuss new ideas and risks.
Encouraging your employees to attend these meetings is very important. They don't have to be long. Brief 15-minute long meetings are enough to discuss deadlines, give out assignments for that day, introduce urgent tasks, discuss the budget, and so on.
9. Testing on the Last Day of Sprint
Testing your project regularly is very important in agile project management. This allows you to track not only your progress but also detect any defects and mistakes that should be fixed before they cause too much trouble later on. Waiting until the last day of the sprint is definitely not a good time for you to test your project. It will be too late to make huge changes in case there are bigger issues at hand.
Instead, make sure you're getting the most out of your daily meetings and test your solution a few times before the last day of the sprint. That way, you will stay on top of your tasks and won't have to do everything at the last minute.
10. Relying Solely on Instructions
Lastly, teams that rely on old and traditional project management methods tend to follow instructions way too closely. This can create many difficulties down the road. While instructions can give you a great head start and give you an overall idea of what you should do, you should never be dependent on them. Every project is different and will require different tasks to be performed. Not only that, but you also won't use the same approach for every project you work on.
So, try to use instructions as a guideline, but don't be afraid to stray from the instructions and experiment with your tasks depending on what outcome you're trying to reach. No one has ever discovered anything new by using the same methods everyone else has used before.
Conclusion
Overall, it's not hard to use agile project management to finish up and manage projects successfully. Just make sure to keep an eye out for some of these above-listed obstacles, and you'll be able to manage all of your projects efficiently and on time.
Need more help? Check out the Zentao blog. They have more articles on project management, software management, building cross-functional teams, and so much more.
---
Author bio :
Sarah Watson is an economist and content writer currently employed with DigitalStrategyOne, who loves tech, digital marketing, and online games. She's a passionate blogger expressing herself through her creative and informative articles about online marketing strategies.