Current Page : Blog Home
Your complete guide to project controls
Your complete guide to project controls
2022-07-26 13:43:29
Owen Baker

Original

228
Summary : A good project management plan requires a strong and thorough project control strategy. As a project manager, you must add project controls to your workflow to get more done. You'll learn all you need to know about project controls in this post.
A good project management plan requires a strong and thorough project control strategy. As a project manager, you must add project controls to your workflow to get more done.
Many businesses fail to meet their objectives and expectations of large-scale projects. The reasons for that are many and varied. Some reasons are optimism bias, human estimation errors, insufficient historical data, scope creep, and so on. You can't use your feelings and gut instincts to keep track of all these different factors.
Instead, you must implement a project control approach to overcome typical obstacles to success.
You'll learn all you need to know about project controls in this post.
What are project controls?
Project controls are a set of tools and skills that project managers use to meet the ever-changing requirements of a project and achieve the planned outcomes. They make sure that your project goals for cost, time, and performance are met in the best way possible.
Project controls affect the project lifecycle, from project initiation to scoping to monitoring and ending.
They include collecting, managing, and analyzing data so you can predict and prepare for project changes. Also, they involve analyzing the project status and determining how we could respond if things go wrong in the future.
As a project manager, you will make a schedule, estimate the project budget, make a plan for dealing with risks, and improve strategies for future projects.
Image Source: urce
The goal is to improve your ability to make decisions so you can have more control over the project's end result and other factors like time and money.
Importance of project control
Projects that are well-managed and have adequate project controls are more likely to succeed in the long term. One study found that project teams with a well-thought-out framework usually reach 77% of their goals, while other teams only reach 56%. For example, regular status reports on the progress of each team may be beneficial in speeding up a project and improving processes.
When you have good project controls, you may have more confidence in the project schedule and cost. They keep them on track and prevent deviations from the original plan. They also reduce the gap between making a plan and putting it into action to reach project goals, which cuts down on scope expansion.
Effective project controls give more insight and predictability to the final project. They forecast precise data on time and cost outcomes.
Also, they let you know about issues and concerns with a project early on, so you can take corrective action without affecting the project goals. They act as a reference point, allowing for comparative analysis and ensuring that the project meets its initial goals.
Project controls may also help in identifying risks as they occur. They help everyone involved in a project understand possible problems and, if necessary, fix them.
Moreover, they allow fast change if needed. They may be a valuable source of guidance and information for project managers to learn from past experiences. They also enable you to enhance your project management practices. They help maintain project team members' interest and work satisfaction.
3 factors to consider in developing project control strategy
Project control is a data-driven process. So, it is crucial to transform data into insights to enhance future project performance.
Knowing project control elements might help you enhance your project management strategy. So, here are the three crucial factors to consider when developing a project control strategy:
1. Project scope
Can you believe that for every $1 billion spent in the United States, $122 million was lost due to poor project performance? This figure demonstrates the significant role of project control in your firm. When it comes to performance, an effective project scope strategy may help prevent this kind of waste.
Project scope refers to the activities, resources, and other elements required to carry out a project and make the deliverables. It helps specify the project's limits, helps give each team member tasks to do, and helps explain how verification and approval will work.
Scope control also helps you monitor the project if it deviates from what was planned. That includes scheduling, cost estimating, and quality variations. It helps you manage the impact of scope changes and control aspects that might contribute to them.
Here's an overview of the scope control process throughout the project life cycle.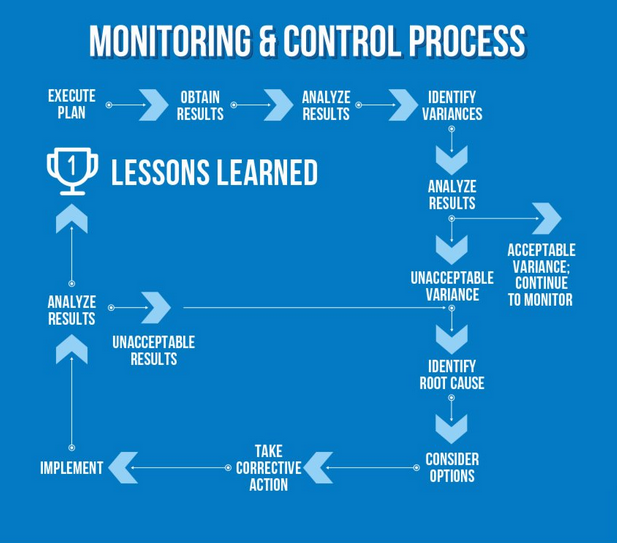 To control scope, make sure you have everything you need to finish the project as planned. That can include project management tools, resources, and a training program.
Then, compare baseline to finished work. When you find differences, you must understand and document them. You may thus request preventative or corrective steps to bring the correct performance back into line.
To influence changes, you must maintain an open dialogue with all project team members throughout the duration of the project. For example, that might involve asking for project scope expansions. You can send mass emails for these kinds of communication. Just use an email verification tool to ensure the emails are sent to the intended recipients.
Scope changes can change the entire project performance baseline. So, it is crucial to handle them, report to project stakeholders and the team, and include them in the project management plan.
2. Deadlines
Your ability to achieve project deadlines is critical to the success of your project. In project planning, schedule control means monitoring your activities and tasks to ensure they are going as planned. Controlling the project timeline also requires updating project procedures and managing changes. When done, this process helps to reduce the risk of delivery delay.
Creating a schedule baseline is the most effective method. A baseline is a starting point that outlines your expectations for the course of action of your project. When you have a schedule baseline, you can compare actual progress to expected progress to determine if you are ahead of or behind schedule.
If something goes wrong, you should make a plan to get back to the baseline and take any corrective or preventive needed steps. The project management must respond before the alterations affect the whole timeline. For example, they should set priorities for your tasks to do your project on time. Re-estimate the remaining parts to make sure you can still meet the deadline, budget, and goals as set through your SMART approach.
Set rules for how projects are delivered, approved, and recognized when they are done. It is also important to keep stakeholders informed of any significant schedule changes.
3. Risks
A project's stability must be a top priority. So, you must develop strategies to prevent harmful scenarios from occurring.
Risk management is the process of finding, avoiding, and reducing risks. Risk control is one way to stop risks from happening in the first place.
Risk controls may also help avoid or reduce possible loss and create business emergency plans for when issues arise. Risk control tasks include continuous testing, regular internal audits, and training programs.
Project managers should include the whole team in this process to identify as many risks as workable. Through brainstorming sessions and open discussions, you can get your team on the same page about how to control risk.
Also, project managers might use interviews or focus groups to analyze risks. After figuring out the problems and risks, the people involved should decide who will deal with them.
In Closing
Project controllers know too well that things don't always go as planned. So, they always have a backup plan or a Plan B ready to ensure project success.
When project control is used in all four stages of a project — planning, sourcing, installing, and finishing — the project turns out well. Reviewing, revising, and tracking the project from start to finish is critical.
Yet, to be successful in all these efforts, you must build your control strategy on the three crucial factors outlined above. You must consider scope and cost, deadlines, and risk management. That will help your entire project team complete all your tasks on schedule and within the project cost. It will also provide your staff with support and peace of mind.
Need more help? Check out the Zentao blog. They have more articles on project management tools, software management, building cross-functional teams, and so much more.
--
Author bio :
Owen Baker is a content marketer for Voila Norbert, an online email verification tool. He has spent most of the last decade working online for a range of marketing companies. When he's not busy writing, you can find him in the kitchen mastering new dishes.