Current Page : Blog Home
The Global Opensource Technology Conference - Shanghai - July 9, 2021
The Global Opensource Technology Conference - Shanghai - July 9, 2021
2021-05-27 15:16:44
ZenTao Official

Original

3376
Summary : GOTC is a conference co-organized by OSChina
The Global Opensource Technology Conference - Shanghai - July 9, 2021
GOTC is a conference co-organized by OSChina and the Linux Foundation with the goal of fostering a more vibrant Open Source environment. GOTC brings together industry professionals and major Open Source projects to discuss the most recent technology tracks in Cloud Native, Big Data, AI, IoT, Blockchain, DevOps, Open Source governance, and more.
If you enjoy open source, the open source community, technical communication, and sharing, COSCon 2017 is the annual China open source convention for you. It is the first national conference on technology community operations, open source community operations, and open source project promotion.
GOTC Producer
The producer team of The Global Opensource Technology Conference include Jim Zemlin(Executive Director Linux Foundation), Priyanka Sharma(General Manager CNCF), Brian Behlendorf(Executive Director Hyperledger & LF Public Health(LFPH)), Arpit Joshipura(General Manager Networking Edge & IOT The Linux Foundation), Ibrahim Haddad(Executive Director LF AI & Data Foundation), Mark MA(CEO of OSCHINA、Founder and Chairman of Forever Opensource Software Inc.), and Robin Ginn(Executive Director OpenJS Foundation).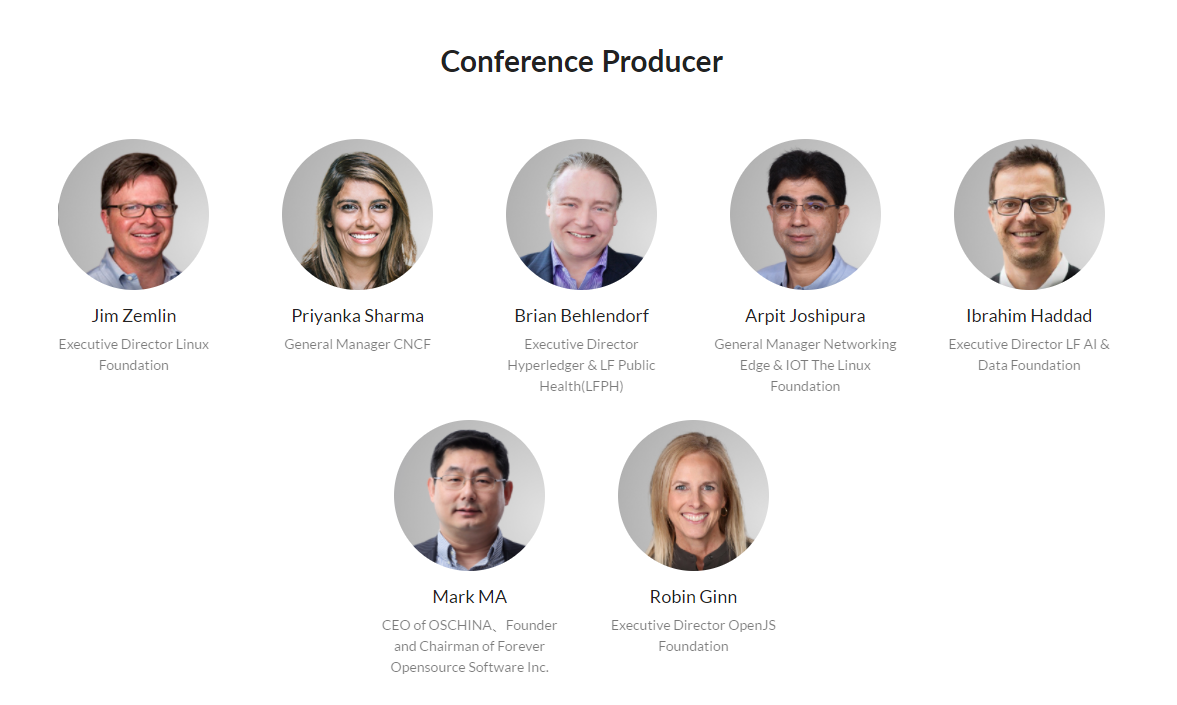 Open Source Round Table Talk
Project growth, open source governance, open source ecological operations, the spread of open source culture, and open source commercialization have all developed rapidly. In this process, open source is flourishing, and of course some new problems have been encountered. Heads of several top open source foundations in the world are invited to participate in the round table to discuss the new open source ecosystem.
Open Source Operations and Governance
Regarding the operation and governance of open source, more and more attention has been paid in recent years. How companies formulate open source strategies, how individuals participate in open source communities, how to deal with the upstream and downstream relationships of open source, how open source communities operate, how to choose open source agreements... It is a topic that needs to be spread vigorously. The conference specially set up a live broadcast sharing session, inviting open source experts in relevant directions to share their experience.
Conference Venue
Shanghai World Expo Center
Address:1500 Shibo Ave, Pudong, Shanghai, China
How to register
As ZenTao is part of the Chinese opensource community, ZenTao team would like to help open source lovers from the world to connect with this conference. You can either use the chatbot or leave us a message and our team will help.
---
See also