Practices of Agile Management
2020-11-25 09:38:32
philip

Original

3526
Summary : The practice of Agile Management
Practices of Agile Management
Any organization has a lot of projects in hand, from traditional waterfalls to things that look like iterations.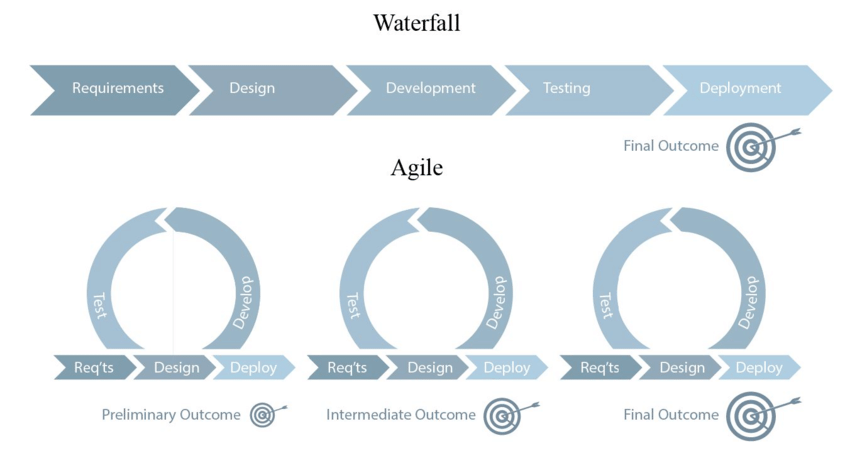 Picture Quoted From:https://www.spf-consulting.ch/




In my experience, most companies don't want to be (and are not) Masters of elegance. They always want to use a whole set of methods and try to implement it across departments and branches, even across the company. This requires a huge training process and the creation of a project management office (the people in this office are responsible for developing the practice process based on a complete set of required to use software tools, which contain a set of dedicated templates and workflow). I think the latter is totalitarianism.
The one size fits all approach provides only the illusion of control. Why? Very few employees follow the system because if they do, they don't do much work at all, they just go through the motions and do what they have to do.
Here are my best and worst practices based on years of practice. You can use it as an informal tool to evaluate what agile levels are in your company.
1. Agile world view
Best practice: adopt a quantitative approach and accept the fact that we can't know enough information to make an accurate plan. However, we can plan, revise, and re-plan as much as possible.
Worst practice: stick to a highly detailed and accurate plan. And that the plan is a prophecy that makes people responsible for it.
2. Full-spectrum project management
Best practice: develop and support a spectrum of project management methods that can be adapted to both waterfall type projects and high-risk speculative projects (its life cycle is like looping squiggly line)
Worst practice: adhere to one size fits all project management and establish a project management office. Its main responsibility is to strengthen the use of a standardized methodology.
3. Cultural Alliance
Best practice: building an adaptive project management approach in the existing corporate culture (from traditional to extreme)
Worst practice: trying to use project management to change company culture. This makes the culture more stubborn and defeats project management.
4. Motivation and innovation
Best practice: allow employees to own and be responsible for their work. This can be achieved by using the four acceleration theories of XP management.
Worst practice: the project manager hired is a strict taskmaster who sees work as an assignment rather than coaching, mentoring, consulting, and leading.
5. Trust and confidence
Best practice: create a value system of trust and confidence that includes the key components of successful construction of all projects, especially extreme projects. Ten shared values of extreme project management can cultivate this kind of trust and confidence.
Worst practices: encourage project managers to achieve goals at the expense of quality of life, customer team collaboration, and even sincere communication.
6. Bottom line focus
Best practice: manage all projects as a business venture and expect some acceptable return on investment.
Worst practice: define success based on time, scope, and budget, rather than on the project meeting expected ROI.
7. Measurement
Best practice: establish metrics that reflect seven of the project's win conditions.
Worst practices: no metrics or only traditional metrics (time, scope, budget).
8. Priority setting
Best practice: manage projects as your portfolio.
Worst practice: treat the project as a trip and take on a new project without fully considering the project's portfolio and project capability.
9. Vision organization
Best practice: appoint a multifunctional Steering Committee to identify the right projects and resolve conflicts between them at the level of the organization's business strategy.
Worst practice: allowing arbitrary and arbitrary people to dominate.
10. Sponsor status
Best practice: make sure that every project has a sponsor who has a strong interest in the success of the project, and that he has an organizational status that can clear the way for the project and fight for policy.
Worst practice: ignore the organization's impact on project dynamics and expect the project manager to handle it himself.
11. Process leadership
Best practice: appoint a good project manager who has excellent ability to resolve conflicts, guide the organization to make decisions quickly and manage the project process.
Worst practice: the appointed project manager is technically competent but does not recognize people communication skills and relationship management.
12. One project at a time
Best practice: introduce project management in a way that is acceptable to all, and apply it to actual projects, one project at a time.
Worst practice: establish project management by introducing process change across the organization. This way will surely die from the overload of the way itself.
13. The success of institutionalization
Best practice: set up a project support group to provide some services, such as salon for experienced project managers, coaching, the introduction of methodology and related tools, support for project managers in investment management and project tracking management.
Worst practices: establish a project office to manage institutionalized project management practices and supervise project teams.