Current Page : Blog Home
How a Product Manager Can Develop a Successful Strategy
How a Product Manager Can Develop a Successful Strategy
2023-07-18 17:00:00
Gaurav Sharma

Original

791
Summary : Wondering how a product manager can develop a strategy that actually works and delivers solid results? Read this post to find a complete step-by-step guide.
Product creation and development take a lot of time and effort. The challenge is how a product manager can develop a strategy that will make a product successful in the market.
Product managers oversee the design, pricing, features, and promotion of a product. This comes with a lot of challenges, the biggest one being getting a consensus on the product's direction, according to a recent survey.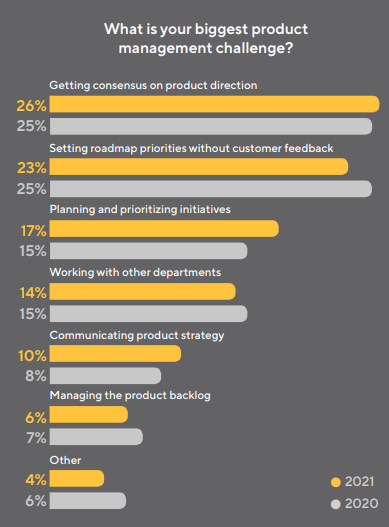 Image Source: ProductPlan
A product strategy gives managers a sense of direction, helping streamline their product management processes when launching a new product. What is a product strategy, and how can product managers develop a successful one? In this post, I have given all the answers. So, let's get started.
I. What is Product Strategy?
A product strategy refers to a plan that defines a product, what a business wishes to accomplish with it, and how it will do so. A product strategy contains the goals a company wishes to attain with a certain product and lists the product's benefits for end users. A product strategy contains the following key elements:
Key user needs the product will solve

The target market for the product

A product's unique selling points

A business's goals for the product
These are must-have elements in a good product strategy. Keep this information in mind when developing a successful strategy.
II. How a Product Manager Can Develop a Strategy
Here's a step-by-step process for a product manager to develop a product management strategy.
1. Understand Your Target Market
This is crucial in finding the product/market fit. Many managers focus on consulting internally, with their sales, marketing, and executive teams. And though it's good to find insights internally and rely on your instincts as an entrepreneur, it's not enough. You'll also need data from external sources.
Conduct thorough market research to understand the market dynamics, key players, level of competition, etc.Evaluating the market should include knowing who your users are and their needs. This is especially useful in this digital marketing age where most products are customer-centric.
This is the first step a product manager should take to develop a strategy. This way you'll avoid creating products that don't have a market demand and are bound to fail.
Here's how you can understand your target market:
Conducting field studies and interviews

Using interactive

AI chatbots

to collect consumer feedback

Running social media surveys and discussions

Using email marketing tools to run email campaigns to send survey and collect product feedback
Use these insights to develop yoru product and find the product-market fit.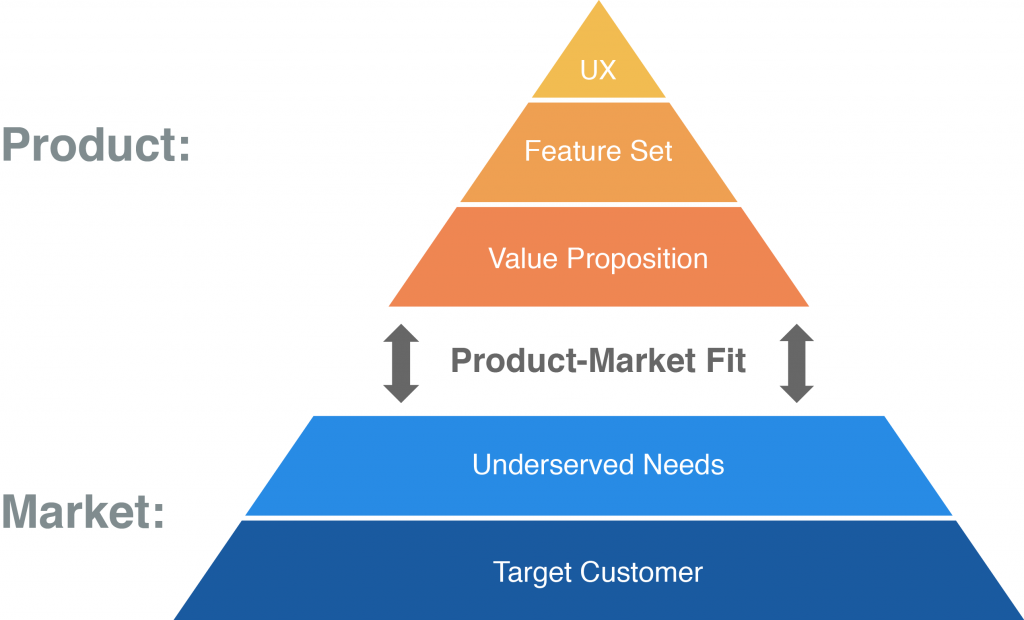 Image Source: Lean Startup Co.
2. Develop a Product Vision
The goals you wish to achieve with your product should align with overall business goals. Therefore, as a product manager, you need to define the purpose of the product and where you're headed with it.
Your product vision will act as a motivation for your team. One way to develop your product vision is by setting long-term goals. Having a clear product vision will increase your chances of getting your product approved by the C-suite. It will also help other team members understand your vision.
However, your vision will need to be compelling when you present it to the C-suite. It helps to show it in the form of a video. A simple video editing tool with premier pro transitions will do the trick.Once you and your team are on the same page with regard to your overarching vision for a product, you can then define your product goals.
3. Define Product Goals
While your product vision represents the bigger picture, your goals break this down into time-bound goals. These lay down the steps you'll have to take to arrive at your destination. They represent specific items you would like your product to accomplish. Product goals will help your team know where to direct their efforts. Part of developing a strategy also involves analyzing the challenges you'll encounter while trying to achieve these goals. You can think of this as a way to gauge your product strategy to predict how much success you're likely to have with it.
4. Stay in Sync With Other Teams
Your product strategy should involve all relevant departments. You'll need to make sure all departments are clear on your product vision and what their roles are. These departments include development, design, sales, and marketing.
You can use a CRM tool to enable the sales, marketing, and customer service departments to collaborate. Some project management software like Zentao will also help with that. However, one of the main challenges of CRM tools is that they can be expensive to acquire, especially for small businesses.
5. Define Success Metrics
At this point, your direction is set. Now, how do you measure performance? You'll need to set KPIs to measure performance to see if your strategy is working. Tracking your metrics helps you address some of your customer requests and concerns. It enables you to determine if the product you're building is right for your customers. Each department involved will need to define its key performance indicators. For instance, with SaaS products, your development team can track customer feedback to determine how a product is performing or maybe check how many generated leads are converted into sales. If customers are asking for more features or improvements on certain features, it gives the development team a chance to improve the product.
6. Execute Your Product Strategy
This is the last step in this development process and is often iterative. You'll need to keep changing the strategy to improve it and make it versatile so it can grow with the company. At this stage, you also need to combine your product strategy with marketing and project management tools for increased effectiveness. For instance, tools like ClickFunnels will help you build an effective marketing strategy and sales funnel for your business.
Ready to Build Your Product Strategy?
If your product managers can develop a strategy that works, then your new products will have a higher chance of success. A well-developed strategy helps organize multiple teams and give them a singular direction or focus. It also helps foster collaboration between teams and minimizes instability when bringing new products to the market. Your strategy needs to align with your business goals and provide a great user experience. Be sure to review and improve your strategy constantly to make the most of it. Good luck!
Need more help? Check out the Zentao blog. They have more articles on project management tools, software management, building cross-functional teams, and so much more.
---
Author bio :
Gaurav Sharma is the founder and CEO of Attrock, a results-driven digital marketing company. Grew an agency from 5-figure to 7-figure revenue in just two years | 10X leads | 2.8X conversions | 300K organic monthly traffic. He also contributes to top publications like HuffPost, Adweek, Business 2 Community, TechCrunch, and more.