Current Page : Blog Home
Choosing the Right Data Analytics Tool for Your Business
Choosing the Right Data Analytics Tool for Your Business
2023-10-26 21:00:00
Hazel Raoult

Original

263
Summary : In a world where data drives business decisions, selecting the right data analytics tool is essential for project managers. This article presents seven tips for making the right choice, defining objectives, centralized data management, customizable dashboards, data security, advanced analytics capabilities, integration options, and pricing structure are key factors to consider when picking a data analytics tool.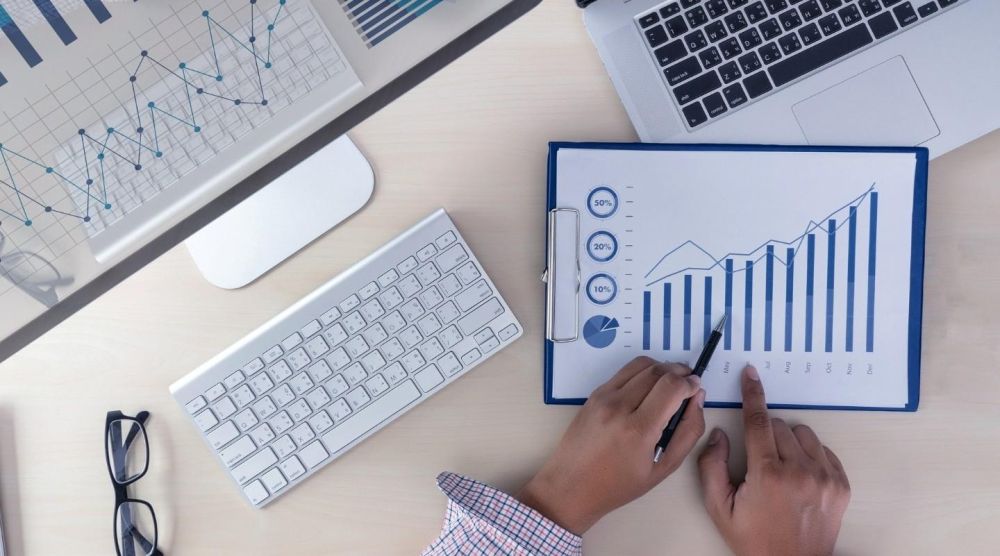 Image Source: Redcomm
Project managers have long relied on technical and IT experts to collect, share, and analyze data for vital business operations. Integrating diverse data sources and extracting valuable insights was technically complicated, negatively impacting their productivity. That's when leveraging data analytics tools became crucial.
Deploying the right data analytics tool allows project managers to analyze data and unearth ever-evolving industry trends, patterns, and customer insights with zero hassles. It enables everyone, including non-tech-savvy professionals, to visualize data without needing assistance from IT teams. This fosters quick and accurate business decision-making, ultimately accelerating a firm's revenue marketing efforts. No wonder, most leading industry players are investing in analytics tools to build a steady stream of revenue. Reports state that the data analytics market is growing at a staggering 30% annual growth rate.
In this post, we will share seven powerful tips to help you choose a relevant data analytics tool for your business.
1. Define Your Core Objectives
Like any other IT software investment, your data analytics tool should align with your goals. Clear, measurable goals allow you to plan and execute projects while ensuring your team delivers peak performance. So, define your core objectives and project outcomes you want to achieve.
Whether it's enhancing your team's operational efficiency, mapping the latest customer trends, or financial forecasting, set the goals. This can help you identify the most relevant data analytics platform.
2. Look for Centralized Data Management
Data is the fuel to drive a project's success. However, data is often scattered across diverse sources, making it difficult to access and analyze. So, look for data analytics software offering a centralized data management system. A centralized approach can filter, store, and streamline helpful data you need for the project. Besides, it ensures data accuracy and reliability as you have one single source of truth.
Leveraging a unified data management platform can thus bolster quick and accurate decision-making for successful project management.
3. Prioritize Customizable and User-Friendly Dashboards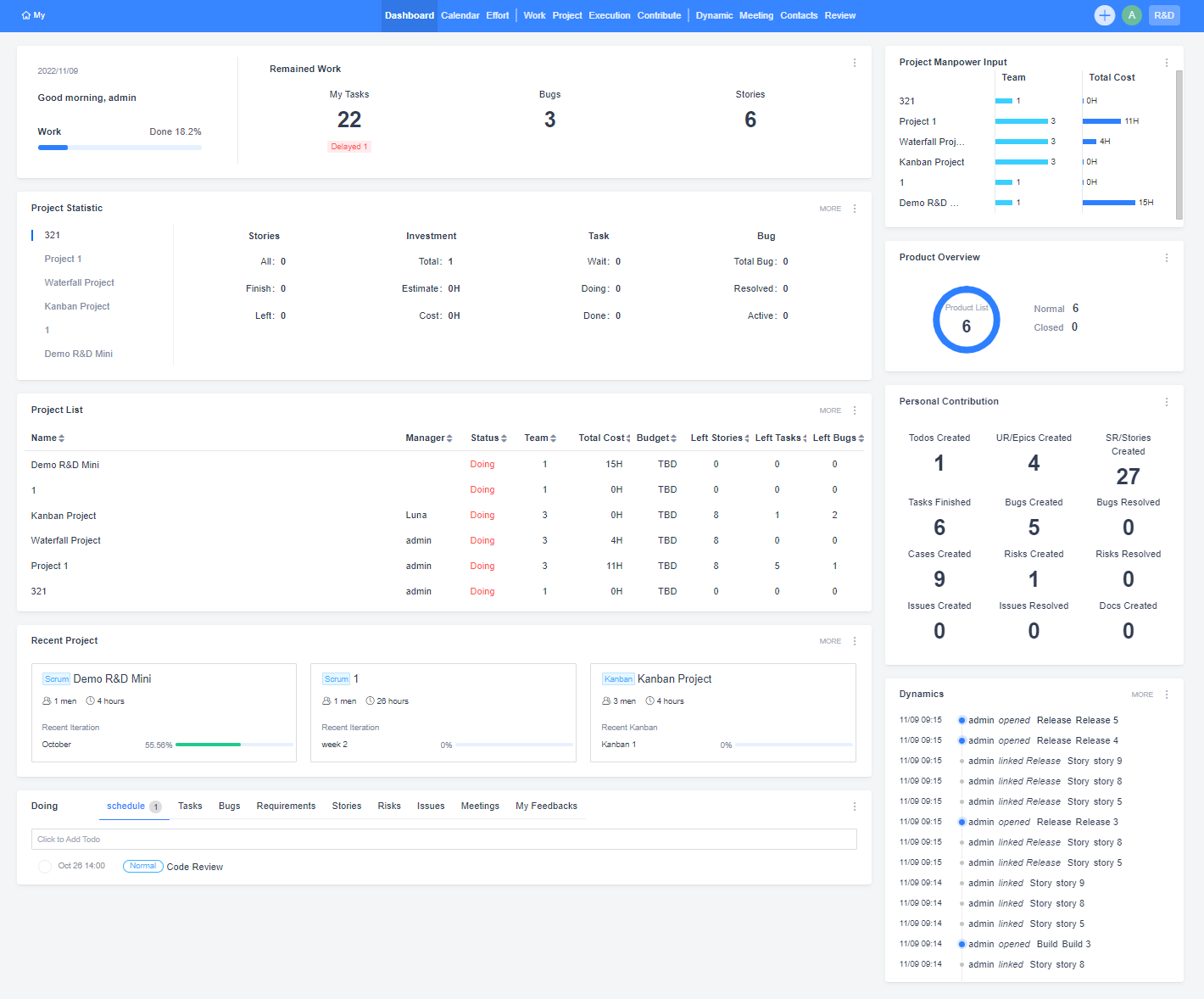 Image Source: ZenTao
Every project is different, and so are its requirements. As a project manager, deploy a data analytics tool with customizable and user-friendly dashboards to adapt to the project's needs. They allow you to tailor the user interface to display the most relevant project key performance indicators (KPIs). For instance, if you're handling a software app development project, you should track KPIs, such as sprint burndown, velocity, flow efficiency, and more, to ensure meeting goals.
Here, prioritizing a user-friendly and customizable dashboard can ensure seamless navigation with relevant insights. This can enhance your decision-making and project-management capabilities.
4. Emphasize on Data Security Features
Data breaches are becoming prevalent nowadays. Unauthorized data access and corruption can put your business reputation at stake. The recent incident where cybercriminals attacked Accenture, is enough proof. So, choosing an analytics tool with robust data security features and functionalities is crucial to safeguarding your business and client's sensitive data.
Moreover, 94% of companies leverage cloud services in 2023. With the increasing adoption of cloud infrastructure and services, leveraging a data analytics tool that can integrate with cloud security posture management (CSPM) is necessary. This will strengthen the firm's cloud security. Simply put, your crucial project data is stored and processed, allowing you to identify and address potential vulnerabilities. This way, you can minimize the risk of data misuse in cloud environments.
5. Opt for Advanced Analytics Capabilities
Data analytics tools with advanced predictive and prescriptive algorithms can prove a game-changer. Let's understand this with a real-time example.
Say you are a project manager handling marketing campaigns. With a predictive analytics-powered tool, you can analyze past and current marketing campaign insights, including customer behavior, trends, and more, and forecast future outcomes. On the other hand, prescriptive analytics offers actionable recommendations to ensure your campaign's success. The tool, for example, can recommend you target specific regions or deploy several marketing strategies to achieve the desired outcomes.
In short, choosing a data analytics tool powered by these advanced capabilities can drive strategic planning, informed decision-making, and improved efficiency.
6. Check Integration Capabilities
Integration capabilities allow you to access data from multiple tools on a single platform. You don't need to switch between them frequently for enhanced operational efficiency.
So, opt for a data analytics tool with a multi-tool integration feature. For instance, it should integrate with your existing project management software, ERP platform, and other crucial third-party applications. This minimizes the need for manual project data entry, saving your resources, time, and budget.
The best part? The risk of human errors becomes zero.
7. Consider the Pricing Structure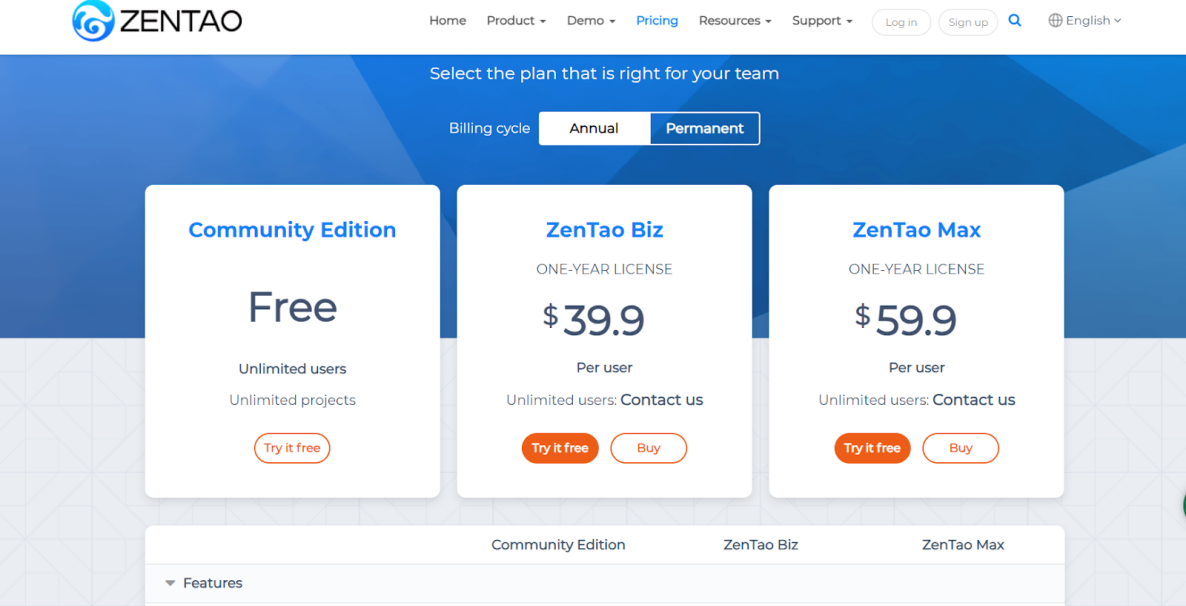 Image Source: ZenTao
As a manager, you must finish a project within a timeframe and budget. While all the above-shared factors can take care of efficiency and time management, you need substantial capital to deploy a feature-equipped analytics tool.
So, it's pivotal that you consider software pricing structure before making a decision. For instance, understand whether the data analytics tool offers a subscription (monthly/yearly), pay-per-usage plan, or requires a license.
Ensure the tool you finalize fits within your project budget constraints. Besides, acknowledge the additional charges you might have to pay during the implementation and post-implementation phases.
So, connect with the data analytics tool provider and understand the pricing structure. This can ensure the tool you choose provides maximum value and aligns with your budget.
Summing Up
Deploying a relevant data analytics tool can help manage projects hassle-free while boosting efficiency, productivity, and performance. However, there's a plethora of data analytics tools in the market that claim to be the best among all. Any wrong decision can put your business's hard-earned reputation at stake. So, consider the vital aspects, as shared in this post, in mind during decision-making. This can help you make strategic decisions and deliver quality projects for a positive ROI. So, choose the most relevant data analytics tool to turbocharge your project management.