7 Best Alternatives to Jira Self-Hosted 2023
2021-03-25 17:35:45
Pixel Gaccia

Source

Repost

19182
Summary : There are many other agile management tools as alternatives to Jira you could try with. We will compare features among the most popular ones to help you choose the best for you.
7 Best Alternatives to Jira Self-Hosted 2022
When talking about project management tools, Jira almost comes to 1st all the time. But since Jira did pronounce that there will be no more Jira Service Desk, it's such a headache for many teams especially they just want to locate their data on their own. And there are so many other numerous reasons, like product integration or Apps that only work on Servers ( Such as Insight Discovery ).
Actually, there are many other agile management tools as alternatives to Jira you could try with. We will compare in features among the most popular ones to help you choose the best for you. And In this list, they are all
Agile tool ( or Scrum tool )
Self-hosted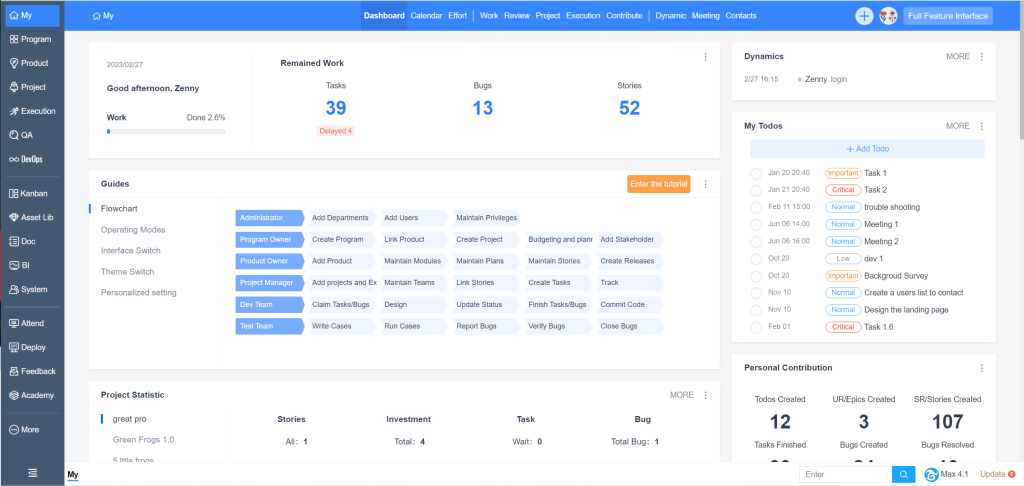 Image Source: ZenTao
ZenTao is an open-source project management scrum tool made for software development. which is one of Jira alternatives .While Jira uses issue tracking, ZenTao uses story and bug to track issues. It's a brilliant idea for application lifecycle management which you could track with the most transparency. It focuses on streamlining the core management framework of the business in handling product, routine, documentation, source code, feedback, attendance, and operations. As an open-source scrum tool, ZenTao gives teams and managers more visibility in each stage of the project. With full control and customizability, organizations can manage software development projects better.
ZenTao offers both cloud versions as well as self-hosted versions. Whether you are a smaller or bigger team, you can choose the hosting option according to your requirements.
1.1 Feature set
Task Management:ZenTao lets you create unlimited tasks, assign tasks to different people, and prioritize each task based on its importance level. You can also break down your tasks into milestones and then track your progress based on these milestones.

Project Scheduling: ZenTao also lets you schedule different projects and then see your team's workload with its project schedule views. You can also create dependencies between different tasks to track whether everything has been completed on time.

Source Code Management: ZenTao is integrated with Git and SVN, supports online viewing/commenting of code, and can link to stories/tasks/bugs.

Document Management: ZenTao's powerful document management function supports online preview/edit/compare documents, while users can also customize the document library for their products and projects.

Resource Allocation: ZenTao is a Jira-like alternative that lets you manage the resources you use for certain tasks. For example, if you're working on a task related to "Website Design," you can allocate the design team as the people working on it.

Time Tracking: ZenTao allows you to track how much time has been spent on different tasks. You can also track the time spent on individual resources working on a task, which is very helpful when tracking multiple resources on a single task.

Last but not least, ZenTao also has these various functions: Daily Management, OPS Management, Story Management, Routine Management, Case Management, Test Management, Build Management, Burndown Chart, Product Management, Bug Management, QA Management, Statistical Reports, Sprint Management, Feedback Management, Release Management, Todo Management, Attendance Management, Team Management, etc.
1.2
Pros and Cons
ZenTao is open source and fulfills the highest data security and privacy standards. ZenTao invests continuously in the security of services and user data protection. Together with the global ZenTao community, they build leading open-source project collaboration software.
ZenTao covers all features that Jira offers. But in addition to this, ZenTao has a comprehensive feature set for agile, classic, and hybrid project management. Thus, it offers a much larger set of features. Its pricing is more flexible as the ZenTao Biz version is also available for smaller teams. And the open-source version is undoubtedly free and can be used by an unlimited number of users across unlimited projects.
Suppose you are looking for versatile project management software that covers agile, classic, and hybrid project management with supporting features like product management, task management, test management, time tracking, etc. In that case, you should try ZenTao, which can be used as the best alternative to Jira. Most importantly, ZenTao's economical self-hosted service can reduce the burden on your team!
1.3 Pricing
Image Source: ZenTao
There are 3 ZenTao versions available. ZenTao Open Source version is free, but some functionalities are limited, like Gantt, Word & Excel exportation and importation.
ZenTao Biz and ZenTao Max are both available for a 3-month free trial. For the ZenTao Biz version, you can choose a cost-effective project management software for your team for only 2.9$ per month. And lastly, ZenTao Max is packed with all the features you need, for just $4 per month, you can enjoy all the services from ZenTao Max!
So, why not make an appointment for a demo and get to know ZenTao in more detail?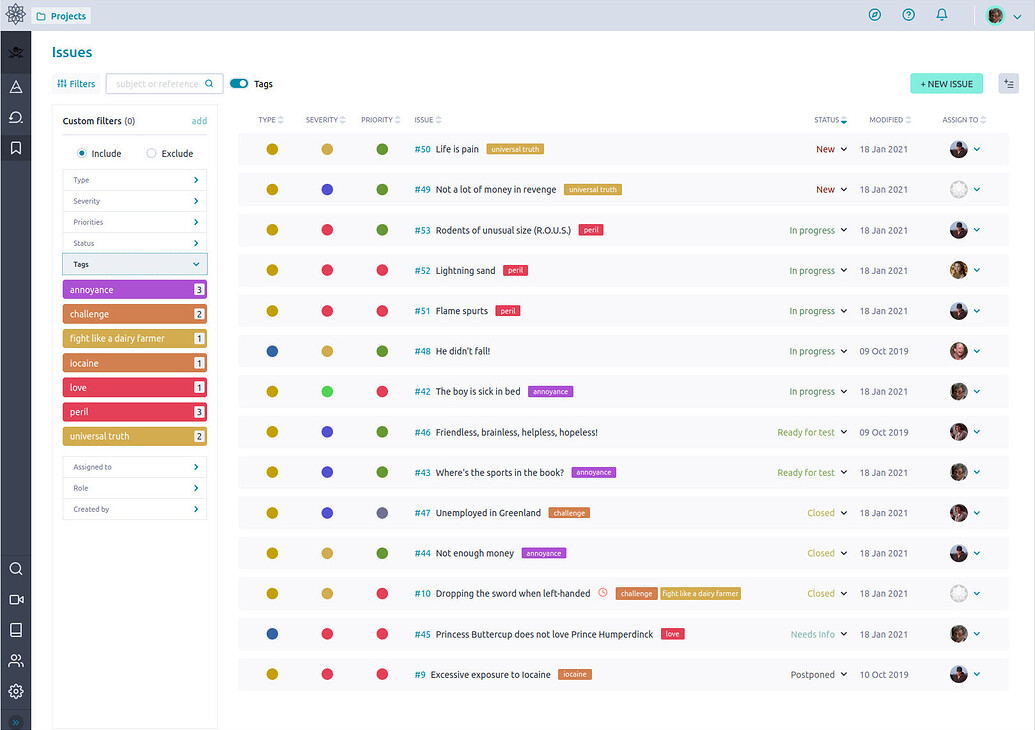 Image Source: Taiga
Taiga is an easy and intuitive yet powerful project management tool of Jira alternatives for cross-functional agile teams, startups, and developers & designers who want a simple, beautiful tool that makes work truly enjoyable. It has a rich and complete feature set (including backlog, sprint planning, burn down chart, Kanban board with Swimlanes, Epics, issue tracking, and wiki) and extensive customization options.

Some organizations prefer on-premises software for various reasons, one being data security. Taiga offers its software in the cloud as well as on-premises versions. However, same as Jira, the pricing of the Taiga on-premises version is targeted at larger teams (50+ team members).
2.1 Feature set
Intuitive and simple, yet feature a complete Kanban board.

Complete set of boards to plan and show individual sprints from the backlog.

Integrated and complete issues/bug tracking.

Complete set of dashboards and reporting possibilities.

Overview of progress on activities & completed deliverables

Self-hosted: Taiga's on-premise hosting option is ideal for larger teams or multiple small teams that need to have all data on their servers and want to customize Taiga.
2.2
Pros and Cons
Taiga has a wide network that connects many workers to perform team tasks. It is a complete software that has tools to manage bugs, to track problems, as well as kanban boards and Gantt charts that are extremely useful, user can add a wiki to any project.
Taiga's learning costs are very high. It is a platform with many tool integrations, a disorganized interface, and few customization options, which makes the software difficult to learn for the inexperienced. In addition, Taiga's free plan is very limited and needs to allow users to visualize the actual capacity of the software. Also, Taiga has yet to get a mobile version, so it's not very convenient.
2.3 Pricing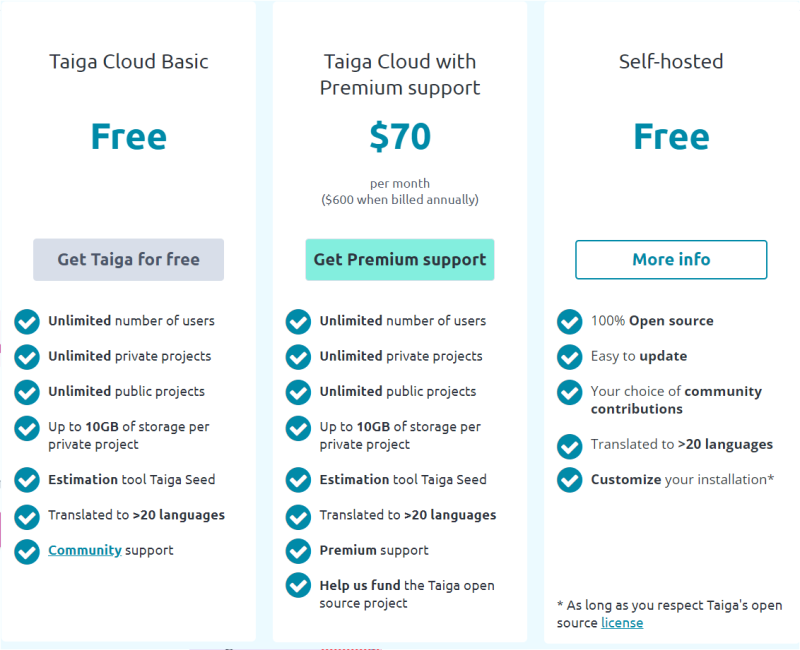 Image Source: Taiga
There are 3 Taiga versions available. The basic version is free for up to 3 members in 1 private project, while the premium version starts at $7 per user per month. Taiga on-premise is targeted at large teams, starting at $531 per month for 100 users.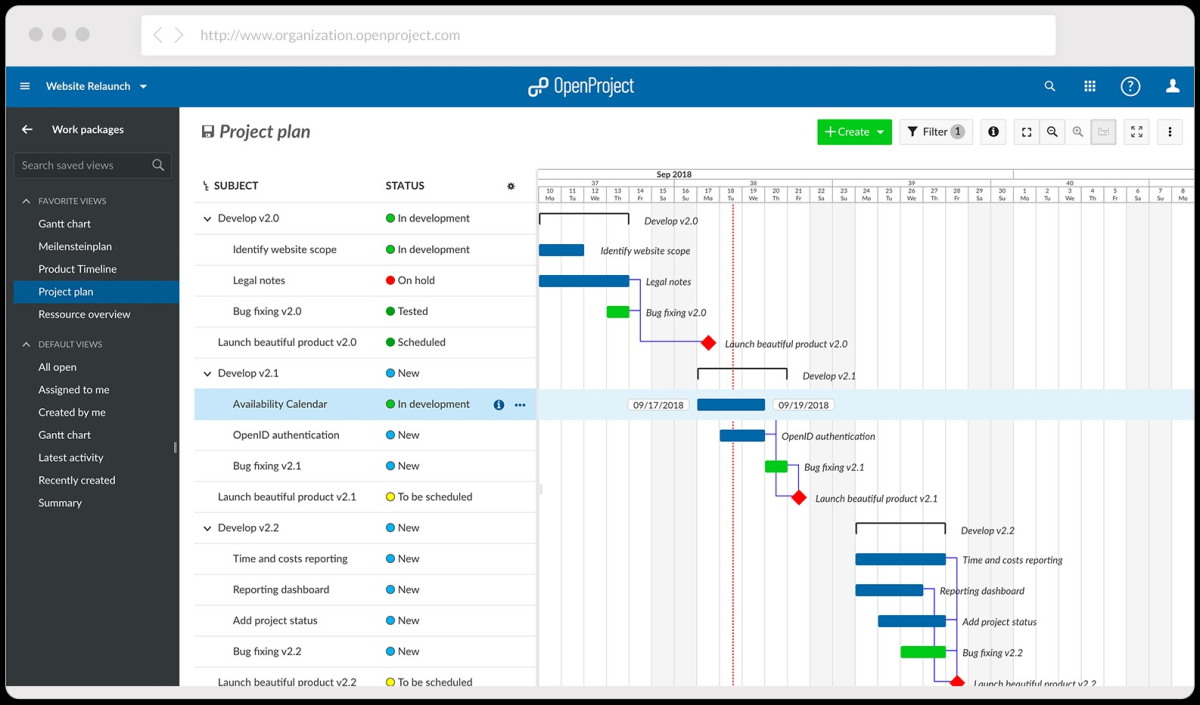 Image Source: OpenProject
OpenProject - just like its name - it's an open-source, popular project management tool, which supports classic, agile, and hybrid PM methodology. As one of Jira alternatives,this app enables project teams to efficiently deal with project planning, task management, time tracking, agile team collaboration, and product roadmap.
OpenProject is continuously developed by an active open-source community governed by the OpenProject Foundation. This tool contains both the self-hosted version and the cloud version. The free and open-source one is named OpenProject Community Edition, and it's on-premises. It has OpenProject Enterprise On-premises Edition and OpenProject Enterprise Cloud Edition, which are chargeable.
3.1 Feature set
Gantt charts: Visualize how and when the milestones will be delivered.

Project templates: Create projects in an easy and time-saving way.

Basic boards: Create flexible boards for any activity you want to track. Manually add cards and columns to the board.

Time reports and resource management: Track the spent time, labor costs, and budgeting.

Wiki: Manage project documentation and guidelines in one place.

Roadmap: Have an overview of multiple projects and analyze them based on multiple metrics.

GitHub Integration: Connect your development code directly. It's a benefit for software teams.
3.2 Pros and Cons
With the powerful features, Openproject could support project teams throughout the life cycle. You can use it to track requirements, tasks, and bugs until the final release. Whether you are from an agile or classic team, you can always find your management way in OpenProject.
However, the UI design is confusing. Users have to be familiar with some project management methodologies. Otherwise, they will be more likely to get lost in the tool. Besides, it supports limited file types, and finding or generating your targeted reports takes work.
3.3 Pricing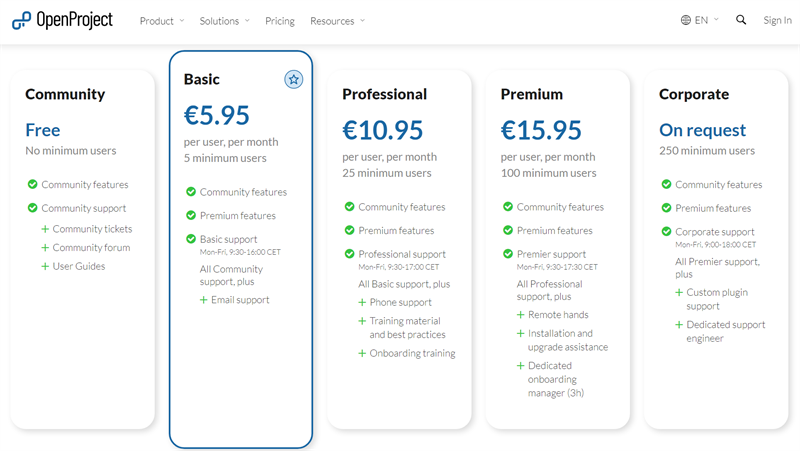 Image Source: OpenProject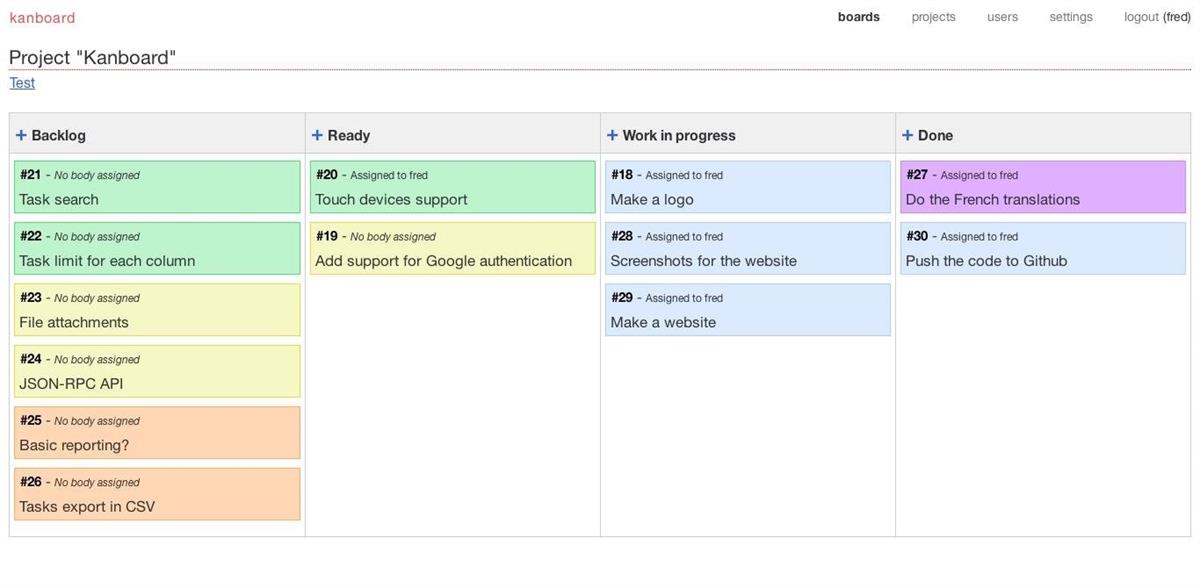 Image Source: Kanboard
Kanboard is a free and open-source Kanban project management software. As we can see from its official website, it's very simple, like the physical whiteboard, and all you need to do is drag and drop the task cards to different columns, but it's more powerful than a physical whiteboard.
4.1 Feature set
Visualization: You can have a clear overview of all your tasks.

WIP settings: Limit your work in progress to be more efficient

Search and filter tasks: Dynamically apply custom filters on the board to find your needs. Search by assignees, description, categories, due date, etc.

Automatic actions: It allows you to change the assignee, colors, and categories automatically.

Multiple Authentication Backends: Connect Kanboard to your LDAP/Active Directory server or use any OAuth2 provider (Google, GitHub, GitLab...).
4.2 Pros and Cons
You can find all the benefits of the physical whiteboard from Kanboard, and it's very easy to use. But, if you are in a mess of tasks involving the software development teams, Kanboard is too simple to handle such scenarios.
4.3 Pricing
Kanboard is now free for users to enjoy, but if your company uses Kanboard daily, please consider making a small donation.
5. Orangescrum
Orangescrum is a project management tool that can provide enterprises with a complete project management solution.
There are four versions, cloud version, self-hosted edition, open-source edition, and Orangescrum CRM, to satisfy the requirements of various users.
5.1 Feature set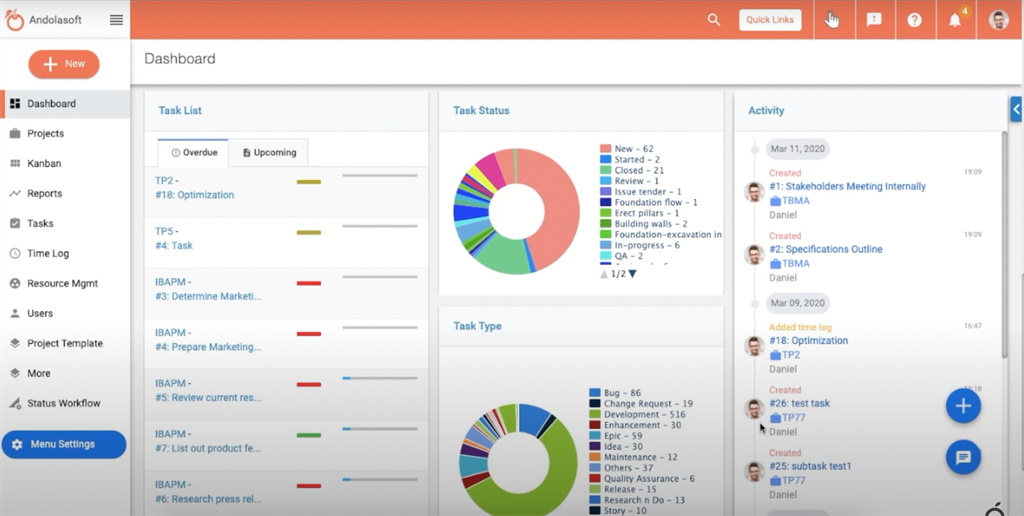 Agile Scrum Project Methodology | Orangescrum
Orangscrum has a Scrum module, and kanban boards can support teams managing multiple projects. Creating project plans, assigning tasks to your team, and managing resources and their time is as easy as making coffee.
Besides, Orangescrum could help you run your business confidently, enhance the ability to collaborate in real-time, and improve visibility across all business functions.
Whether it's marketing teams, developers, QAs, or product teams, they manage all their projects seamlessly with Orangescrum. And predefined project plans and templates have all the tools you need to empower your teams to execute their project with custom status workflow, role-based access control, timesheets, Gantt chart, resource availability, resource utilization, and comprehensive reports packed into one simple yet powerful project management tool.
5.2 Pros and Cons
As a project manager, you already have to face many challenges, from managing remote teams and complex projects to many tasks, demanding customers, and approaching deadlines. However, Orangescrum wouldn't let you worry about these anymore.
In addition, as an agile project management software, Orangescrum can be integrated with all kinds of organizations, make easier team collaboration efforts, prioritize your tasks, sub-tasks, and sub-sub-tasks, and offer you an overview of recurring, pending, and completed tasks.
However, Orangescrum is a pure agile project management tool. It does not support waterfall models, CMMI and DevOps, nor provide the ability to create and store documentation. Besides, you can't use it to do testing workflow management.
5.3 Pricing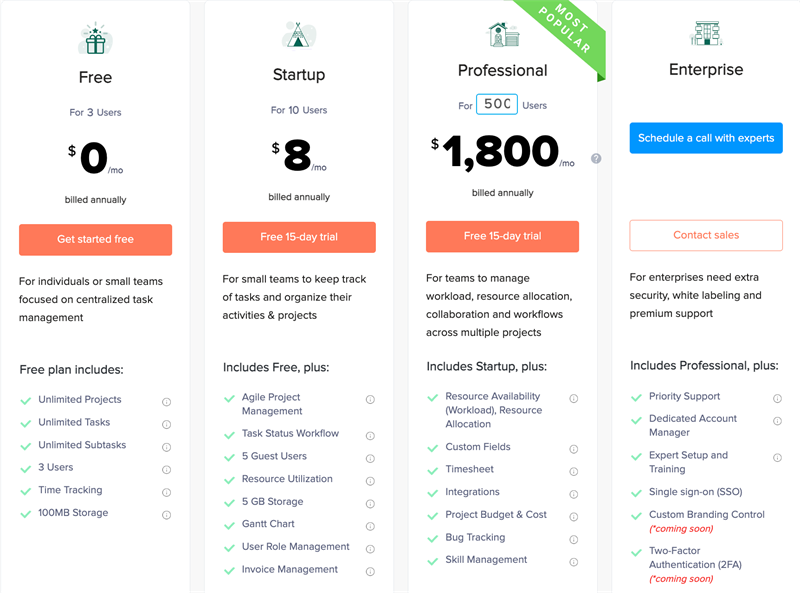 Agile Scrum Project Methodology | Orangescrum
6.Tuleap
Image Source: Tuleap
Tuleap is the leading open-source tool for enterprise Agile planning and DevOps.
Tuleap platform can be accurate from 20 users to 20,000 and more than 200 workspaces, and whether you install it on your servers or use it in the cloud, Tuleap is one of the good Jira alternatives.
6.1 Feature set
Image Source: Tuleap
Tuleap can help you set up multi-profile teams and ensure they are aligned with the same version to ensure everyone is working toward quality products. Also, Tuleap will assist you in automating your software development and testing processes with continuous delivery, complete your quality assurance processes, and prove that they've been followed to the letter.
Tuleap is all of your tools and all of your teams under one roof. Schedule, track, code, and share from the office or anywhere inside Tuleap. Tuleap lets you implement a wide range of methods and processes simultaneously.
In Tuleap, you can manage projects and generate reports using Scrum, SAFe, or other agile methods, manage your HelpDesk and other activities with Kanban and manage your code DevOps.
What makes Tuleap different is that it helps you guarantee that your releases align with specifications. And you can prove it. Tuleap creates links between requirements, code, tests, bugs, and everything.
6.2 Pros and Cons
Tuleap starts you on a journey of continuous improvement. Because with Tuleap, you get support, guarantees, and the advice you need to do better. Your people will hit the ground running for fast ROI.
Tuleap is also open source. That means more freedom, more independence, and more innovation.
However, one of its biggest drawbacks is no free trial. Users must pay to use this product, which exposes companies to risk and higher costs.
6.3 Pricing
Image Source: Tuleap

Image Source: Tuleap
For on-premises version, Tuleap provides expert plan for €18/user/month, managed plan €25/user/month.
For cloud version, Tuleap provides myTuleap plan for €5/user/month, premium cloud plan €24/user/month.
7.Odoo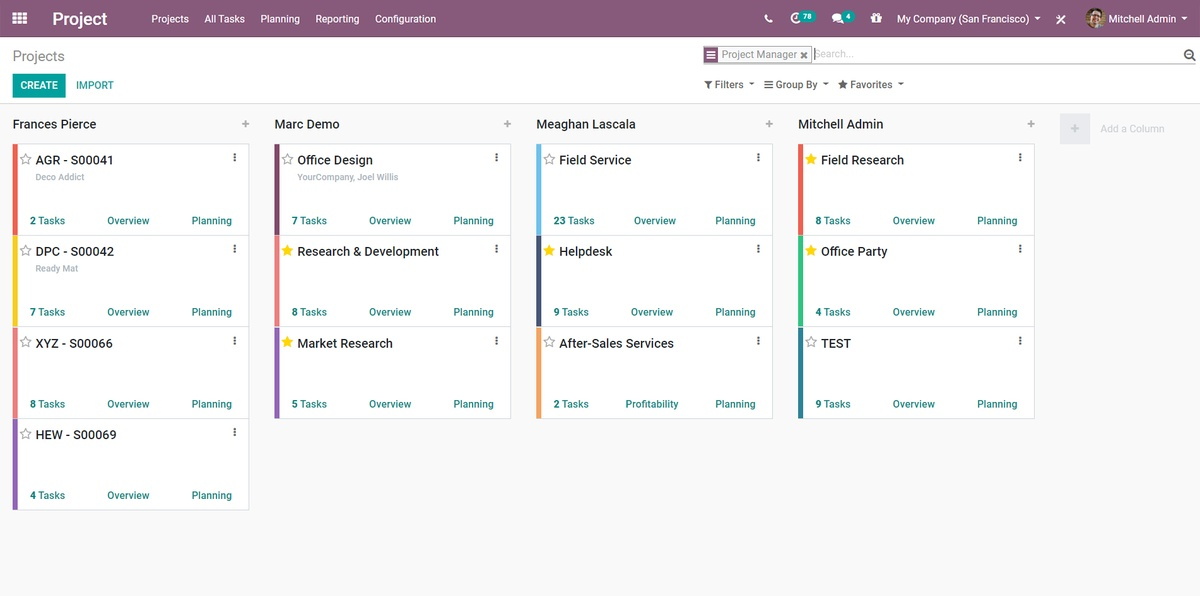 Image Source: Odoo
Odoo is an all-in-one suite of business management software tools to help you manage your business and be more efficient wherever you are. Fully customizable to your needs, with features that enable your employees to do more in less time and all for a lower price.
Odoo's unique value proposition is simultaneously very easy to use and fully integrated.
With online and on-premise offerings, Odoo is used by over 7 million users worldwide, ranging from startup companies (1 user) to large enterprises (300,000+ users). Offerings are up to 3 times more affordable than traditional competitors.
In a world of constant evolution and processes becoming increasingly complex, wouldn't it be amazing to manage all your specific needs on a single platform? This is exactly what Odoo offers.
7.1 Feature set
Pivot tables for statistical analysis

Time tracking

Task archiving

Multi-project searches and analysis

Gantt charts for managing task timelines

Graphs for analyzing tag-wise, stage, and responsibility-wise task progress.
7.2 Pros and Cons
Odoo is an All in one tool. At present, it has more than 80 built-in apps. It can meet all kinds of needs in your work.
Opensource: licensed under the GNU LGPLv3. The license allows developers and companies to use and integrate a software component released under the LGPL into their own (even proprietary) software without being required by the terms of a strong copyleft license to release the source code of their components.
Since it contains many app modules, each module's functions will not be too powerful. Odoo's project management provides basic functionality. Such as project and task management modes. Items can have a kanban list, Gantt, and calendar views. And several simple report templates.
7.3 Pricing:
Free: for one app only, unlimited users

Standard $13.5 per user/month: for all apps of Odoo Online

Custom $20.4 per user/month: for all apps of Odoo Online, On-premise, Odoo Custom, Multi-Company, and External API
The free and open-source community version has fewer features than the paid business suite. Its project management software provides a Kanban-style task-tracking view for agile teams, which was revised in Odoo 11.0 to include a progress bar and animation for project status tracking. The project management tool includes Gantt maps, assignments, problems, graphs, and other features. Odoo has a vibrant community and offers user manuals and other educational materials.
At the end
There is a huge variety of project management software on the market nowadays, with different service options, such as self-hosted and cloud-based. However, you should be aware that Jira and Monday are no longer the "Only Ones" on the market and that much better, safer, and more niche project management tools are coming into the scene.
So maybe you could choose something more suitable rather than more famous? Good luck with your choice of tools, and enjoy your project management journey!
What's more
Stay with Jira or use an alternative?
Top 6 FREE and Open Source Project Management Systems in 2021