Current Page : Blog Home
Agile Project Management for Fulfillment Business
Agile Project Management for Fulfillment Business
2022-05-09 14:36:09
Oliver Thyra

Original

98
Summary : The need to meet the immediate demands of customers by leveraging technology is crucial to stay relevant and on top of your game. So in this blog, we dive into agile project management for fulfillment businesses and why you should consider it.

E-commerce is an ever-changing landscape. The constant need to meet changing technology, adapt to the latest trends, and meet flexible delivery processes are necessary. They are valid reasons to adopt an agile project management approach for fulfillment businesses.
Furthermore, the need to meet the immediate demands of customers by leveraging technology is crucial to stay relevant and on top of your game. Thus, in this blog, we dive into agile project management for fulfillment businesses and why you should consider it.
What is agile project management?
Agile project management refers to breaking down a process into smaller cycles that change in response to affecting factors. In agile, you accommodate the changes needed by the customers and market instead of rigorously following along with a process without room for new information-based developments.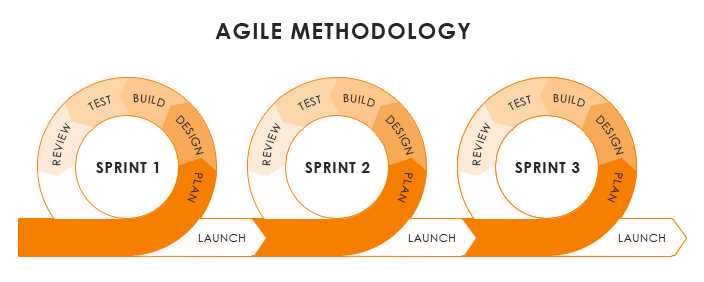 This kind of project management is revolutionizing the landscape across industries. Additionally, with e-commerce fulfillment, your business can touch on several customer experiences and delivery process steps.
By leveraging the iterative approach of agile with smaller cycles called sprints, businesses can make changes in phases while keeping the doors open for customer feedback throughout each cycle.
Purpose of agile management in the fulfillment business
Software development businesses first adopted agile project management. This shift in project management occurred as companies realized building and managing a daily activity process with several touchpoints cannot be like building a car. They can't have one objective and a well-defined plan. This process is relevant to the fulfillment business as well.
The teams and processes involved in fulfillment can no longer function as different siloes. They need to come together for a holistic approach that provides a good customer experience and improves the bottom line. In addition to that, planning, production, and distribution of the products have their constraints. Therefore, they need to be under a single project to sync and improve daily.
The importance of agile for fulfillment businesses
Agile can be an indispensable tool for fulfillment businesses when approached the right way. Here are some of the important ways that it can transform your business.
1. Flexibility with innovation
Today customers need streamlined and personalized experiences. The entry point to most businesses is easy to attain. However, it is difficult to sustain. The companies that innovate and provide services based on customers are the ones that thrive.
With agile, there is room for constant change and personalizing an ecommerce process based on website data, location-based data, and such metrics. There are also several decision-makers across the hierarchy with agile. This distribution makes innovation faster and easier instead of waiting for approvals from the top-down.
2. Predicting through the fulfillment process
Often, businesses rely on market trends data to make relevant changes to their services. Giants often lead such changes in the industry.
Among the leading trendsetters, Amazon analyzes data sets from customer behavior and competitor information to change factors such as pricing. Thus, it is unsurprising that the prices of products change 2.5 million times a day. These prices influence customer behavior and nudge them to make a purchase.
Likewise, as an ecommerce business, you can leverage the data at your disposal from consumer behavior on your site to deliver insights and make informed predictions. If you are ahead of your competitors in understanding their demands, you will make more strides in your bottom line.
3. Better product quality
In ecommerce, product quality is everything. With agile, testing is done across phases throughout the supply chain process and not only towards the end. You also take feedback into account at every step.
Agile allows for consistent evaluation of fulfillment processes and refining them as you go. This approach leads to a product that has considered several touchpoints of the feedback loop. As a result of this project management, the end product quality and the fulfillment process become better, meeting customer expectations.
4. Improving customer experience
Customer experience is at the crux of all businesses. To enhance this experience, you must consider all aspects of ecommerce fulfillment. This includes the experience of the website, order management, delivery updates, returns, exchanges, and customer feedback.
With agile, you can constantly make decisions based on informed customer expectations. You need to understand the time to ship, delivery charges across different locations, order customizations, and discounts at the checkout page as needed for different customer segments. Using this information, you can predict, learn, and make changes that best suit your customers using this information.
5. A seamless delivery experience
Usually, ecommerce order fulfillment is by default subject to availability and location. However, this approach is not flexible, with no room for customer perspective. When you constantly learn about customer behavior, understand the market, and respond based on these changes, your delivery process becomes more customer-oriented.
For example, suppose you believe customers from specific geography are not going through with their orders because of high delivery costs. In that case, you can associate with shipping providers who will cater to their geography at a lower price that benefits you and them. Likewise, you can change your distribution footprint and storage needs by learning about your customers and understanding the demand signals.
6. Better communication
There is room for miscommunication when the different fulfillment business areas function in siloes instead of being under a unified process. You could lose information in email threads and lose track of essential details without an appropriate project management process.
Agile allows you to have a single source to maintain a track of all the different facets of ecommerce fulfillment. You can take this a notch higher by using a well-made project management tool.
According to PwC, 77% of companies use a project management tool – and you should too. Because an effective project management tool is also crucial to the success of agile processes. A prominent tool that can help you adopt agile project management well is ZenTao.
Here's why:
It is the most affordable solution in the market when compared to popular tools like Jira. Whether you have a small team or want to scale further, ZenTao has an affordable plan.
It helps you create your product story and roadmap for effective product management.
It has a streamlined feedback management system consolidated into one platform. Any feedback on a story or a bug can be accessed easily.
You don't need to purchase applications such as Slack, Confluence, etc., to integrate with your project management tool. It has an in-built document manager, instant messenger and so much more.
A reliable support team that provides one-on-one remote support calls to clear your queries.
Using a tool like this can help you implement agile much more smoothly for your business. The reason is simple - when you can automate processes this well, you can focus on business decisions and oversee efficiency.
In a nutshell
You now know that if you aren't already using agile project management for your ecommerce fulfillment business, you should consider it.
The change might seem daunting and agile may not be as simple as you anticipated, especially if you have followed different methodologies for a long time. Take it one step at a time, communicate with your team, and make sure you convince its efficiency across all levels of your business. This ensures agility across your organization.
Remember, the customer at the front and center is the key to success while ensuring your business informs trends and not only follows them. A notion that is possible with agile project management.