Current Page : Blog Home
What is ZenTao software management?
What is ZenTao software management?
2021-11-09 18:51:47
Fdoua

Original

1216
Summary : ZenTao, the software management by EasyCorp. Offers advanced features, such as story & bug tracking. Free try for 30 days.
What is ZenTao software management?
If you work on software management or any other product development team, you will know that complications in the project development life cycle are very common. However, you can currently count on the help of programs like Jira to help you manage your projects. But today we are going to talk about the one that gives you something to talk about, it is ZenTao, the task manager from EasyCorp. What is ZenTao and what does it do?
ZenTao is a product developed by the Chinese software company EasyCorp. It is a very complete tool that allows the management and organization of projects, in a way to optimize many of the tasks involved in the construction of a product. Its greatest appeal lies in the adaptability it brings to agile projects, but this powerful software offers much more.
ZenTao, What is it for?

There are many features and tools that ZenTao offers to achieve the objectives of a company or an organization in product development. Next, we explain the different features and extended functions of this software.
Project management: it adapts to different types of projects, allowing you to organize incidents and establish a flexible workflow. Provides progress reports and does not allow forgetting tasks.
Help for agile teams: ZenTao offers a suite of useful tools for teams working under the Agile methodology. Scrum and Kanban dashboards allow you to streamline assigned tasks and workflows, as well as monitor all work.
Requirements management and test execution: ZenTao allows you to adapt the workflow and task execution interactively to the requirements requested by the customers or by the company itself. It also facilitates the execution of tests and quality control.
Software development: it offers multiple tools to establish, plan and even predict to some extent the software development life cycle. In addition, it provides a space for direct communications between customers and the development team to establish budgets, requirements, and many others.
Bug monitoring: ZenTao provides detailed notifications of errors or unresolved tasks that occur during the workflow, as well as prioritization tailored to the needs of the team and the project.
For whom is ZenTao recommended?
Thanks to its great flexibility and adaptability, ZenTao can be used by different work teams. From those made up of a few people to organizations, companies, or enterprises with thousands of workers.
This adaptability is based on the multiple possibilities of communication between interdisciplinary teams and departments or with customers and suppliers. Likewise, the capacity it offers by being compatible with different applications and operating systems makes it one of the best options on the market.
Many communities, companies, and teams around the world use ZenTao as their preferred project manager. The most common industries that prefer it are software development teams, professional services companies, media, educational and healthcare institutions.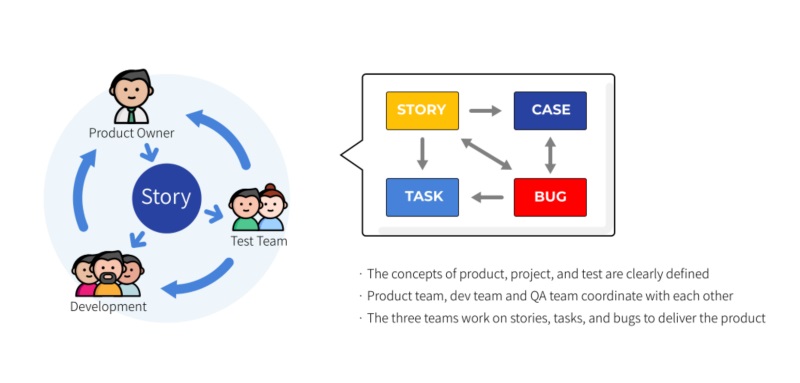 Advantages of using ZenTao

As you can see, ZenTao offers many advantages as a project manager and task manager. In summary, we can list the advantages of using ZenTao as follows :
Ability to adapt and be flexible to different types of projects.
It improves productivity and provides real-time monitoring and reporting.
Optimize the assignment, execution, and control of tasks in a project.
It works online and has a mobile application for users.
It offers great interaction between different teams and other entities related to the project.
As if that wasn't enough, EasyCorp also offers other useful tools for teamwork and project coordination for video conferencing. And if you want to know other tools similar to ZenTao, we invite you to know the free software Google Tables which has various task management and administration features.
Keep it simple and improve your productivity at work with these powerful tools. You can see its great benefits whether you are working on small or large projects. Moreover, it will increase the transparency and coordination between all your team members to complete a big project.
For more, visit https://www.zentao.pm/