1.

QuickStart

1.1.

QuickStart of ZenTao 12 series

1.2.

ZenTao 12 series Starter

1.3.

ZenTao 12 series Advanced

1.3.1.

Process overview

1.3.2.

Personal issues management

1.3.3.

Product Manager management

1.3.4.

Project Manager management

1.3.4.1

Create a project

1.3.4.2

Set up the project team

1.3.4.4

Task Breakdown

1.3.4.5

Daily standup meetings

1.3.5.

Development Team management

1.4.

QuickStart of ZenTao Biz 12 series

1.4.1

Gantt Chart
Basic statistical reports for project tasks
2022-12-14 16:55:59
Kelsea
47
Last edited by Yujia Li on 2023-01-05 14:19:18
Share links
Summary : ZenTao provides various basic project statistics functions, which can help project managers help project managers to get macro information by tracking multiple dimensions such as project, assignment, task type, priority, etc., And ZenTao can generate different types of reports such as tables, pie charts, bar charts, line graphs, etc.
ZenTao has the basic reports, with which the project manager can get the information of the project at a macro level.
Select Project > Task > Report.

A report can be generated by different conditions, such as
by Project
by Module
by Deadline
by Category
by Priority
by FinishedBy
by Man-Hour Estimated
by Man-Hour left
by Man-Hour cost
by Finished/Day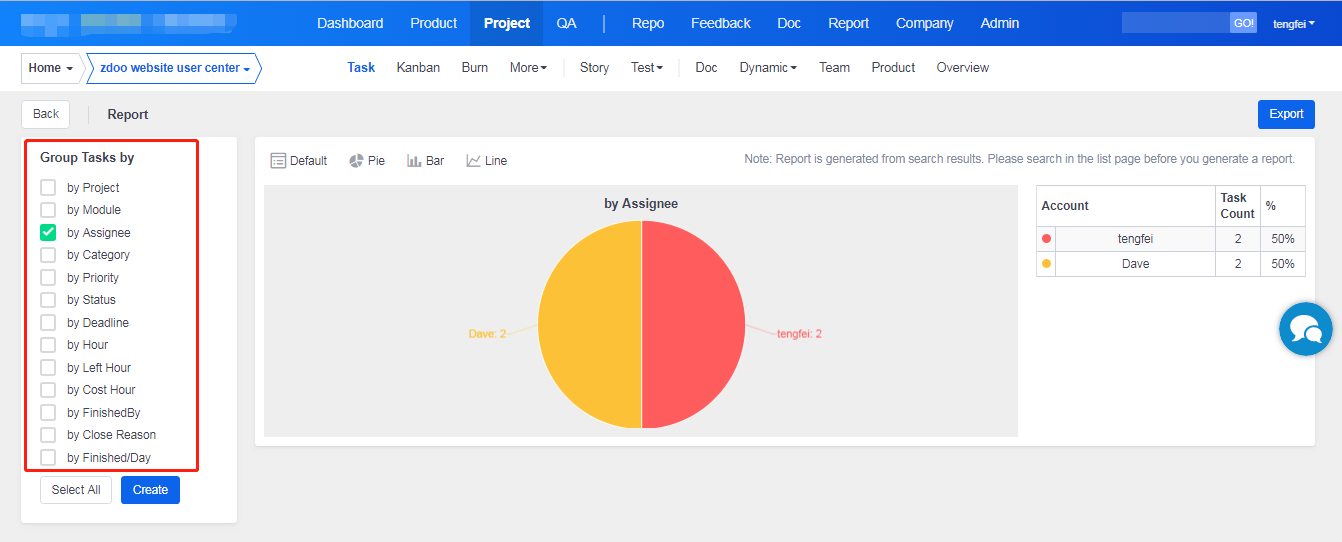 Notes: The reports are calculated based on the current stories. For example, if the status of a task you are viewing is Wait, the statistics are generated from the Wait task list. This also means that you can change the search conditions to get the report you want.