1.

QuickStart

1.1.

QuickStart of ZenTao 12 series

1.2.

ZenTao 12 series Starter

1.3.

ZenTao 12 series Advanced

1.3.1.

Process overview

1.3.2.

Personal issues management

1.3.3.

Product Manager management

1.3.4.

Project Manager management

1.3.4.1

Create a project

1.3.4.2

Set up the project team

1.3.4.4

Task Breakdown

1.3.4.5

Daily standup meetings

1.3.5.

Development Team management

1.4.

QuickStart of ZenTao Biz 12 series

1.4.1

Gantt Chart
Document management
2022-12-14 16:49:49
Kelsea
324
Last edited by Yujia Li on 2023-01-04 14:41:37
Share links
Summary : ZenTao has a built-in document management and asset library, which effectively solves various problems such as loss of documents, scattered documents, difficulty in sharing project document information, and inability to accumulate business experience in the project management process.
ZenTao has the basic document management which functions as a complementary to cover processes that are not provided in ZenTao.
There are three types of the document library in ZenTao, product document library, project document library, and custom document library.
Product document library can be used to save documents that are generated at the product level; project document library to save documents at the project level, and a custom document library to save documents, such as knowledge base and corporate governance norms.
Instructions for document management functionality: 5.1.10 Document Management.
1. Manage Category
1.1 Select Doc in the top bar.
1.2 Select Product in the leftside bar.
1.3 Click on the gear button and select Manage Category in the drop-down menu.

2. Add documents
In the product DocLib, select Add Doc on the right side of the page to add a document.
There are two types of documents: Text and URL.
URL type supports upload attachment.
URL type could be a web link.
Text type can be written directly using the editor.
Access control can be set when adding a doc.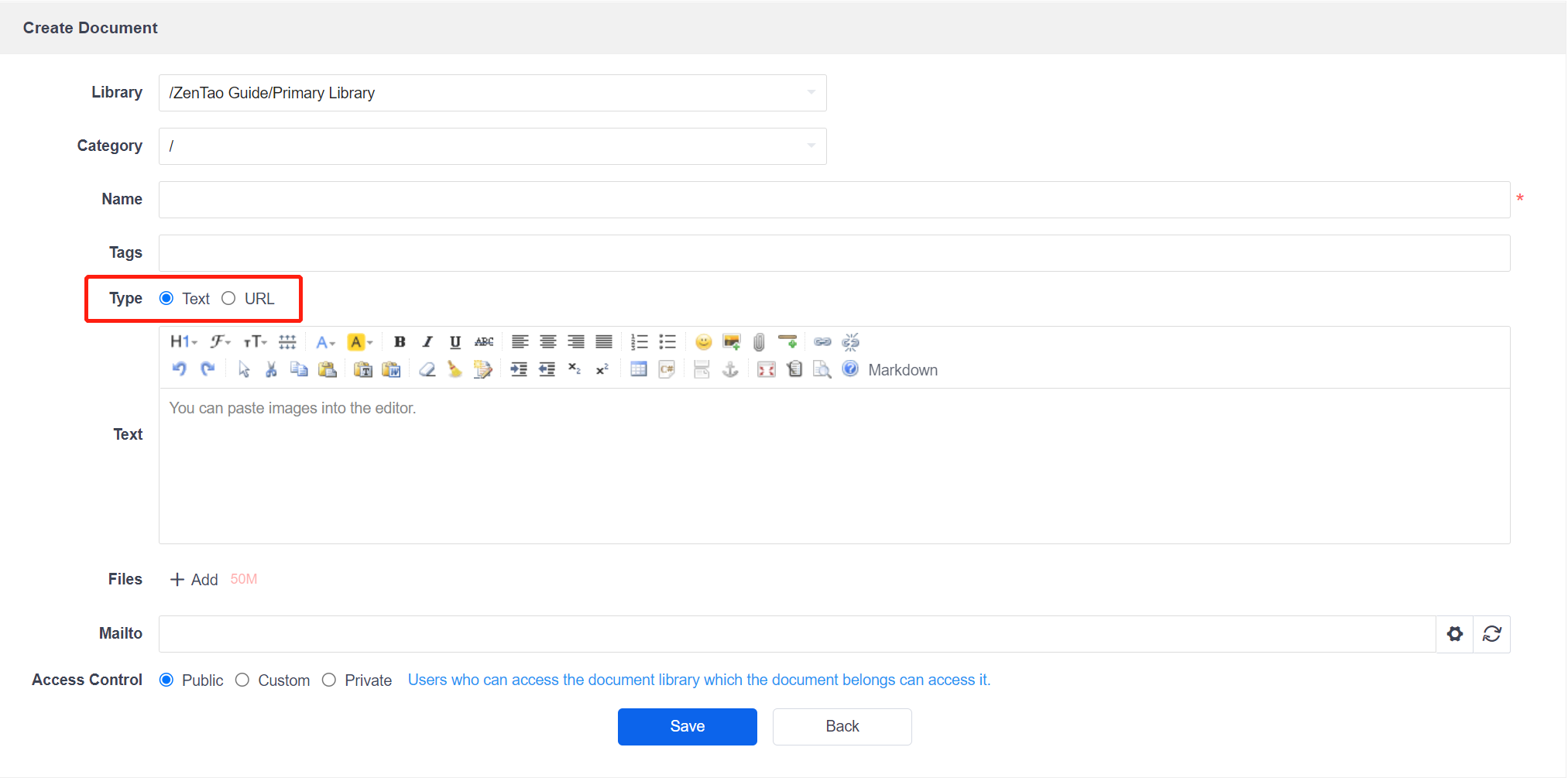 3. View documents
After adding a document, you can view the document lists in the library. Users can browse documents in the DocLib in two ways: the default list display and the card display.