1.

QuickStart

1.1.

QuickStart of ZenTao 12 series

1.2.

ZenTao 12 series Starter

1.3.

ZenTao 12 series Advanced

1.3.1.

Process overview

1.3.2.

Personal issues management

1.3.3.

Product Manager management

1.3.4.

Project Manager management

1.3.4.1

Create a project

1.3.4.2

Set up the project team

1.3.4.4

Task Breakdown

1.3.4.5

Daily standup meetings

1.3.5.

Development Team management

1.4.

QuickStart of ZenTao Biz 12 series

1.4.1

Gantt Chart
Create plans
2022-12-14 16:48:01
Kelsea
327
Last edited by Yujia Li on 2023-01-04 11:33:23
Share links
Summary : Creating a release plan in ZenTao allows you to better plan your product, set the release cadence, adjust the priority of requirements, and make the progress of the product more open and transparent.
A product needs to be planned and set priorities. Therefore, it is necessary for product managers to do plannings.
For product managers, release plan will help them to plan, set and adjust the priorities of stories.
For co-workers from other departments and external clients, the release plan will help them know the progress of product development, thus arrange their work accordingly.
Plans can help linking stories, if you want to link stories to a project.
1. Create a plan
1.1 Select Product > Plan > Create Plan.

1.2 Fill in the fields and click Save.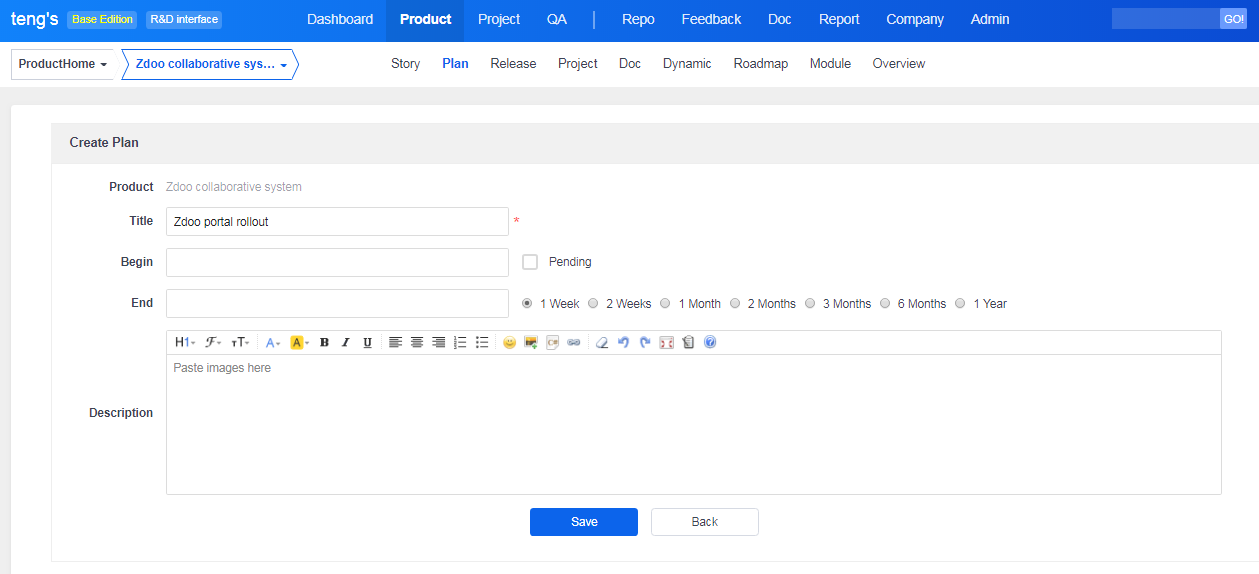 From ZenTao 11.3 version, users can add Child Plan. You can create a child plan and link story and bug to it. You can also create a project for a child plan, and link stories to develop to it.
Note:
Stories and bugs can only be linked to one Plan, either a Parent Plan or a Child Plan. If you link a story/bug which has been linked to a parent plan to a child plan, the story/bug will be removed from the parent plan.
In the Plan List, the number of stories and the number of bugs are the sum-up of stories/bugs that have been linked to the parent plan and child plans.

2. Plan operations
After creating a plan, users can add projects, link requirements, link bugs, etc. to the plan. You can also assign a plan when you create projects or stories (expired plans are not listed).

3. Relations between plans and projects
There are no strong relations between plans and projects in ZenTao. One-to-one plan and project can make management more organized and logically intuitive. Of course, ZenTao can also support for cases where the logical complexity is high, which means organization management requires one plan to correspond to multiple project or one project execution to be associated with multiple plans.