Current Page : Blog Home
6 Best Free and Open Source Project Management Software (FOSS) in 2023
6 Best Free and Open Source Project Management Software (FOSS) in 2023
2021-01-28 07:36:00
Troy

Source

Copied

22365
Summary : Project Management Software is an essential requirement nowadays to keep track of all demands of projects as time tracking, task assignment, bug tracking, report generation, and collaboration between teams. The following is a list of the top 6 free and open source Project Management Systems.
6 Best Free and Open Source Project Management Software (FOSS) in 2023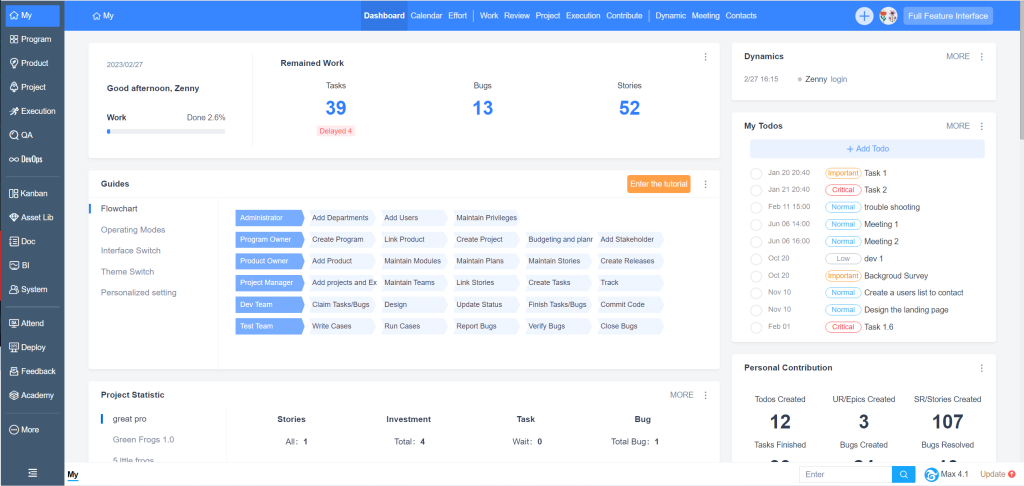 ZenTao is an open source project management software whose main features are product management, project management, QA management, document management, bug management and todo management. It is a professional Application Lifecycle Management(ALM) , covering the core process of software development. It also has powerful search features, various forms of statistical reports and complete API. ZenTao also has a Professional and Enterprise versions with additional features.
Highlights
Application Lifecycle Management
Product Management
Story Management
Project/Sprint management
Task Management
QA management
Bug management
Case Management
Planning management
Release Management
Reports
Kanban
Whatsapp/Skype Group chat
Open source and unlimited to commercial use
Robust extensions and various plug-ins
2- ProjeQtOr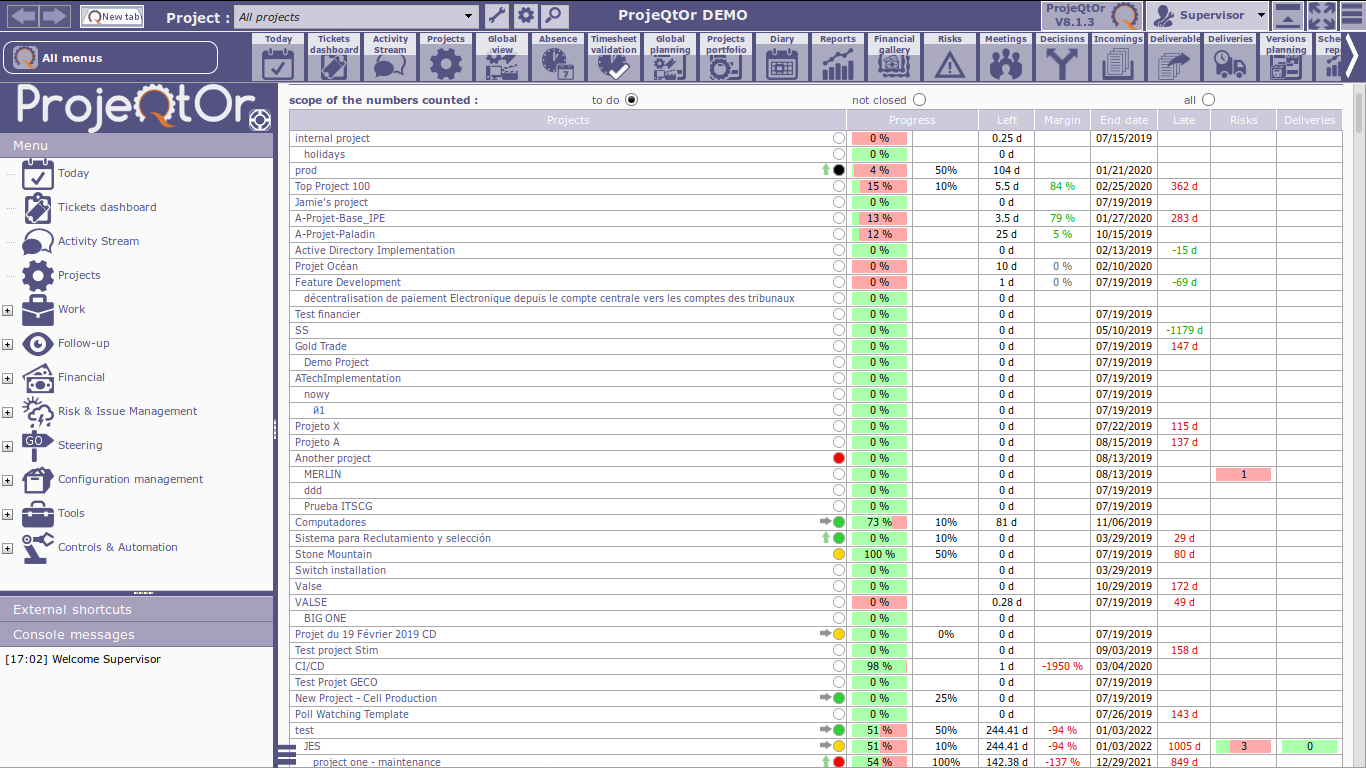 ProjeQtOr is a free open source project management software grouping in a single tool all the features needed to organize your projects. It is simple, easy to use while covering a maximum of project management features. ProjeQtOr is designed as a collaborative tool, available in Web mode, and so requires the setup of a Web server. However, the installation is easy and automated as much as possible. To setup and run ProjeQtOr, a simple PHP / MySql stack is needed, you can use your favorite stack (EasyPHP, ZEND, WAMP, XAMPP).

Highlights
Multilingual (14 languages)
Cross-Platform
100% collaborative (web based)
Web 2.0 user interface
3- Tuleap

Tuleap is a free and Open Source Suite to improve management of software projects and connect with team members. It provides tools for managing projects, tasks, changes, defects, documents as well as version control, continuous integration and social collaboration. It has also a Professional and Cloud versions with more features.
Highlights
100% Open Source
Monthly updates
Project management
Issue Tracking
Git, SVN and Jenkins support
Gamified Test Management
Document Management
Real-time collaboration
4- Taiga
Taiga is a free open source project management platform for agile developers. It is simple and customizable. It has premium and enterprise versions with added features. It is programmed with Python, Django and AngularJS.
Highlights
Simple and customizable
Scrum
Kanban
Import from Trello, Jira, Asana and Github
Taiga REST API
Taiga mobile app
Social management
5- TaskJuggler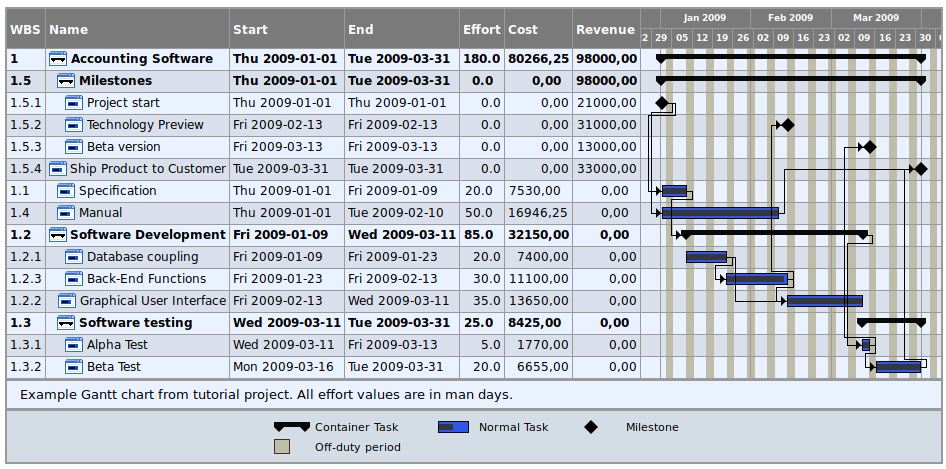 TaskJuggler is a Free and Open Source Software project management tool. It covers the complete spectrum of project management tasks from the first idea to the completion of the project. It assists you during project scoping, resource assignment, cost and revenue planning, risk and communication management. It provides an optimizing scheduler that computes your project time lines and resource assignments based on the project outline and the constraints that you have provided.

The built-in resource balancer and consistency checker offload you from having to worry about irrelevant details and ring the alarm if the project gets out of hand. The flexible as-many-details-as-necessary approach allows you to plan your project as you go, making it also ideal for new management strategies such as Extreme Programming and Agile Project Management.

TaskJuggler is written in Ruby Programming Language.

Highlights
Powerful Todo list management
Full integration with Vim text editor
Automatic resource leveling and tasks conflict resolution
Unlimited number of scenarios (baselines) of the same project for what-if analysis
Multiple time zone support
Support for profit/loss analysis
Comprehensive and flexible reports
Project tracking and status reporting with dashboard support
Projects can be combined into larger projects
Powerful project description language with macro support
Scales well on multi-core or multi-CPU systems
Support for project management teams and revision control systems
Data export to Microsoft Project and Computer Associates Clarity
CSV data export
iCalendar export
Server based time sheet system for status and actual work reporting
Runs on all Linux, Unix, Windows, MacOS and several other operating systems
6- web2Project

web2Project is a Free Open Source business-oriented Project Management System (PMS). It is based on an AMP-stack which means it is designed to run on Apache, MySQL, and PHP.

Highlights
Role-based permission system to give the Project Manager fine-grained control over sensitive data
Project and Group-wide Gantt Charts
A unified calendar with iCalendar support
A modular infrastructure which allows the addition or removal of modules to customize the features according to your requirements
Reference
https://medevel.com/top-12-free-and-open-source-project-management-systems/