Current Page : Blog Home
​Project Management: How to Build a Better Cross-functional Team?
​Project Management: How to Build a Better Cross-functional Team?
2022-12-22 12:00:00
Wei Peng

Source

Translated

662
Summary : In order to improve the efficiency of project delivery, we often create a cross-functional team to do a great job of executing tasks. As a manager, do you know how to create a good team, allocate resources, and drive the business forward? In this article, we will explain the formation of cross-functional teams. Let's take a look.
A cross-functional team is a group of people from different disciplines who perform specialized tasks and coordinate the work of different departments to deliver value. Cross-functional teams have a common purpose, vision, and clear goals. The goals represent milestones, and everyone in the team shares a completion date. Team members prioritize the project's success and allocate enough time to achieve it.
I. Six Tips for Building A Cross-functional Team
1. Choose the Right Leader
There are four basic qualities required of a leader:
Trustworthy;
Competent;
Capable;
Courage to confront challenges.
2. Fill the Roles with Qualified People
People and the relationships between them are very important for innovation. No one would argue that individuals make a huge difference. Teams are made up of people and have to get the right chemistry.
3. Make Sure the Roles Are Clear
In good cross-functional teams, roles are clearly defined. Team members know what they should do and how they should network with each other. Cross-functional teams also have clear decision-making models; everyone knows who makes the decisions. If needed, the upgrade path is also clear.
A typical management upgrade process: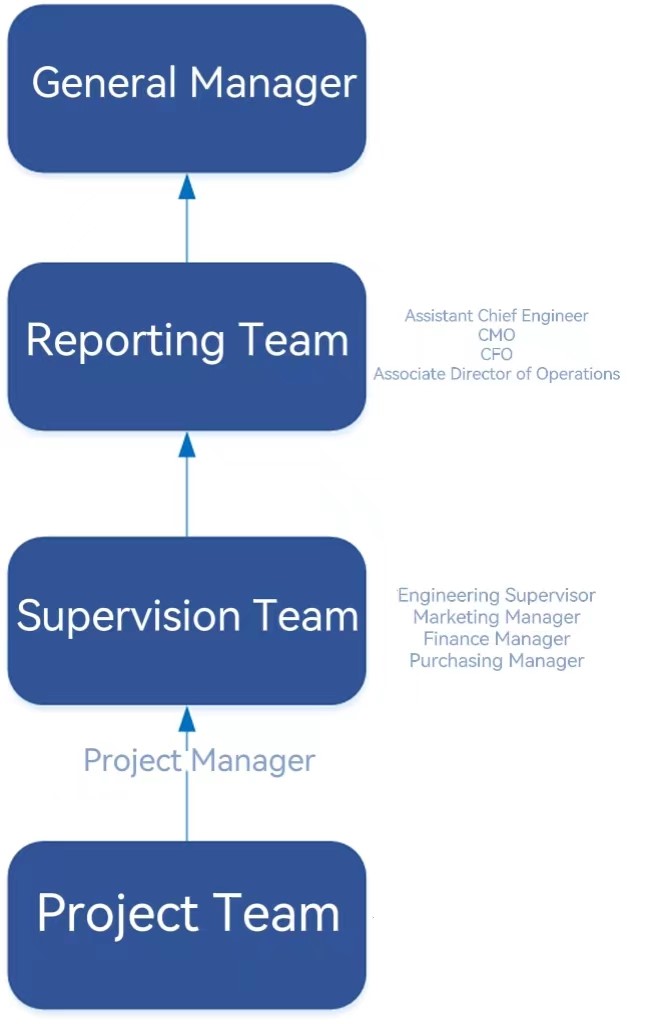 4. Optimize the Allocation of Team Resources
Even cross-functional teams with the best members will get into trouble without proper funding or adequate prototype/test facilities. The task of the management is to make sure the team has what it needs to succeed. Make sure people are not too scattered.
5. Set Ground Rules with Management
Cross-functional teamwork will be more effective when there are clear rules for senior leaders, team leaders, and team members. They know their roles and responsibilities and how they relate to what others do. They also have a clear upgrade path to correct the team if it starts to go off track.
6. Clear Goals and Communication
Effective cross-functional teams have measurable goals and communicate consistently throughout the project. Many Agile teams hold brief daily meetings, which is the best practice for effective teamwork. Clear goals and good communication skills help drive the team to produce amazing results.
II. The Benefits of Cross-functional Teams
Accountability is a key strength of cross-functional project teams. The consistent use of teams is a proven way to achieve the corporate goal with multiple disciplines and produce accountable results. A cross-functional team is set up to produce specific results quickly and efficiently.
Cross-functional collaboration is related to innovation. Innovation usually comes from the integration of disciplines. Cross-functional teams often exceed expectations due to the catalytic nature of gathering talented minds. When one domain port differs from another, there may be a collision of ideas, thus creating an environment conducive to innovation.
Cross-functional teams can decrease the time-to-market through a more efficient decision-making process. Cross-functional teams also encourage the participation of employees. A cross-functional team has unique rewards and an engaging social environment as part of a cohesive team with common goals. More engaged employees perform better, work longer, and work harder. Cross-functional teams can pool resources and improve efficiency.
Team leaders check to ensure there are no skills or resource gaps. Use resources in a targeted way and then release them when the project no longer needs them.
III. How to Develop Cross-functional Collaboration?
The process of developing a specific cross-functional team must begin with the leader. Team leaders are appointed in most organizations. Leaders must have the skills and experience to coordinate teams and deliver successful results on time and within budget. When a project begins to develop new products, the leader needs to know the goal of the project and the skills to achieve it.
Usually, the leader comes from the functional organization of a product development program or product management. The development teams may hire more technical project managers. They need to analyze the skill sets needed for success and provide the team with different skill sets from different company areas. The leader works with senior managers to fill the product team with key skills, pointing out gaps and where the organization may need to acquire resources.
1. Have Clear Decisions
Once the team and the team leader agree on their roles and responsibilities, they can divide the project into tasks and map their dependencies, identify and map the interdependencies between each task and other functions and individuals, and assign one person directly responsible for each task.
2. The Responsibility of Leaders for Cross-functional Teams
Convey the goals or visions of the project to the team;
Formulate the path to achieve the goal;
The leader is also responsible for the proper resources for the team and the continuous project management, such as tracking deliverables and milestones;
The additional duties in product development: working with sales and finance organizations to ensure meet their demands and smooth communication.
Very few project teams can start a project with sufficient resources and deliver it on a predictable schedule. More often than not, one of the key risk mitigation efforts is managing the ebb and flow of resource availability. When you need an expert in a particular area, the team is unavailable because individuals work on different projects at different times. Without proper resources, there are always some situations where the project throw off track. Poorly defined roles such as project manager, core team, and the adjacent team can cause problems in communication and decision-making, schedule delays, cost overruns, and disorganization, which is more obvious in companies with silos.
3. What Are the Differences with the Agile Team?
In Agile development, cross-functional teams (Scrum) hold short stand-up meetings daily to remove obstacles. The roles of the Scrum Master, product owner, and team member are carefully defined. The teams divide their work into Sprints and evaluate their progress by Story Point burn-down charts. Although a cross-functional team is part of Agile, it is not dependent on any other aspect of Agile. An organization that performs any project-based work. Whether it is a new product development project or an infrastructure improvement effort, cross-functional teams can help to gain great advantages.
IV. What Is the Project Team Wheel Chart?
Place the leader at the center of the team wheel, then outline the core team around the leader, including the key functions and individuals. Place extended team members outside the core cross-functional team, which will intermittently support or enhance your team throughout the project.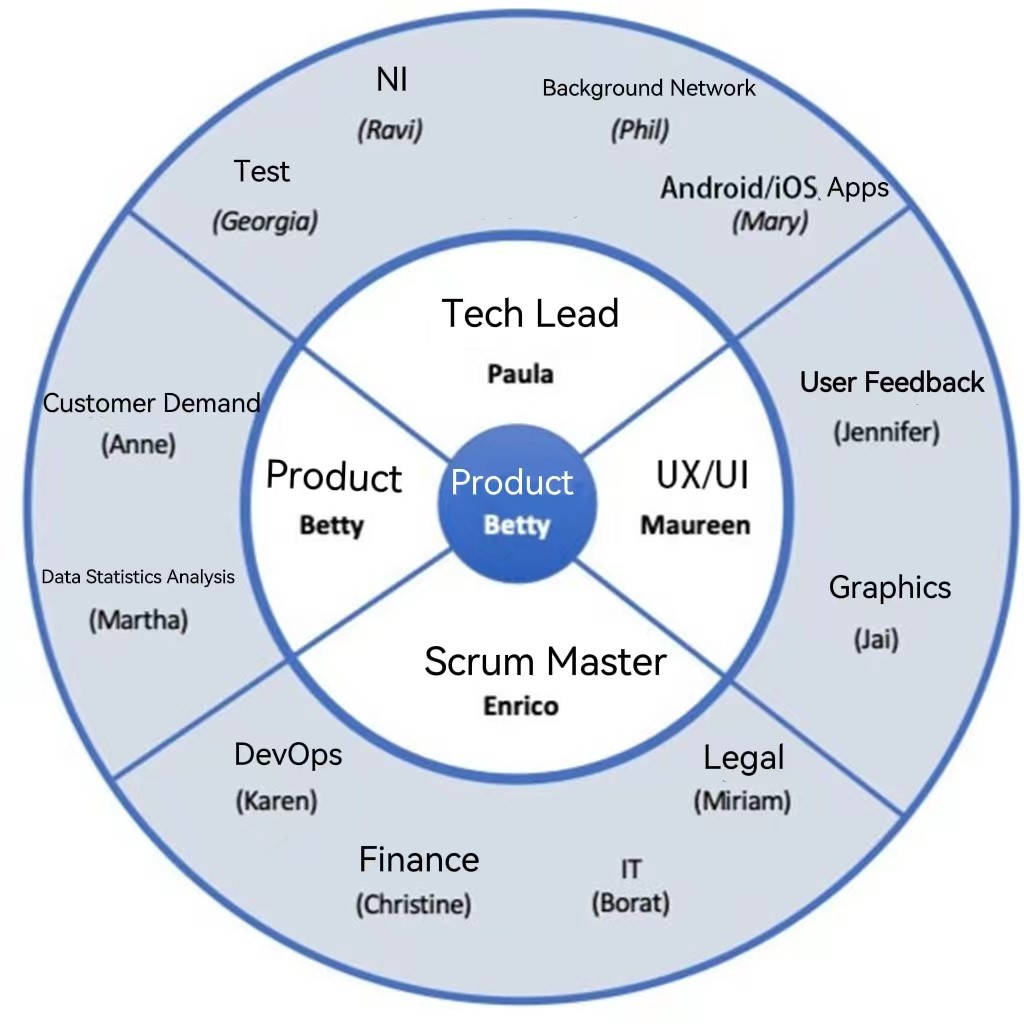 Most projects are interdependent and complex. They need technical skills but not full functions. The project wheel chart identifies which cross-functional team members are responsible for which functions. This model can be developed with human resource organizations. Using the Project Team Wheel Chart at the beginning of a project ensures that you have a clear team structure, established leadership, and all necessary functions.
This tool can also help you determine who is responsible for the deliverable. The project team wheel chart, also known as the cross-functional or core group chart, is designed for staffing cross-functional teams. Few cross-functional teams can start a project with sufficient resources and deliver it on a predictable schedule. More often than not, the key risk is managing the ebb and flow of resource availability when project members are working on different projects at different times. To quickly know the staffing gaps, teams can use the tools shown below to get a clear picture of team staffing:
1. Define Cross-functional Teams by Project Team Wheel Chart
The project team wheel chart identifies the core team members by function and the roles and names of the extended team members. The project team wheel chart is a simple and powerful tool for quickly determining staff and showing resource gaps that extend across projects. This tool can be extended for different projects (large or small), start-ups, and large enterprises. It provides a consistent model to help manage the risks related to team human resources. You can create multiple team wheel charts for large projects, with each wheel radiating outward from the core team wheel.
2. Benefits of Project Team Wheel Chart
Ensure all cross-functional team members know their roles, as well as the roles of others;
Identify the resource gaps in the team;
Define members dedicated to a specific project team;
Minimize accidents or failures of the project due to lack of members or other human resource problems.
3. How to Help the Project Manager with the Project Team Wheel Chart?
It is common to start a project before all the necessary resources are available. Project managers can make risk-based decisions around staffing with this tool, which clearly shows how to mitigate or address staffing gaps. It is also an effective communication tool for businesses with many stakeholders. This tool ensures that the interests of all stakeholders are represented in the project and provides a consistent approach to identifying resource gaps for the cross-functional team. It is also extensible and can even create extended project teams outside the company.
While the tool can measure cross-functional team staffing and quickly identify resource gaps, it does not assess the quality and effectiveness of resource allocation. Due to conflicting priorities, two factors affect the effectiveness of cross-functional resources:
Skill level;
Resource availability.
These issues affect the team's ability to deliver.
Summary
Successful cross-functional teams require the following:
Choose the Right Leader
Fill the roles with qualified people
Make sure the roles are clear
Optimize the allocation of team resources[personnel, budget]
Set ground rules with management
Have clear goals and communication