ZenTao Biz 5.2 is released
2021-09-27 14:20:52
philip

Original

4015
Summary : ZenTao Biz 5.2 is released!
About ZenTao Biz
Based on ZenTao Pro features, ZenTao Biz features are DevOps management(OPS), OA office management, feedback management, document version control and online preview, which provides comprehensive support for enterprise project management.
For ZenTao Biz features, click HERE.
Installation and Upgrade
For the first-time Installation, refer to HERE.
For upgrade (from Open Source Version), refer to HERE.
Modified records
Fixed bug
14401 International Version-OA-Attendance-"Description" on the pop-up page is not fully displayed
14402 International Version-OA-Attendance-Login, the header is not fully displayed
14403 International Edition-Test-Bug-Secondary navigation typography confusion
14404 International Version-System-Todo-Department drop-down menu is out of the scope of the table
14405 International Version-Operation and Maintenance-Settings-Language Options and Buttons Misplaced
15166 The access method is GET, and the built-in process adds action and clicks to report an error
14937 The value of a custom workflow field is incorrectly displayed on the edit page
14839 When there is no WIKI library, the catalogue page displays an error
14736 "Global pull-down requirement under non-R&D interface" has not been processed
14243 Uncropped pictures are displayed when users change their avatars
14231 "System" is displayed in the demand dynamics of batch review
14216 People who are not in the whitelist group can see the customized product library
14209 After the project-related plan in the old model is upgraded to the new model; the plan is to cancel the link
14175 The release in the project, you can select the product release when you select the version
14172 There are SQL errors in the latest developments after switching to the new mode
13992 Create a task, cursor display problem
13558 The page reports an error after the project editing action is rewritten
11315 Workflow adds new fields to feedback, which cannot be saved normally after modification on the bulk edit page
2782 The editing plan history in the sent email is in the original format
1354 Office-Approval, when there is no data, all labels and other labels are inconsistent
Download
---
ZenTao Desktop
ZenTao has integrated ZenTao Desktop, with which you can communicate with team members, to start a group conversation, to transfer files, to assign tasks, and to manage projects. It would smooth your team collaboration. ZenTao Desktop is powered by Xuanxuan, a free, open source, and secure Instant Messenger by EasyCorp. It is self-hosted and cross-platform with various plug-ins and features. Click HERE to know more about it.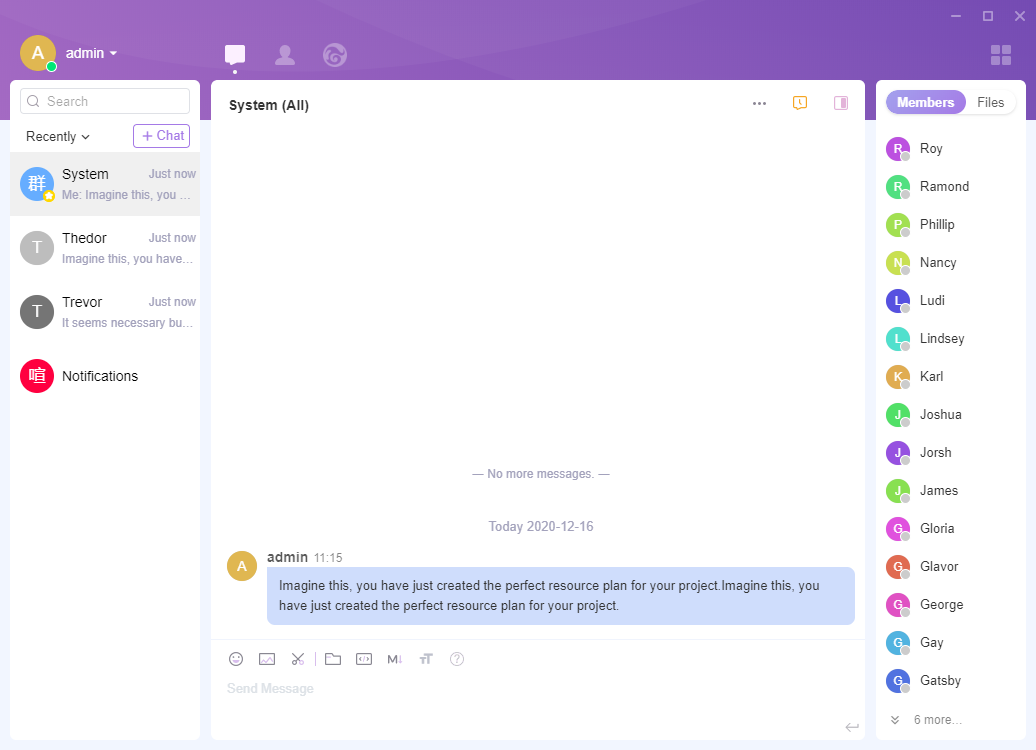 ---
If you have any questions or would like to get a free trial for more than three users, contact Philip@easycorp.ltd for help.