6 Wrike Alternatives 2021
6 Wrike Alternatives 2021
2021-02-03 16:06:36
Maxx Fey

Original

2241
Summary : Every rose has its thorn. Wrike cannot be the exceptional. Our team would recommend the following six alternatives and each one has specialized features.
Wrike is a powerful professional services software with a streamlined digital workplace using custom request forms, Kanban boards, Gantt charts, time tracking, real-time updates, and performance reports all in one place that can be shared company-wide. It helps set priorities and align your team to work faster and smarter across your organization. The flexibility provided by Wrike enables multifunctional groups to collaborate and get things done effectively from a single location.
Wrike limitations
Every rose has its thorn. Wrike cannot be exceptional. The feedback collected from Wrike users on the Internet generally falls into four categories below.
Breaking down the work into multiple tasks can be a little confusing as each task can be associated with multiple attachments and comments. There is no option of subtasks and no option of setting a task to repeat weekly.
Tasks and Projects Progress
There seems to be no option for determining task progress percentage. Projects that are partially completed do not have a progress percentage so it is difficult to assess where the project stands.
A critical feature such as time reporting seems to be missing.
Although having a comprehensive feature list is a plus, for some teams and individuals, it can take some time to get a hang of the tool.
6 Wrike alternatives
Project management solutions that include supplementary features to Wrike are searched researched. Our team would recommend the following six alternatives and each one has specialized features.
1. ZenTao
ZenTao is a project management tool for SMEs(small and medium enterprises). It has a community version and can be both self-hosted and SaaS. Its bug tracking and test management features are the core, and user story(aka PBIs) management is also available. Reporting on resources, Burndown chart and Crystal reports, tasks and child tasks, which are missing in Wrike, can be found in ZenTao ALM.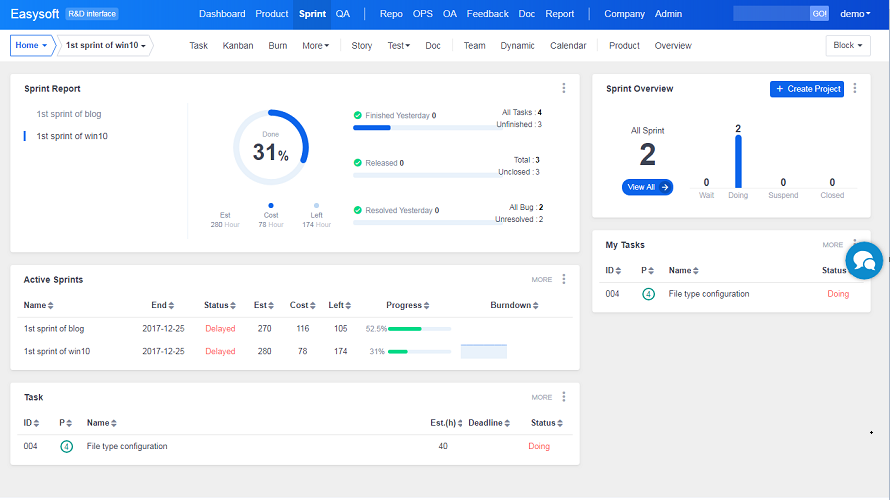 Key features
Product management: product, story, backlog, plan, release and roadmap
Project management: project, Sprint, task, build and burndown chart
Test management: bug, test case, test request and test result
CI: Jenkins integration, automation testing, ZTF
Report: various statistical reports and custom reports
Extensibility: extensible in almost any parts of ZenTao
API mechanism: flexible for integration with other systems
Pricing
The ommunity version is free and open source.
The premium version starting from USD 24.9 for annual subscriptions.
2. Trello
Trello's core feature is a Kanban board style layout by default. You play around with task cards; assign it to multiple people to get things done. You can also move those cards around with the help of Trello's drag and drop feature. As a free Wrike alternative, Trello is free of cost. You can upgrade to paid plans for Trello Gold bundle, but the free version is also not that bad.

Key Features
Offers Kanban board style layout.
Intuitive and minimalistic user interface.
Supports drag and drop functions.
Pricing
Trello Basic Plan is free.
Trello Gold costs $5 per month or billed annually.
3. nTask
nTask is an online task management software, designed and developed primarily for teams. However, with its simplified interface, anyone from homemakers to freelancers, teams to enterprises can make use of its comprehensive list of modules and features.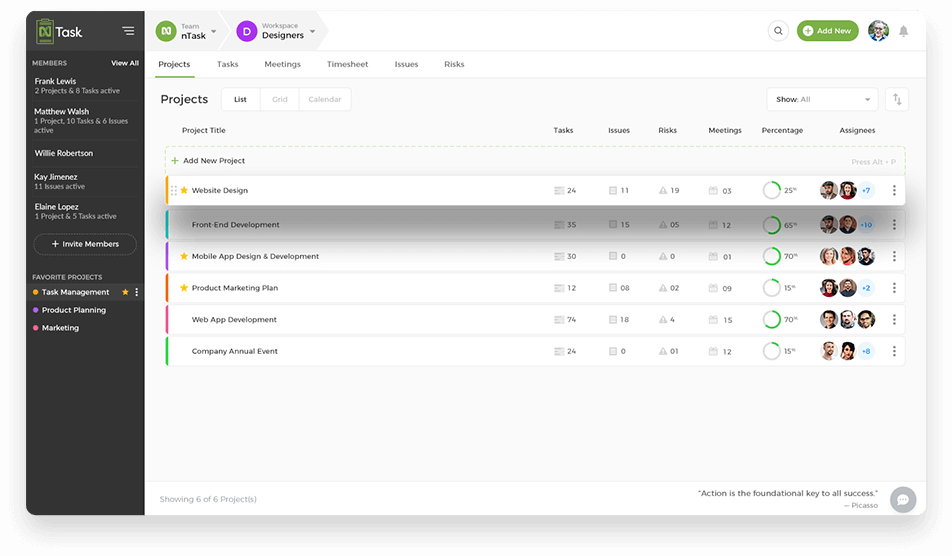 Key Features
Two-Factor Authentication for extensive security
Convert comments to tasks using Slack
Select from multiple statuses for a task
Extensive project management resources including project reports, Gantt charts, and project timelines to manage and monitor project progress
A dedicated timesheets management module with the option of creating and managing team-specific sections for employee task efforts and payroll.
A detailed meeting management module to help teams stay in sync.
The risk management module helps you identify and keep track of potential risks. You can list down the risk and assign a risk owner in order to track risk management.
Pricing
starting at $1/month/user with annual billing plans
4. Teamwork
Teamwork is an online project management and work management software that has built-in collaboration tools that promote visibility and accountability. It makes it easy to work while reducing the complexity of collaboration. It is also flexible enough for a variety of use cases, while promoting visibility and accountability, for successful project delivery. It is part of a suite of products that work together.
Key Features
Projects, Tasks, and Milestones– Teamwork Projects include a Gantt chart for easy project planning
Messages, Files, and Notebooks – The project management software is a collaborative tool with a built-in message function, so users can directly communicate with the team with the proper work context.
Board View, Portfolio, Workload, Time Tracking, and more – Teamwork Projects has a Board View that allows users to see the flow of tasks and activities, so they can get a fuller representation of their project's scope.
Pricing
The Free Forever plan is for up to 5 users.
The Pro plan is at $9/user/month billed annually, or $11.25/user monthly, for a minimum of 5 users.

5. Restyaboard
Restyboard is open-source kanban board solution that provides board templates, data import, member management, checklist management and more. Users can do any changes in a board without internet and while connection is available, offline data will automatically sync.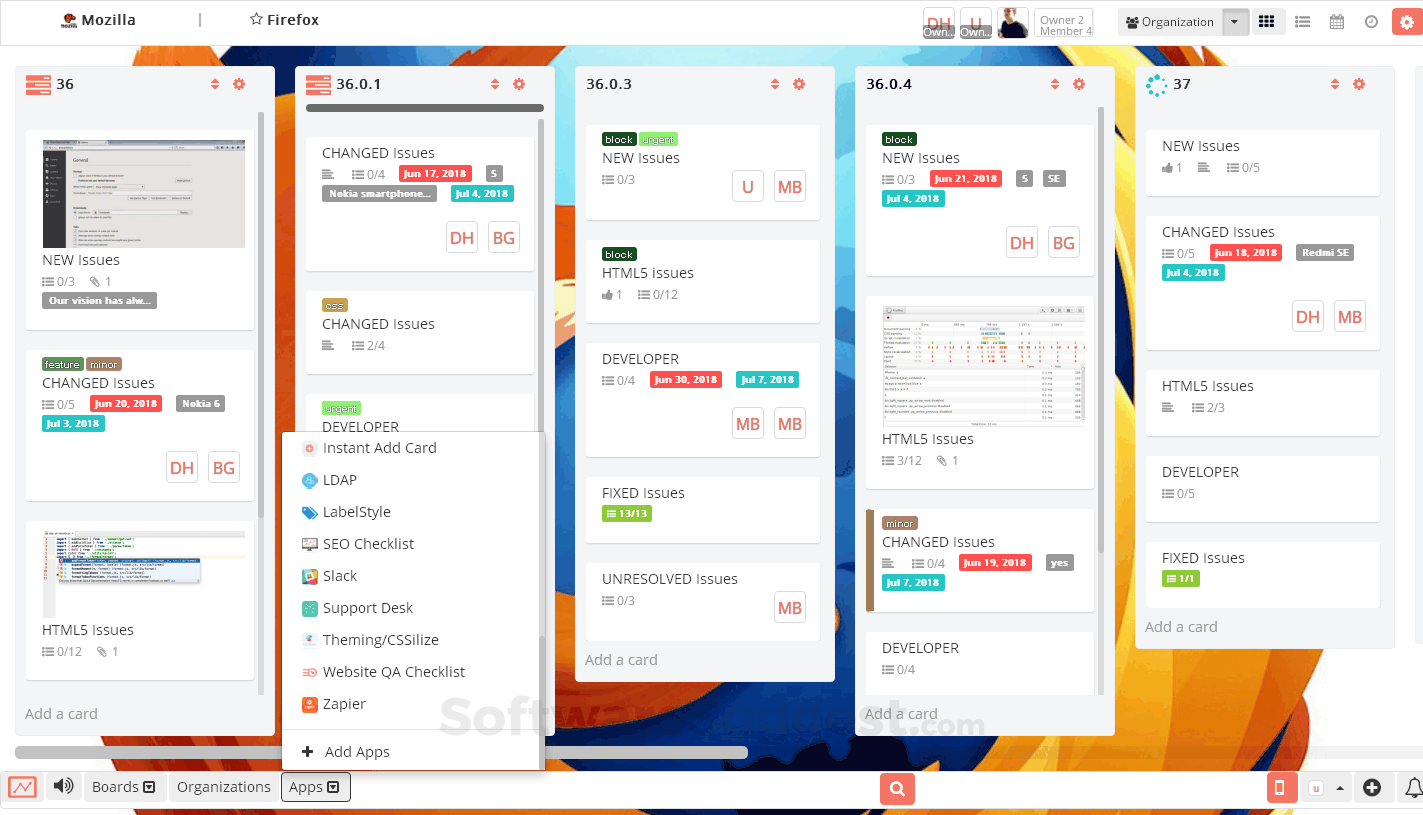 Key Features
Dependency Tracking
KPI Monitoring
Milestone Tracking
Multi-board
Roadmapping
Time Tracking
Pricing
Free for 10 users
Enterprise version starting from

€

197
6. Clarizen
Clarizen is an enterprise-level project management solution that provides all the essential features to manage big projects. If your company is small, you'll probably find it too complex to handle. It provides workflows, resources, and project management through highly streamlined collaboration. It also enables users to utilize pre-built report templates and measure their KPIs easily.
Key Features
Budget tracking
Resource management
Project portfolio
Timesheets
Expense sheets
Project progress reports
Documents management
Risks management
Pricing
Clarizen offers a free trial of 30 days with paid Enterprise Edition and Unlimited Edition. Prices are available on request.




Do you have any recommendations for task management or project management software to use a Wrike alternative? Let us know in the comments.
---
See also