Batch Actions in ZenTao
2019-06-28 15:50:00
Mirai Ten

Original

2667
Batch actions can expedite your information processing and save your time entering it to your management system. Some systems might ask you to purchase add-ons to do bulk creation, such as Bulk User Creator for Jira. In ZenTao Pro , a Scrum tool, you will have all the features of Batch Actions.
Batch actions in ZenTao generally involve the four key items in ZenTao, namely Story, Task, Bug, and Case. Batch actions in ZenTao can be categorized into Batch Add, Batch Edit, and Import/Export files.
Batch Add
ZenTao users can Batch Add all the four items. For stories and bugs, users can batch images and paste texts to add new items. The title of the uploaded image will be automatically saved as the title of a story/bug, and the image will be the description.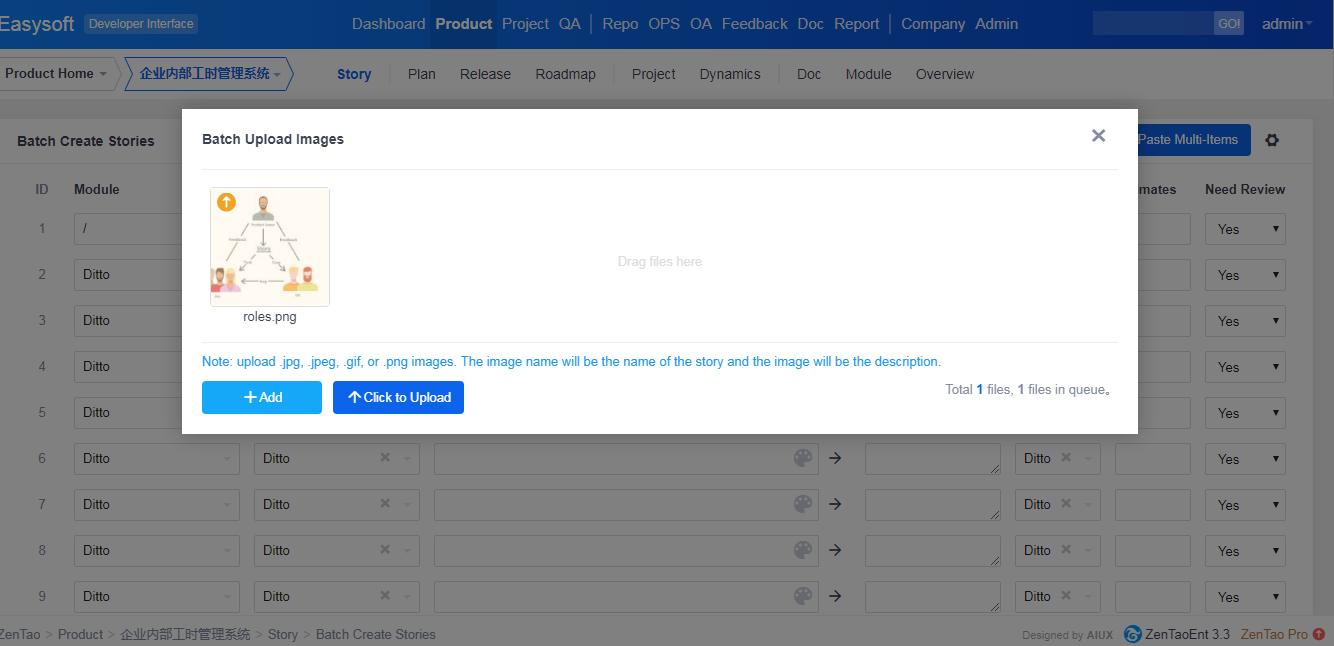 Batch Edit
Click Select All, and click the Edit button on the Story List page, users can have all these options in the red box.
Click Select All, and click the Edit button on the Task List page, users can either batch close or batch cancel tasks. Batch delete is not enabled in ZenTao, because it could cause tremendous impact if the user deleted tasks accidentally. If you have to do batch delete, you can try to log in the database and use SQL statements to do that.
For cases, you can also do batch edit.
For bugs, you can change the status of bug in bulk and more batch actions.
Import/Export
Usually comma-separated value files are supported, such as in Jira. However, it is lack of the format and the style. In ZenTao, .xls file is also supported. You can export and import stories, tasks, bugs, and cases in ZenTao.
File format that is supported in ZenTao include xlsx, xls, csv, xml, and mht.
If you want import files to ZenTao, you have to use the template provided. You can download the template by clicking Export Template in ZenTao.

For more features about Import/Export, click HERE to find more.