10 ClickUp Alternatives for Managing Agile Projects 2021
2021-02-20 17:51:08
Taotao

Original

3678
Clickup is a cloud-based work platform for all types and sizes of teams and businesses. It integrates essential business applications into a single online solution and centralizes company knowledge. Assign duties to team members, handle client assignments, and work on documents with colleagues. ClickUp offers all the resources and features in an efficient, visible, and open way to complete work.

However, complain that the learning curve is a bit high, and all the characteristics are difficult for their members to use. Often, users can't decide efficiently whether to use the tool for one reason or another. Too many personalization options and tt can get complicated real quick. The downside of this software is that it has too many tabs and folders all in a small space which makes it confusing at times.
If that is how you feel like using Clickup, you should considering the ten alternatives below.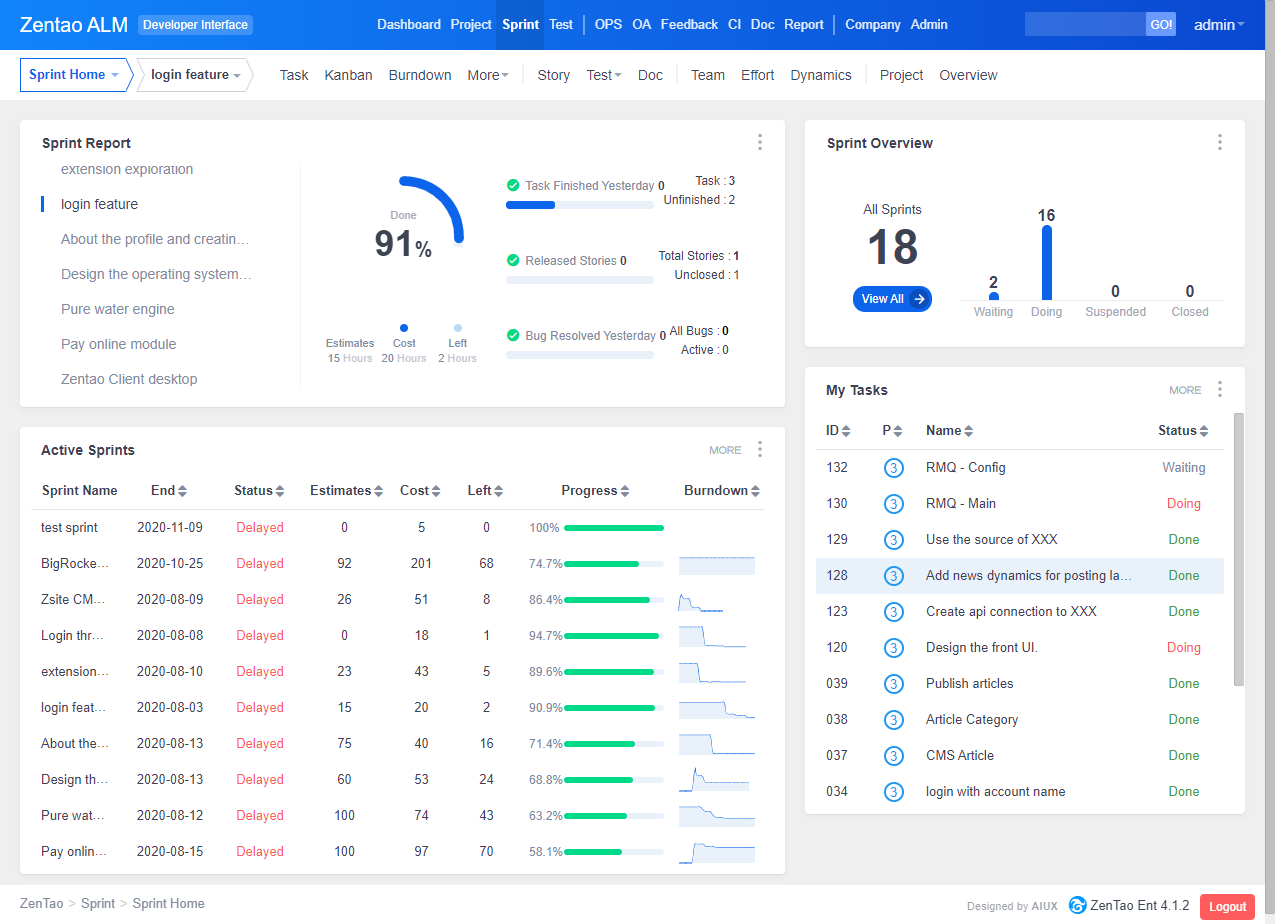 ZenTao is an open-source project management scrum tool. While Jira using issue tracking, ZenTao is using story and bug to track issues. It's a very brilliant idea for application lifecycle management which you could track them with most transparencies.
ZenTao Open Source version is completely free, but some functionalities limited like Gantt, Word & Excel exportation and importation. Product/Sprint Backlog Management✓ Sprint and task✓ Bug tracking✓ Scrum✓ Roadmap✓ Burndown✓ Kanban✓ SaaS✓ Self Hosting✓ Doc(Wiki) Library.
Taiga.io
Open Source, full featured project management platform for startups and agile developers & designers.Taiga is a full featured project management platform for startups and agile developers & designers who want a simple, beautiful tool that makes work truly enjoyable. Taiga is free for Public projects and for one Private project with up to 4 members. Other paid plans with more projects and more members are available too.
OpenProject
OpenProject is an open-source project management software with a wide set of features and plugins. It supports project timelines / Gantt charts, issue tracking, wiki, document management, time and cost reporting, code management, Scrum and much more.
Kanboard
Kanboard is a simple visual task board software. Kanboard is a free and open source Kanban project management software.There is no fancy user interface, Kanboard focus on simplicity and minimalism. The number of features is voluntary limited.
Restyaboard
Restyabard is a free and open-source Kanban board application. It is the best self-hosted alternative to Trello. but with smart additional features such as offline sync, diff/revisions, nested comments, multiple view layouts, chat, and more.
Allegra
Allegra helps you systematically organize everything related to tasks and operations in your environment. You can involve external employees and customers, manage private tasks. Generate reports and records of expenses, organize meetings. You can organize processes hierarchically in rooms for better clarity and hide unimportant filters. Task management with Allegra is easy to use. You can use ready-made configurations or customize the system to your needs.
Teamwork
Teamwork is the collaborative effort of a group to achieve a common goal or to complete a task in the most effective and efficient way. This concept is seen within the greater framework of a team, which is a group of interdependent individuals who work together towards a common goal.
Wrike
Wrike is a cloud project management and work collaboration platform that enables teams to deliver work with speed and efficiency. It has tools that allow users to simplify project planning, centralize communication, and streamline workflow, even when remotely apart. Easily view the status of all your teams' projects with real-time reports. It has the flexibility to allow growing companies to scale, or to quickly implement ready-made solutions to specific requirements, such as agile project management, marketing, or professional services automation.
ProjeQtOr
ProjeQtOr is also open source. Its user interface is very complex and the default configuration is for a system house that performs software development projects for external customers. It does cover planning, incident management, requirement management and test management, so it is a traditional tool rather than for agile.
Jira
When talking about a project management tool, the first one comes into your mind must be Jira which is the most famous tool. It is for agile team, and offers tons of features as plug-ins. However, Jira has weak features regarding test management. The one problem that might be a con is that Jira cannot be self-hosted anymore.
nTask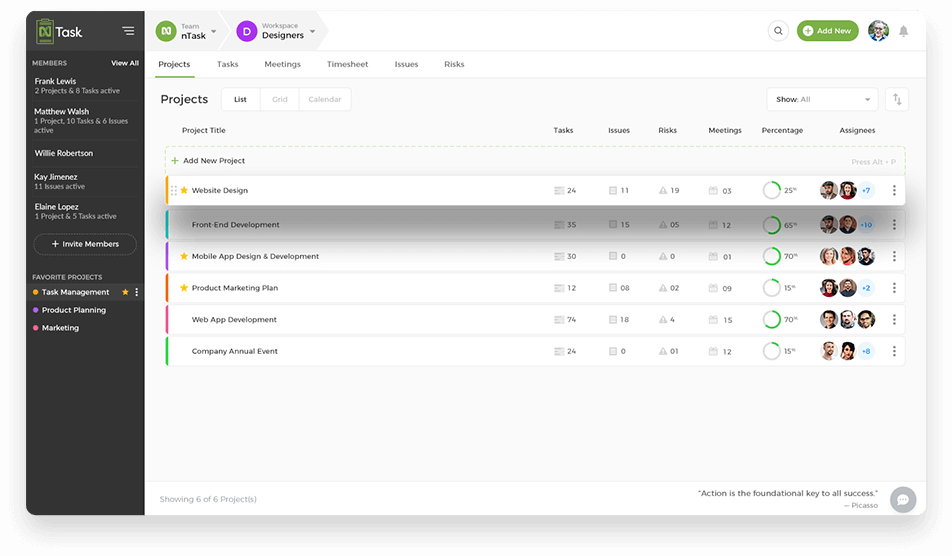 nTask is an online task management software, designed and developed primarily for teams. However, with its simplified interface, anyone from homemakers to freelancers, teams to enterprises can make use of its comprehensive list of modules and features.
---
See also