ZenTao 11.6.stable is released!
ZenTao 11.6.stable is released!
2019-07-17 09:18:14
Mirai Ten

Original

3965
ZenTao 11.6.stable is released! This release is about the optimization for international versions and Translate feature integration.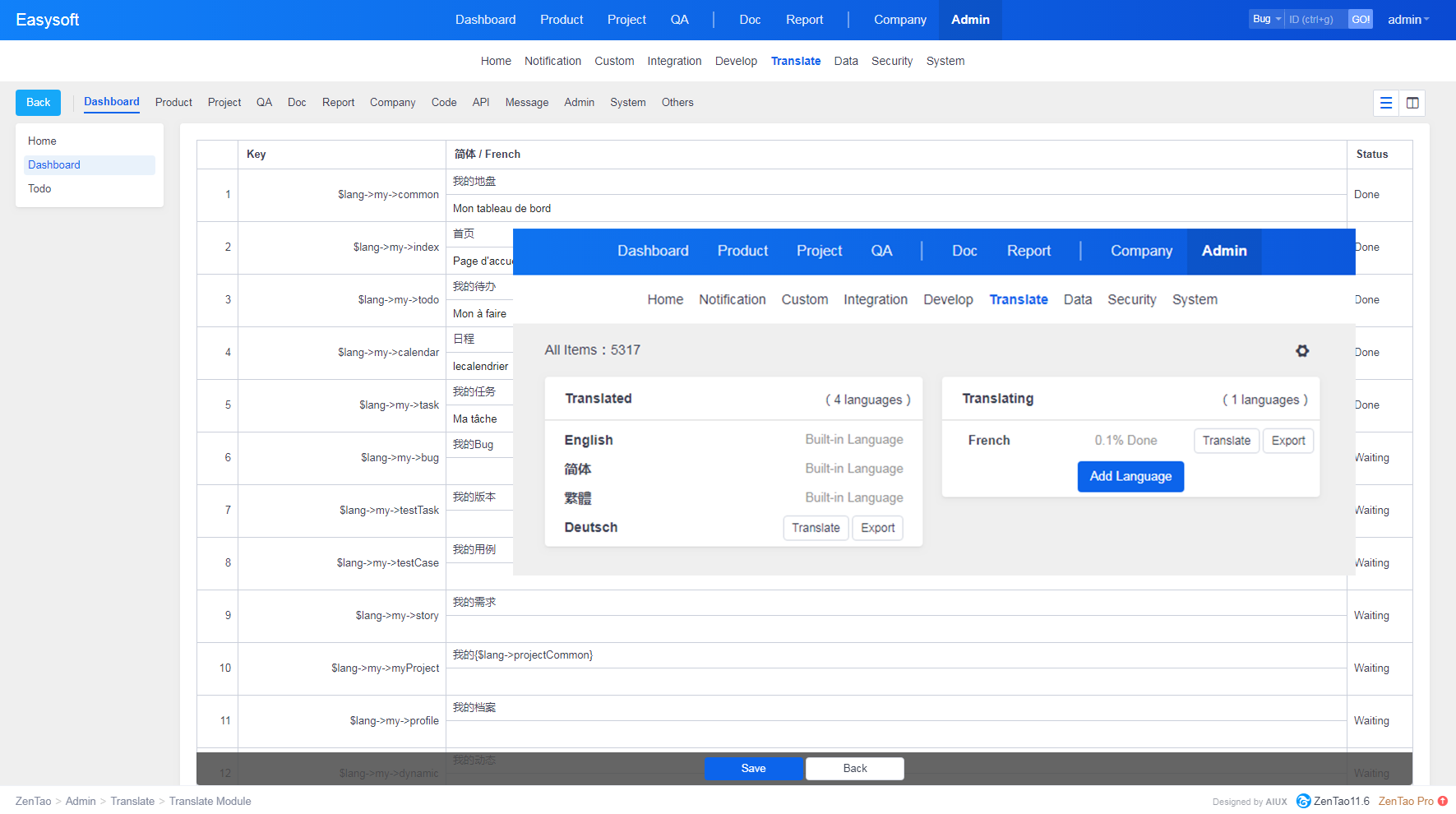 Change Log
Story
4172 Compare and review items of language files.
4171 Export translated language files.
4170 Review translation of a specific module.
4169 Translate items of a specific module.
4168 Translate items by modules.
4167 Set On/Off for the review feature.
4166 Add translation status of items.
4165 Add database to manage translation items.
4164 Add Add Language button.
4163 Add Translate Home page.
4162 Add Translate to Admin menu.
4232 Duplicated search tabs for bugs.
3928 Layout of Zdoo Integration.
4051 Project detail page. Link-> Linked; project progress->project.
4048 Unlink Stories->Unlink.
3735 Tips for paste images in the editor.
4152 Linked Project translation should be separated for two scenarios.
4191 Optimize the number of licensed users on landing page.
4152 Separate Linked Plans translation to fit for different context.
4194 Add Table button to the editor.
4157 Remove overlapped settings of privileges.
4156 Note to required fields need to be clarified.
4155 Optimize Maintain Privileges layout.
4154 Optimize the layout for password strength.
4153 Overlapped buttons on Project-> Overview page.
4118 Adjust the width of case result pop-out. Keep it the same as the Case Run one.
4116 Adjust the width of case result status.
4115 Change the order of batch actions to cases: run->review->delete-> case type->confirm story change.
4114 Batch add cases page. Remove Hours and Priority to keep the title of a story in the same line.
4113 Batch add cases page. Change the width for the drop-down.
4112 Set prerequisites for cases as in two lines by default.
4111 Add Case page. Remove Priority and Hours.
4110 Change the width of case title.
4109 Change the space between case result status.
4108 Choose cases by suite. Remove Private.
4107 Batch Create Bug page. The default settings for Priority should not be 1.
4106 Change the size of Export Report pop-out.
4105 Reduce the space between S and P columns.
4104 Highlight settings error in searching Effort.
4103 Change the selection in Effort calendar as user selection drop-down.
4102 Exported efforts can be ranked by date or users.
4100 Highlight button is wrong in Effort calendar.
4099 Manage the team for the project. Delete members from the team.
4098 Change options for Limited User on Manage Team page as Yes or No.
4097 Highlight button is wrong for Create Testing Report.
4096 Move Build to 1.5-level menu on Build list page.
4095 Do not separate options in story drop-down on Batch Create Task page.
4094 Change the width of the drop-down on Batch Create Task page.
4093 Change Project->Bug to Project->Request.
4092 Crumble in Project-Story Kanban should be separated from Task Kanban.
4091 Story title in Kanban is incomplete.
4090 Change -.
4084 Incomplete tab on the page of Project->Document Library.
4150 Move Timezone settings to the left.
4149 Move On/Off of Cron down.
4148 Change the translation of customized for customers.
4147 Encryption button for email settings should be in a separated line.
2905 ZenTao User Center translation changed.
3719 Use chosen max-width for search forms.
4036 Change 'After created tasks,' translation.
4022 Add "in list page'' to "Display/Hide module names".
4021 Translation of Review Required.
4020 Nothings got separated on Email Settings page.
4018 Translation of Delete Case.
4017 Weak passwords examples.
4025 Tree view button" Display All and Stories Only.
4026 Keep search tabs on the right column of the page when displaying all in Tree view.
4035 Change Testing Report translation.
4034 Change LinktoBuild button.
4032 Group privilege on Add User page needs to be translated again.
4031 Translation on Add Application->Set Notification.
4030 Translation on Document in Doc should be accurate.
4002 Tips for Batch Create Tasks need to be optimized.
4001 From Customer is covered on the Story list page.
4000 Layout of Resolve Bug.
3998 Point feature translation.
3997 Point notification translation.
3996 Admin-Required Field translation.
3995 Change Notification to notify in Admin.
3994 Translation on Add Application.
4003 Batch Create Case page. Review Required is covered.
4004 Review Story translation and layout.
4012 Translation on Hours Cost needs to be specific.
4011 Table head of Task by groups should not be covered.
4010 Close Reason for tasks is incorrect translation.
4009 Burndown chart. Edit 1-st day estimates translation.
4008 Confirm Bug translation.
4006 Translation in Privilege and Dynamics should be reviewed.
4005 Layout of Start Task.
3992 Admin Home links have to be directed to English documents.
4081 Company->Calendar translation.
4068 Case in Wait for review translation.
4067 No required review for cases translation.
4066 No abbreviation for male/female on Create User page.
Installation and Upgrade Manual


Download
Source Code Package
Official Website SourceForge
One-Click Package with Integrated Runtime
Note: It is for the first-time installation ONLY. Do NOT download it to update ZenTao you have installed.
Windows 64 bit one-click installation

Official Website

SourceForge




Windows 32 bit one-click installation

Official Website

SourceForge




Windows one-click installation (No security Settings)

Official Website SourceForge




Linux 64 bit one-click installation (unzip it to /opt)

Official Website SourceForge




Linux 32 bit one-click installation (unzip it to /opt)

Official Website SourceForge




DEB: use dpkg manager to install in Ubuntu/Debian

Official Website SourceForge




RPM: use rpm manager to install in Centos

Official Website SourceForge



---
Help
If you have questions, contact us at
Renee@easysoft.ltd
Philip@easysoft.ltd
Troy@easysoft.ltd