ZenTao Open Source 12.0.stable is released
ZenTao Open Source 12.0.stable is released
2020-01-09 09:10:56
Renee Teng

Original

4347
Summary : ZenTao Open Source 12.0.stable is released! This release is mainly to add an Annual Work Summary, move some features about Repo from Pro version to Open Source version, and fix bugs.
ZenTao Open Source 12.0.stable is released! This release is mainly to add an Annual Work Summary, move some features about Repo from Pro version to Open Source version, and fix bugs.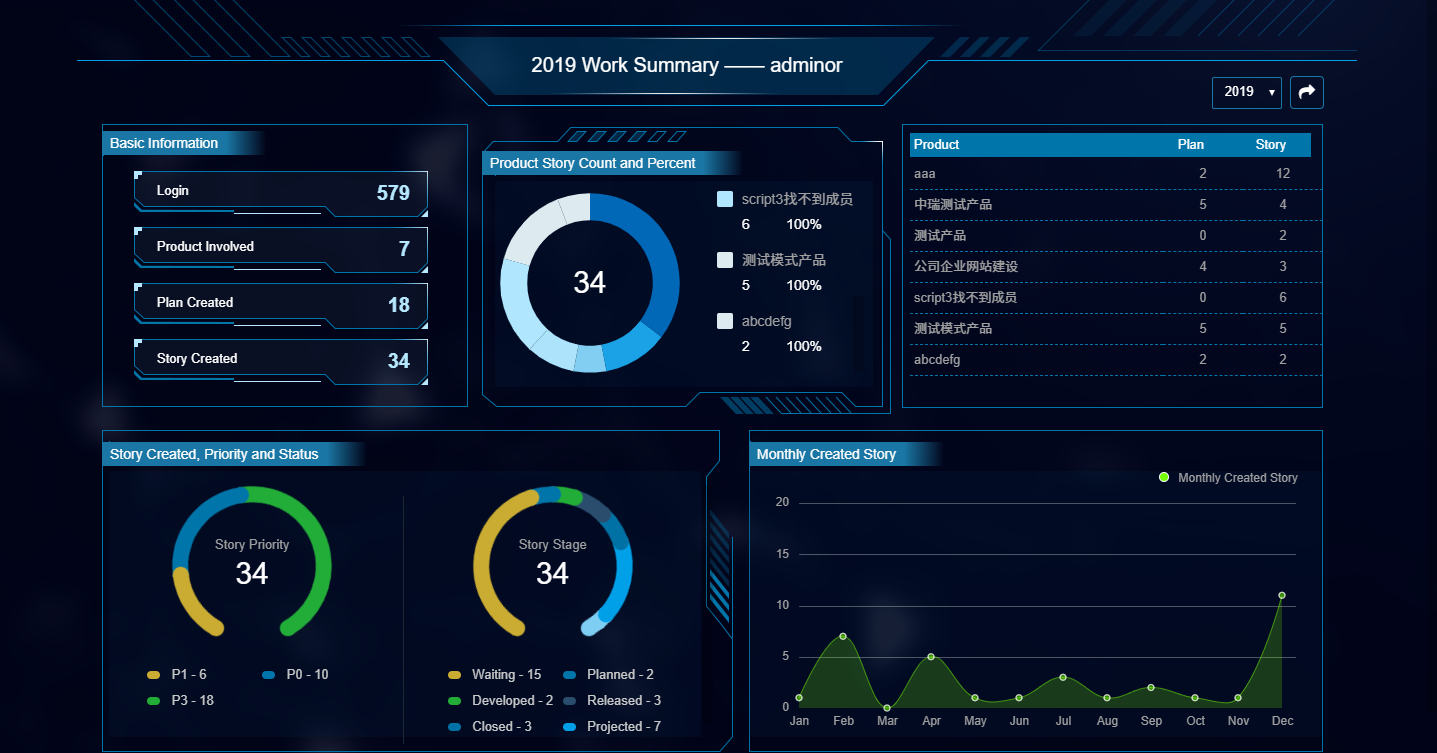 Screenshot: Annual Work Summary
Change Log
Story
4438 Edit a build and change the Linked Project.
4437 Display the number of Test Request linked Cases.
4428 Search tab is not highlighted on all pages of Sprint.
4425 ID of duplicated bugs should be required.
4507 View codes in Repo is moved from Pro version to open source version.
4529 Display the data of each block for testers.
4528 Display the data of each block for PO users.
4527 Display the data of Effort for Developer users.
4526 Display the data of Bugs and Tasks for Developer users.
4525 Display the data of Project for Developer users.
4524 Display the data of Project Involved for Developer users.
4523 Display the data of Profile for Developer users.
4522 Design the visual style and layout of the five major blocks.
4521 Design the global style for big screens.
3363 Change the returned page after creating an object.
4520 Integrate the latest Xuan IM.
Bug
1276 It is very slow to batch edit tasks.
1334 Login address error of the integration between ZenTao and the third-party application.
2014 Code remains even the test request is deleted.
2029 Invalid editing story stages on the page of a story list.
2066 Company-Department. Loading time is too long.
2075 Create Bug in Tutorial of ZenTao international version.
2078 Batch Create Todos. No prompts if no information is entered.
2084 Manage modules in a Doc Lib. The order of the modules is not the same as before.
2089 Hide Batch actions if no batch action related privileges.
2114 Histograms on bugs error. If a project name is long, it is not displayed as a whole.
2184 A module of a product can be changed to the branch of another product.
2185 Incomplete display of date generated in Report.
2208 Abnormal display of story phases when batch editing them.
2219 QA-bug list page. The scrollbar at the footer of a table blocks the data.
2225 PPT icons in file libraries are not displayed.
2231 If there are many tasks, the page is displayed in a mess.
2237 Report a bug. Data in tab bars is not updated.
2239 Timeout when uploading a file to a doc library.
2244 ID of a duplicated story is not recorded when creating it.
2250 Closed Project. Set it off to display doc libraries but error prompts.
2252 Collapse is disabled after executing the search under several conditions.
2253 Story ReviewedBy is not separated in a new line.
2254 Batch Run Cases. The results are not linked.
2264 IE11. The cursor is in a new line when entering repro steps for a bug.
2277 Linked Branch in a product module can't be edited.
2281 Roadmap is reversed in product details page.
2289 The spaces between action controls are not the same on different pages.
2303 One-click installation. Options on the interface are not on the same line.
2306 Icons displayed on the homepage of the QA.
2308 Assignees on a bug list. Usernames are displayed.
2309 Batch edit modules linked to stories on a list page. The page will scroll down when using the search feature.
2310 Titles in a roadmap is overlapped on Product Overview.
2312 Choose a group for repro steps of a test case, the steps are not fully displayed.
2315 Special characters in repro steps of test cases affect the display of the page.
2321 Required mark is missing when entering Close Reason.
2326 Project-Doc. Access document categories but prompts as no privilege.
2327 IE11. Image uploaded is not compatible.
2329 Edit a product line. Module name should actually be the name of a product line.
2330 Rich text editor in Product-Plan is not displayed right.
2335 Search rules of assignedto on a Link Case page.
2338 Accessing a page without the required privilege via a link, you will be directed the last page you were on.
2342 Project-Report.The interface should be optimized.
2343 Story information should be displayed nicely.
2349 Create and Edit a case, and its group info is not compatible with the repro steps.
2364 No story is linked to a product for a project, but the product module will show when managing modules for the project.
2405 Batch Edit Plans. The input box is abnormal.
2422 "+" icon title is missing on the page of Task details.
2423 Ongoing tasks cannot be batch cancelled.
2428 Access child tasks but prompted as no privileges.
2430 Create a child task but no module of parent tasks can be linked.
2431 Actions on the pop-out of case details are not right.
2434 Choose a group for cases. Then the steps of recorded cases are turned into child cases.
2436 Reset the password and login. User will be directed to the page to reset the password.
2437 Incomplete data in the dropdown of product/project.
2441 Refresh the page of Product and error.
2442 Edit a bug, and the scrollbar needs to be optimized.
2444 Optimize the pop-out window of Create Build.
2445 Click Link Product when a Create Build pop-out displayed. The style of that pop-out requires optimization.
2446 Image delete button on doc detail page is invalid.
2448 The number of block listed should be set.
2449 Resolved Build of a bug will contain the releases that is terminated and deleted.
2450 Duplicated dropdowns on the page of Project.
2451 Add Child Task buttons on My Dashboard and Task List are not in the same style.
2453 Delete the custom contact, and edit the user. Error.
2477 Fix the summary of Plans.
2612 Markdown will filter html tags.
2631 Activation Counts and Time of bug details are separated.
2632 Create Doc. Translation error of document names.
2633 Incomplete display of Cost and Left man-hour.
2634 Date on the page of Review Case Lib.
2684 Hide child categories of documents, but it is invalid.
2736 The width of bearychat webhook is not enough.
2759 Set tags as required field for bugs. Enter 0 and prompts as it cannot be black.
2777 If there is http info in the Markdown editor, error prompts.
2816 Batch add users. Save it and prompted as the password does not meet the requirements.
2825 Installation. SQL can check and delete zt_im_client.
2835 Markdown. Image link is not right.
2836 Privilege set for Test Request is not as it should be.
2837 SVN integration. Missing lines when diff.
2839 Types of recurred todos are not right.
2841 Save a comment. The loading icon is not right.
2843 ZenTao Tutorial. Prompts show that users have no privileges.
2851 Paste images and tables to a comment, but the data is not fully recorded in MySQL.
2852 Set customized required fields, then cases can't be imported to a case lib.
2856 Timeout during the installation is not taken care of.
2860 Issues in managing teams.
2861 Case title that are edited can't be updated to the case lib.
2862 Company-User. Check the finished todos of a user but it is not selected as green.
2863 Same titles are not the same in different interfaces.
2864 The style of plan list is not right.
2865 My Dashboard-QA-AssignedToMe is not displayed.
2866 Limited User privilege issues.
2867 Add the width of Project Alias on Product-Project.
2868 Interface of Bug Report is shown as interface.
2869 Jumpto address error when doing a Change Story.
2870 Left hours can be overridden if entering hours in reversed chronological order.
2871 The style of the Actions column need to be optimized once a new field is added.
2874 After recurred todo is deleted, it will still be created automatically.
2875 Search table is not consistent with the one as required.
2876 Async sending. Assign bugs again that will cause the image not displayed.
2877 A bug that you have no privileges can be found and viewed through search.
2878 Resolved Time on a bug detail page is inaccurate.
2879 Click Next on the detail page, and the display is abnormal.
2880 Batch Close parent tasks, but the History is not accurate.
2881 Linked Case of a Test Request is Waiting.
2882 Todo reminders that belong to other users are sent to you.
2883 Toggle cases by clicking arrow buttons, then the steps are gone.
2884 When creating a project, choose a linked product. Error prompts.
2885 Admin account set a global custom field but it is invalid.
2886 Case Library. Click a case but it is not directed the detailed page.
2887 Name in Privilege list and that in a Menu is not the same.
2889 Personal notification via Dingding can only be @ phone number.
2890 No tips for Create Story.
2891 Parent-Child task list page. The name is not displayed totally.
2898 Click Same as Story when clicking Decompose Task, then the input boxes are overlapped.
2899 Add project linked products and plans and page error.
2900 Man-hour as a required field is invalid when creating a task.
2901 Project-Kanban. Customized Kanban and the page is not right.
2902 Upgraded to 11.7 and the custom bug types are gone.
2903 Manage a view and it does not apply to the product.
2905 File version number is not right.
2906 Title error.
2908 View cases by clicking pagers. It can't jump to the last build of the next case automatically.
2911 Toggle builds on the page of case, and the build number is wrong.

Download
Source Code Package

One-Click Installation
Packages for Linux (unzip to /opt )
Linux 64 bit one-click installation (Ubuntu17+ and Centos7.4+)




Linux 32 bit one-click installation

(

Ubuntu17+ and Centos7.4+

)




Linux 64 bit one-click installation

(

Ubuntu16- and Centos7.3-

)




Linux 32 bit one-click installation

(

Ubuntu16- and Centos7.3-

)
PHP package


Help
---
If you have any questions or would like to get a free trial for more than three users, contact Troy@easysoft.ltd for help.