Agile tool recommended by multiple websites
Agile tool recommended by multiple websites
2021-01-12 14:07:34
ZenTao Official

Original

3316
Summary : Jira alternative on premise
This is the 12th year since the first release of ZenTao alpha version. As open source software, ZenTao has over 1.4 million installations and helps over 28,000 teams and companies improve team efficiency and streamline software development projects. Over the decade, ZenTao is getting more and more recoginition and is selected in multiple open source tool lists.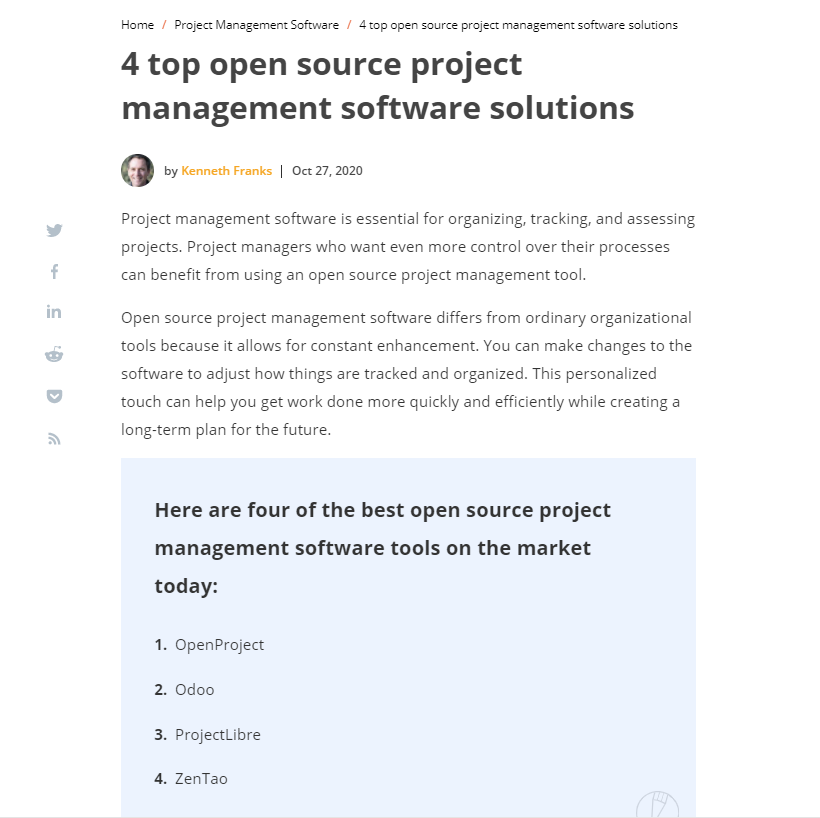 ZenTao ALM has 43 releases in 2020, including ZenTao community/open source version, ZenTao Pro and ZenTao Enterprise, and they have seen significant growth in features and improvements in usability.
ZenTao is based on Scrum, a popular Agile framework that is very pragmatic and easy to implement. It fits the fast iterative development of software projects. However, Scrum only defines the core management framework but leaves details and processes not extended/developed. Based on Scrum and the observation of the software development situations in China, ZenTao is released, integrating bug management, backlog management, test management, release management, document management, and reports, which covers the lifecycle of software development.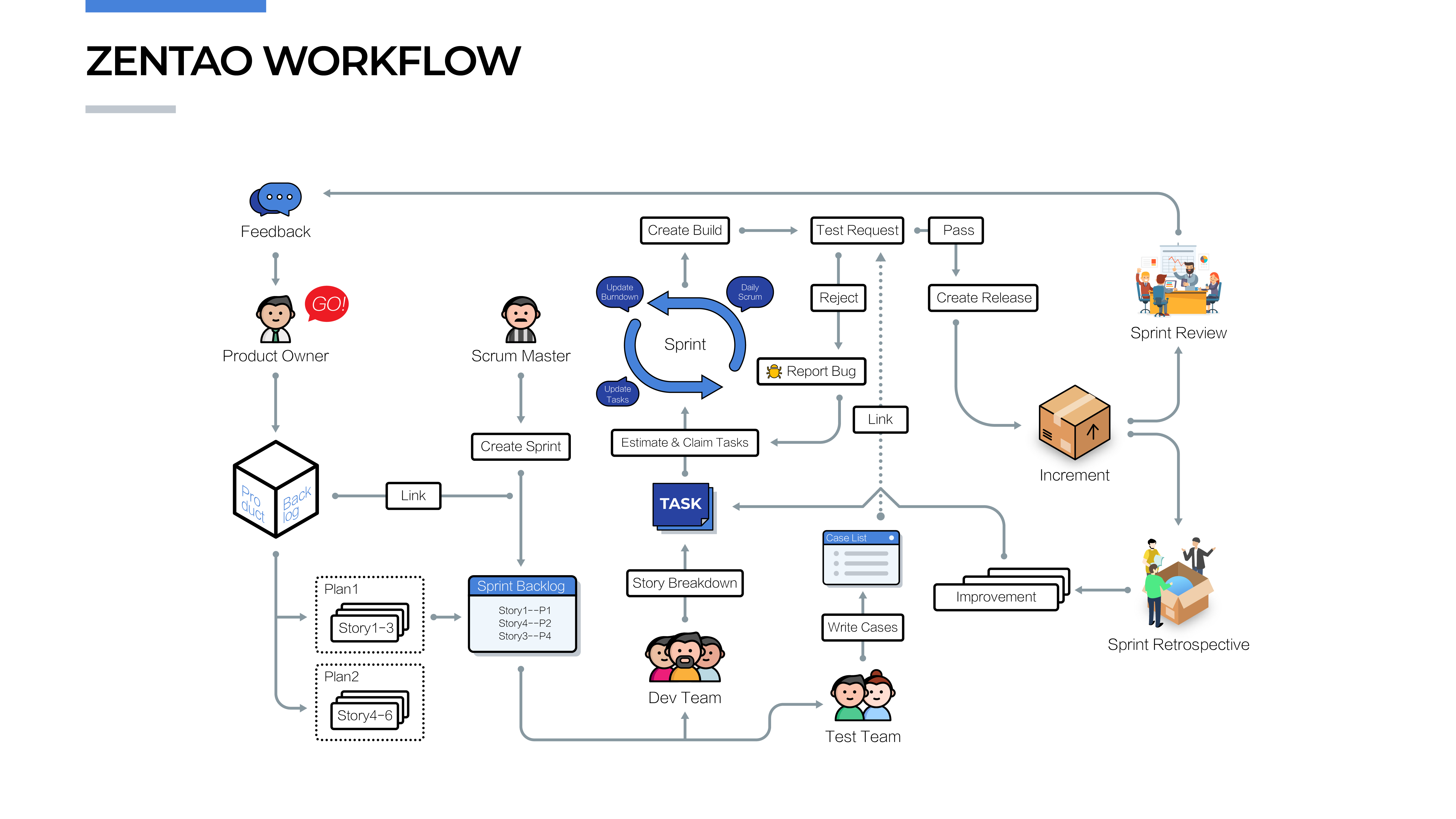 ZenTao workflow demonstrates how Scrum is implemented. The concepts of product, project, and test are clearly defined. The product team, the development team and the test team work together and check with each other while function differently. The three teams interact with each other through stories, tasks, and bugs, and eventually deliver the product with quality.
ZenTao key features are
Product management: product, story, backlog, plan, release and roadmap

Project management: project, Sprint, task, build and burndown chart

Test management: bug, test case, test request and test result CI: Jenkins integration, automation testing, ZTF

Document management: product document library, project document library and customized document library

Work management: todo management and my task/ bug/ story/ project

Company management: user, department, group and privileges

Report: various statistical reports and custom reports

Search: powerful search function helps you find the information you need

Extensibility: extensible in almost any parts of ZenTao

API mechanism: flexible for integration with other systems
More recommendations can be found in the reference.
If you want to know more about Scrum, read our blog HERE. If you want to know more about ZenTao, request a demo HERE.
Reference
https://www.jotform.com/blog/open-source-project-management-software/
https://www.knowledgenile.com/blogs/open-source-scrum-tools/
https://medevel.com/top-12-free-and-open-source-project-management-systems/
https://www.opensourcescrum.com/
https://awesomeopensource.com/projects/project-management
https://toggl.com/blog/project-management-software
https://cloudsmallbusinessservice.com/blog/best-open-source-project-management-software-76845.html
https://www.softwareworld.co/top-rated-project-management-software/
https://www.itcentralstation.com/questions/when-evaluating-application-lifecycle-management-suites-what-aspects-do-you-think-are-the-most-important-to-look-for
https://automate.io/blog/free-project-management-software/#16_ZenTao
https://www.opensourceforu.com/2018/03/the-top-five-open-source-project-management-tools-for-your-business/
https://www.trackplus.com/blog/en/project-management-software-best-of/
https://www.ilovefreesoftware.com/10/featured/free-open-source-jira-alternatives-bugs-issues-tracking.html