ZenTao's Founder Chunsheng Wang, Shares How the Software Defines the Concept of Product: GoodFirms
ZenTao's Founder Chunsheng Wang, Shares How the Software Defines the Concept of Product: GoodFirms
2021-04-02 09:34:00
Anna Stark

Original

6165
Summary : Recently, the GoodFirms team interviewed ZenTao's founder, Chunsheng Wang, who shared the objective behind coming up with this software along with its benefits.
ZenTao's Founder Chunsheng Wang, Shares How the Software Defines the Concept of Product: GoodFirms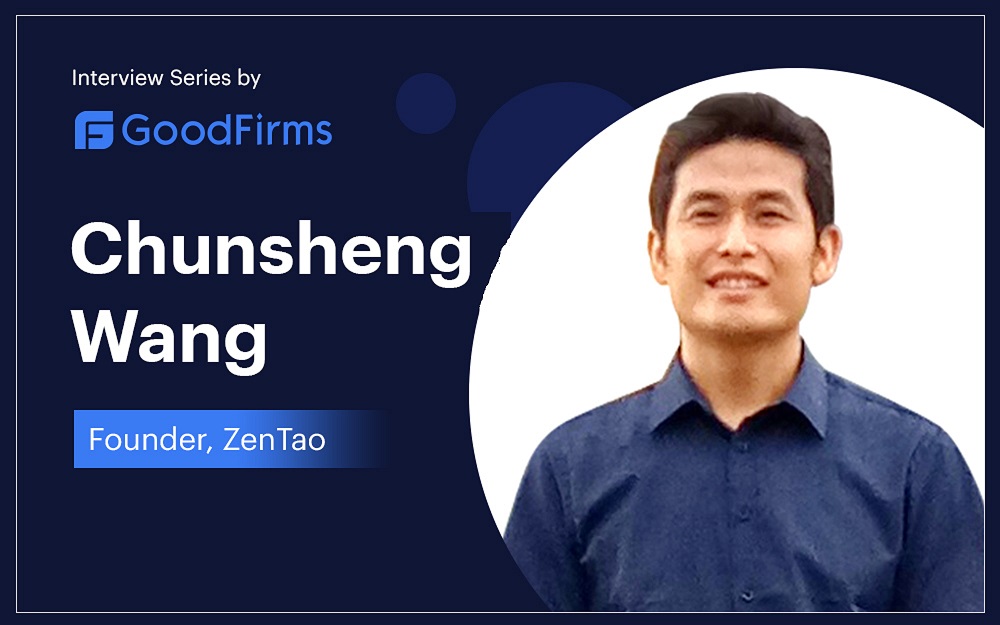 Established in 2010, ZenTao Software (Qingdao) Ltd, earlier identified as Qingdao Nature Easy Soft Network Technology Co Ltd, concentrates on presenting professional management solutions to global businesses.
At ZenTao Software team, the professional group has developed multiple enterprise management software such as ZenTao, ZSITE, ZDOO, and Xuan IM. In 2019, the company launched Yitian IoT and Y-Disk with proper investment and cooperation. The professional experts made three product series - business management software, IoT solutions, and business storage. This series encompasses all management issues in small and medium-sized enterprises (SMEs) by offering a unique collaborative solution.
The expert engineers' unit takes truth-seeking as their code of conduct and perseveres authentic and practical positive value for society. They adhere to self-governing open-source development and endeavor to embark on a unique path.
In the coming years, too, ZenTao Software's experts will adhere to what they have always believed and will continue optimizing products and services. Furthermore, the ZenTao will cater to small and medium-sized enterprises with extra, better, and more affordable management solutions to make every SME's collaboration productive and effective.
Recently, the GoodFirms team interviewed ZenTao's founder, Chunsheng Wang, who shared the objective behind coming up with this software along with its benefits.
Starting with the interview, Chunsheng divulges that in 2009 he founded ZenTao Software (Qingdao) Ltd, with its initial and primary product, ZenTao ALM. The organization's mission is to embrace open-source software and provide management tools to small and medium-sized enterprises (SMEs) with ZenTao. This Scrum tool is also open-source software.
Continuing further, Chunsheng mentions the purpose behind the inception of ZenTao software. ZenTao is created on Scrum, a successful Agile framework that is functional and pragmatic suitable for the iterative growth of software projects. Scrum only outlines methods to speed up the development project, but it omits procedures that are undefined. Based on Scrum and considerations of software development in China, ZenTao was launched.
Moreover, ZenTao's founder also beams about its benefits from a value addition perspective to the clients compared to other alternatives available in the market. ZenTao represents the concepts of product, project, and test. The product, the development, and the test team work together and check with each other while functioning separately. The three groups interact with each other by stories, tasks, and bugs and eventually produce the product with quality. "ZenTao is an application lifecycle management (ALM) tool and an on-premise affordable option to Jira," says Chunsheng.
Describing the features of ZenTao that make it unique from other software, Chunsheng explains that using ZenTao's application lifecycle management tool, manufacturers can accomplish application development projects. It helps professionals to turn ideas into products rapidly and efficiently with the support of Agile and Scrum.
ZenTao Software's expert team believes in composing great ideas for which one needs to have an open mind and clutter-free likeness. This philosophy has inspired the team to create an inherent and pleasant UI to enable business proprietors to generate the next big idea.
● With ZenTao, one can effortlessly adapt, plan, and work together with their respective business units to achieve their tasks and projects.
● ZenTao supports sporadic users and experts together in project management by presenting all the functions in custom lists.
● It creates clients' work as per their wish, and once the task is completed, it marks it as closed.
● Using ZenTao, one can transfer a task from one list to another with one click.
● ZenTao helps the business owners list their tasks and they can move or reschedule their duties easily.
● Clients can deliver efficiently and amalgamate information to ensure the project's success by appending comments, sharing adjuncts, and displaying the precedence & progress of the tasks.
GoodFirms has generated a record that presents the best project management software extending quality services. ZenTao gets dubbed as one of them because of its robust features mentioned above.
Besides this, Chunsheng also mentions that they cater to clients from various industries, mostly IT and technology. As long as clients beget software projects, they will need ZenTao to support their project management.
Talking about customer satisfaction and retention rate, Chunsheng elucidates that 99% of the customers are satisfied with the software's results. He also adds that the company holds a one-year license and a perpetual license. Usually, the clients opt for the perpetual license, as it gives them fruitful results that ultimately increase their respective businesses' ROI.
Regarding the subscription plan, Chunsheng mentions that ZenTao's premium version offers business owners with advanced features that smooth their project management by advancing their work efficiency.
Concluding the interview, Chunsheng cites that the team usually uses email and chatbots to support the customers. The clients will receive a response within 24 business hours, considering ZenTao is located in China. Besides this, ZenTao also has a user manual that is quite thorough. If clients encounter a tricky issue and need help, the tech support team can remotely fix them.
Thus, having read the excerpt mentioned above from Chunsheng's interview, one can also go through the detailed interview published at GoodFirms.
About GoodFirms
Washington, D.C. based GoodFirms, is an innovative B2B Research and Reviews Company that extensively combs the market to find the top software products delivering unparalleled services to its clients. GoodFirms' extensive research process ranks the companies, boosts their online reputation, and helps service seekers pick the right technology partner that meets their business needs.
About the Author
Anna Stark is a staff writer with GoodFirms – a Washington D.C.-based B2B Research Company that bridges the gap between service seekers and service providers. Anna's current role includes gauging companies' performances and their key attributes and putting them into words. She firmly believes in the magic of words. She is always looking for new strategies and ideas that companies have gladly embraced and exclusively shines a light on those to make their identities shine brighter on GoodFirms and the World Wide Web.