ZenTao Enterprise 3.5.alpha is released!
ZenTao Enterprise 3.5.alpha is released!
2019-07-30 16:04:00
Mirai

Original

8846
ZenTao Enterprise 3.5.alpha has been released! This release is mainly to integrate the workflow feature which can be customized.
Workflow feature enables users to customize fields, actions, interfaces and data, and to extend and rewrite built-in workflows. Users can customize the workflow for team requirements.
Note: This is alpha version. Do NOT use it for production.
Document
ZenTao Enterprise Installation
ZenTao Enterprise features
Change Log
Story
5921 Actions in Project can be customized.
5923 Connect all actions in ZenTao with the Workflow feature.
5925 Read all feature modules in ZenTao.
5927 Modify the framework and make it support custom actions in Workflow.
5931 Support search for new fields in all modules.
5932 Support search index in all modules.
5934 Custom fields in forms can be new fields in built-in modules.
Download
One-Click Package
( Packages for Linux have to be unzipped to /opt )
Windows 64 bit one-click installation




Windows 32 bit one-click installation




Windows one-click installation (No security Settings)




Linux 64 bit one-click installation




Linux 32 bit one-click installation



PHP source code package
If you have any questions or would like to get a free trial for more than three users, contact philip@easysoft.ltd for help.
---
ZenTao has integrated ZenTao Desktop, with which you can communicate with team members, to start a group conversation, to transfer files, to assign tasks, and to manage projects. It would smooth your team collaboration. ZenTao Desktop is powered by Xuanxuan, a free, open source, and secure Instant Messenger by EasySoft INC. It is self-hosted and cross-platform with various plug-ins and rich features. Click HERE to know more about it.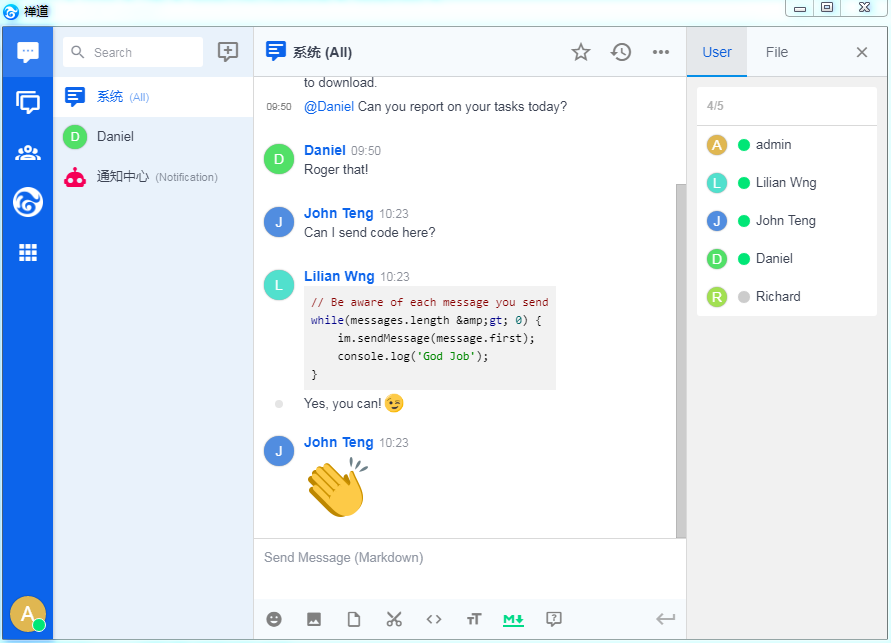 ZenTao Desktop
Windows 64-bit Windows 32-bit Linux 64-bit Linux 32-bit MacOS


ZenTao Desktop Server
Windows 64-bit Windows 32-bit Linux 64-bit Linux 32-bit MacOS