Developer Survey Result China 2017
Developer Survey Result China 2017
2018-01-08 17:14:00
Yves

Original

6541
This survey is operated by Coding Life, a developer community run by Aliyun which is a cloud product of Alibaba. Over two months, there are 14,992 developers took part in the survey and 7.032 of them finished the total 118 questions which cover operating systems, development languages, code editors, databases, framework, and repository, hosting platforms, version control systems, engineering approaches, management tools, integration tools, and APIs.
Research Method
Quantitative research: Questionnaire
Note
The survey data is collected by December 2017.
14,992 questionnaires were collected and 7.032 of them are valid.
The respondents are all Chinese developers, if not specified.
Result
ZenTao Project Management Software

ZenTao beats Jira In Management Tools sector, only second to the Tools that are internally developed.
37.3% of the respondents claim they use internally developed tool. In China, there are management tools that are designed for companies. However, they have to use internally developed tool, due to the special types of some jobs and business. 21% of them claim they use ZenTao as the project management and collaboration tool. ZenTao is favored by more and more Chinese developers for its open source and professionalism.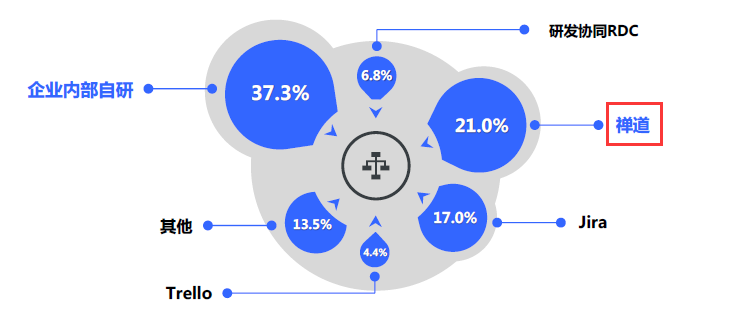 ZenTao is an open source and free software project management tool designed by an Agile team and for Agile teams.
The most distinguishing thing between ZenTao and other systems is that it divides the complex project management into four major items, namely story, task, bug, and case. ZenTao supports the whole flow management among these four items. A cloud version is also available, please visit //saas.zentao.pm.