feature-introduce
ZenTao Open Source Features
ZenTao workflow
In ZenTao PMS, the core roles are product manager, project manager, development team and test team. If agile development is used by your teams, they can be corresponded with roles in Scrum as product owner, scrum master and team ( dev and tester). These roles will cooperate and coordinate with each other around the product.
Dashboard
My To-dos: ZenTao provides basic to-do management to help arrange routine work better.
My Task, Story and Bug: ZenTao provides action shortcuts for stories, tasks and bugs assigned to you in Dashboard. All tasks assigned to you have to be finished within a time frame. Therefore, every ZenTao user has to deal with the tasks, stories or bugs shown in Dashboard on time.
My Profile: On Dashboard, there is also a page of Profile. You can view and change your personal information there.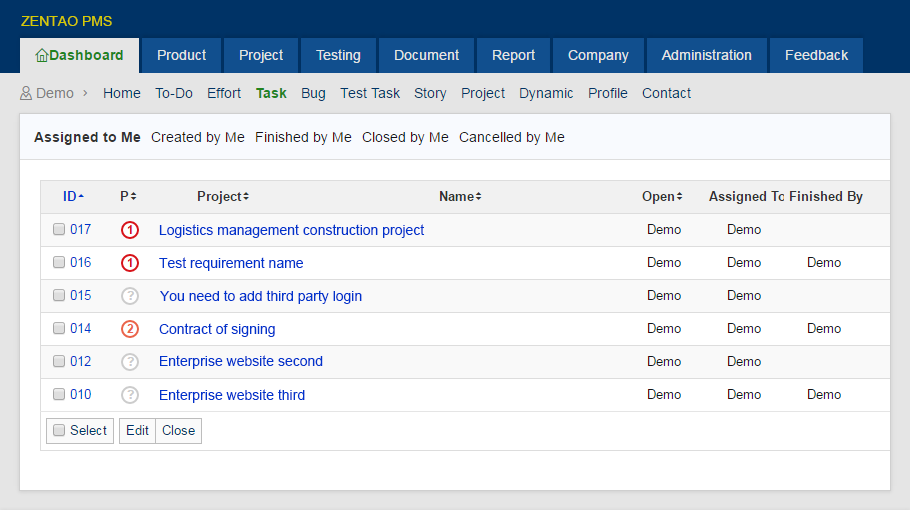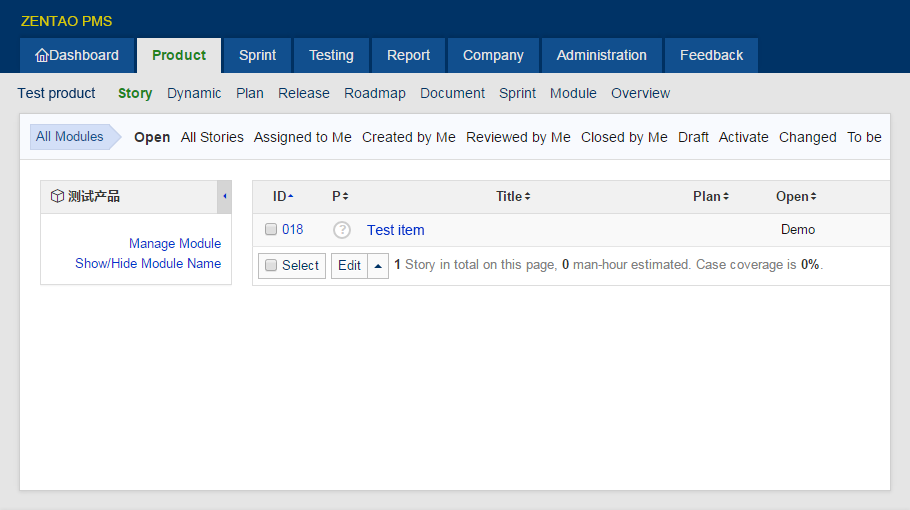 Product
In ZenTao, everything goes around the product which is the core of project management. This part mainly include story, dynamic, plan, release, roadmap, document, project, module, overview.
Project
Relations between products and projects in ZenTao are often asked. In Zentao, project is what sprint is in Agile development. This part mainly include task, story, bug, build, test, task, team, dynamic, document, product, overview.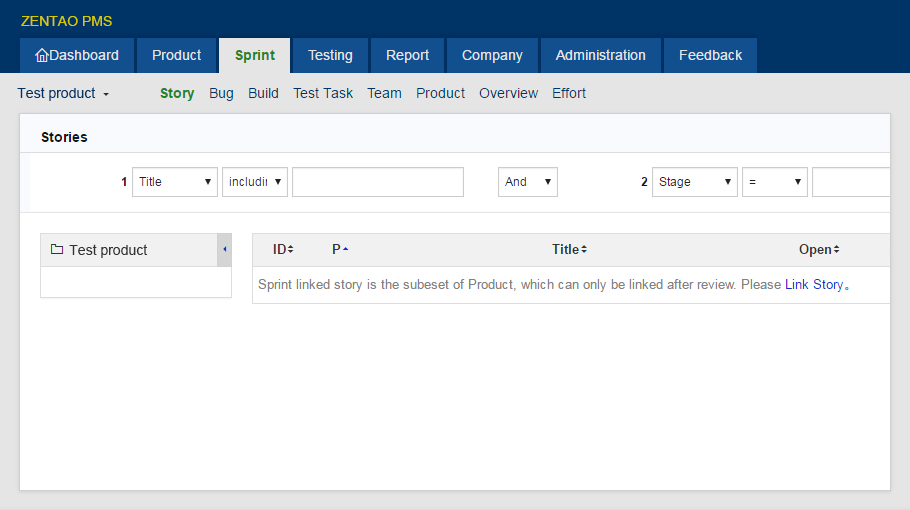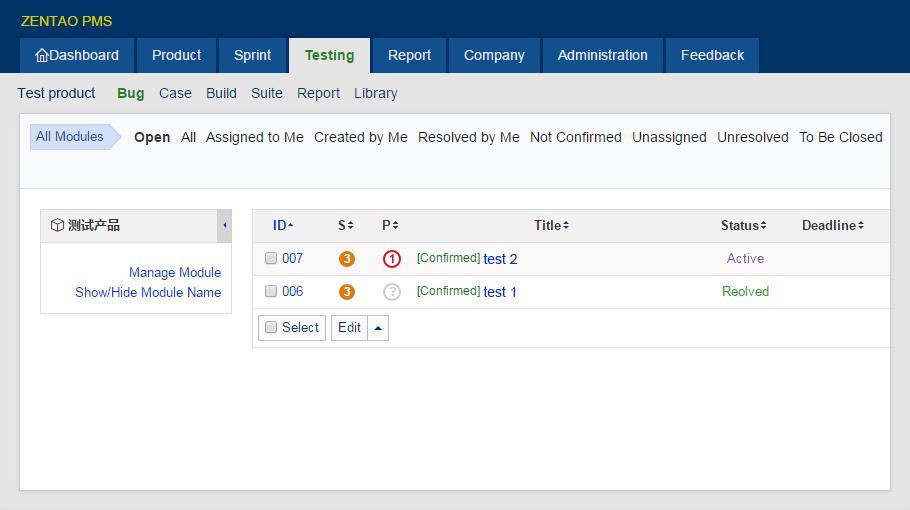 Testing
After builds are created, they can be submitted to testing teams for a testrun which in ZenTao is called Test Task. This part mainly include bug, case,build,suite,report,library.
Document
Agile development does not promote all-inclusive documents, but documents are necesary, such as design document of database, interface documents and test summary reports. ZenTao has the basic built-in document management which can work as a complementary to cover processes that is not recorded in ZenTao. There are three types of document library in ZenTao, product document library, project document library and customized document library.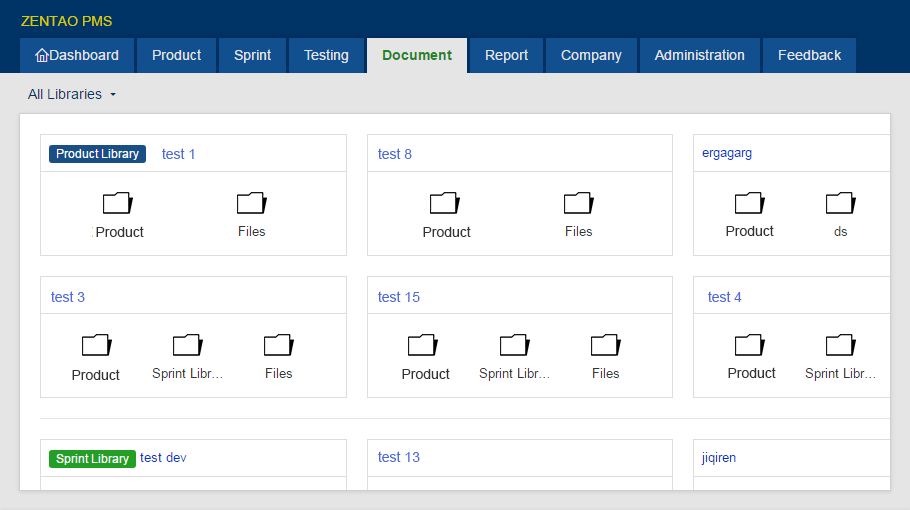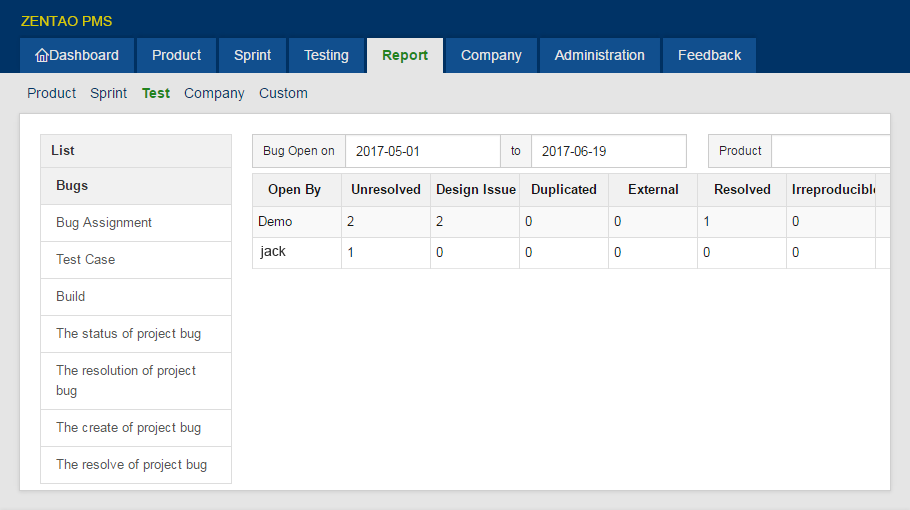 Reports
ZenTao provide all kinds of reports to check information including all task ststus and expenditure of time during some time, case data of all products, data of all versions.
Company
After ZenTao is installed, the first thing administrator needs to do is establish organization structure. This module mainly include user, department, group, company, dynamic.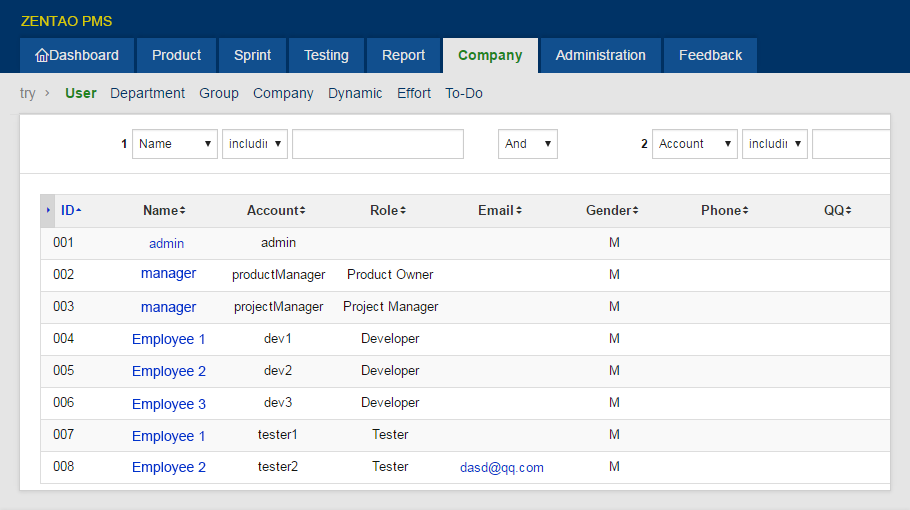 index-why
Why choose ZenTao
Leading
Serving 30,000+ teams
Serving 200,000+ projects
Serving 800,000+ developers
The #1 in local market share

Free & Open
Open source and unlimited to commercial
Powerful extension mechanism and various plug-ins
Available on Github
Either Self-Host or Cloud Apps

Professional
Refined ALM support
Zero downtime upgrades

Integrate Git and SVN (pro)
Word and Excel import & export (pro)
Preview-Edit-Diff document online(ent)
Integrate OPS-Attendance-Feedback(ent)
Guaranteed
ZenTao team has involved in open source since 2004
Frequent releases and free upgrade forever(even self-hosted)

Instant and powerful support for 20000+ companies
Easy
Out of the box, Less config
Nice price for small team($9.9)
Design to adhere Scrum Best practice
For Agile but not restrict to Agile
Flexible
Applicable for different sized teams
Applicable for Agile/Waterfall
Modules can be used in any combination
Convenient customization