Global Cloud Computing Open Source Conference 2018
Global Cloud Computing Open Source Conference 2018
2018-01-11 17:32:00
Renee

Original

4134
The history of open source can be traced back to 1960s. After decades of development, open source has gone from small to large, from a sketch to a mainstream. Today, open source has become the most energetic, open, and promoted business model. Especially in the era of cloud, open source has become the main force to lead the development of the IT industry.
In 2018, what would be like in cloud computing of open source? Who will play the leading role in it? On March 21 -22, 2018, "Global Cloud Computing Open Source Conference 2018 will be held in National Convention Center in Beijing. That would have an answer to the questions mentioned above.
This conference is organized by the Ministry of Industry and Information, sponsored by China Information Communication Research Institute, the well-known open source cloud computing industry alliance (OSCAR), and Chinese IDC, Efficient Operation and Maintenance Community co-sponsored. Keynote speeches, research published, forums, exhibitions, which can help attendees in an all-round and multi-angle in-depth understanding of the conference.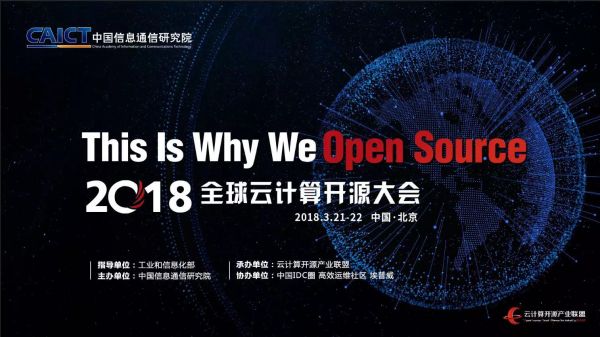 This conference focus on the development of the IT industry and technology trends, including the container and machine learning; storage and database; operations and maintenance; private cloud and hybrid cloud; open source security; DevOps; government and industry applications; banking industry applications; insurance industry applications; industrial applications; communication industry applications; open source governance and etc. It has twelve major forums in total. And, as a comprehensive summary of China's cloud computing in the past year, there will be important reports on private cloud, cloud open source, financial cloud and private rights security released.
At the conference, leaders and experts from Ministry of Industry and Information, ICT Institute, CNCF foundation, Apache Foundation, Google, Sinopec, China Mobile, China Unicom, China Tencent, Jingdong, Minsheng Bank, Pacific Insurance, and other industrial sectors will give speeches.
If you are interested in knowing the latest of cloud computing and open source in China, you should not miss this conference. Mark it on your calendar and plan for it!
Reference
http://www.upsapp.com/newsdetail.asp?id=34690
http://www.caict.ac.cn/english/