How to become a certified scrum master
2018-12-18 10:43:00
Renee

Original

4409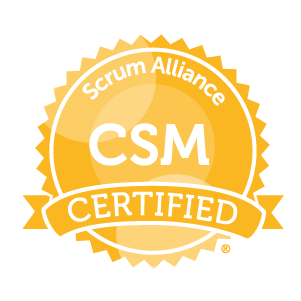 How to become a certified scrum master
Thinking of getting certified is definitely worth doing. As it is reported on Scrum Alliance website, the benefits are
Expand your career opportunities across all industry sectors adopting Agile practices

Demonstrate your attainment of core Scrum knowledge

Learn the foundation of Scrum and the scope of the role

Engage with Scrum practitioners committed to continuous improvement
How to get yourself certified as a Scrum Master? Keep reading.
Read Scrum Guides
First, you have to get yourself familiar with the Scrum framework. You can start by reading the Scrum Guide written by Ken Schwaber and Jeff Sutherland who developed Scrum. You can read it HERE online. You can also download it over 30 different languages from Scrum Guides.
Scrum was created in the early 1990s. In 2010, the first edition of the Scrum Guide was released to help people all over the world appreciate Scrum. Since then, minor, practical changes has been made to the Guide.
The Scrum Guide has a description of Scrum. Each component of the system serves a distinct role that is critical to the ultimate benefit and outcomes achieved with Scrum. Changing the basic architecture or ideas of Scrum, throwing out components, or failing to obey Scrum rules obscures challenges and reduces Scrum's gains, ultimately making it worthless.
Agile Manifesto-4 values and 12 principles
The Agile Manifesto is the Manifesto for Agile Software development. Agile is to solve the issue of the time lag between business requirements and the delivery of the product that answered those needs.
The Agile Manifesto is a text that outlines the core concepts and ideals behind the Agile methodology, with the goal of assisting production teams in working more effectively and sustainably.
It is intended to strengthen software development methodologies and explicitly reacts to the inefficiency of conventional development methods by acting as a proclamation. Specifically, their dependence on extensive reporting and capacity for scrutiny.
While the initial paper was intended to help software developers design enterprise solutions more quickly and efficiently, it has had a far-reaching effect on the programming industry as a whole and beyond.
For the original manifesto, you can read it HERE.
Resource and Community
Reading the guides is just to the beginning. You need to find the reliable source of the information you need to get ready not just for the certificate but also for gearing yourself up with knowledge for practice. Scrum Alliance is the official website which you can get all the information about the certificate you need. It cost you 50 USD per year to join the community, which is fair, as you can connect to the regional and global gathering, Agile careers, exclusive webinars, and more. It is the site where you register to get certified.
Attend a two-day CSM course
Although comments on the course exam include "the exam was an insult to my intellectual capabilities", a two-day (16 hours) CSM course is mandatory for everyone before you take the exam. On the Scrum Alliance website, you can find the course offered in your location. Find the course.
Once you take the course, you can take the CSM exam anytime you think you are ready. Good luck!
---
See also