5 Fun Websites Developers Should Not Miss
2018-03-26 11:25:00
Amber

Original

7452
Menciu s asked the King ,
'which is the more pleasant - to enjoy music by yourself alone, or to enjoy it with others?'
'to enjoy it with others,' was the reply.
Coding is fun itself. With a community, coding can be even more fun. After working in IT industry for a while, I have come across several websites that I consider them worth a visit. Some of them have forums and communities to share coding learning courses, and some are blogs that just give you crazy ideas and inspirations.
Spiceworks community is where coders discuss coding issues and have meetups. It is packed full of expert-backed content fueled by the world's largest community of your peers. The result: unbiased, credible answers from millions of IT pros just like you. Get Answers. Learn skills at your own pace. You can also find numerous software and reviews, IT support service, and take IT challenges.
Hacker Rank is a learning and competition community for programmers. You can take coding challenges and compete against fellow programmers to solve problems, and you might just catch the eye of one of the many hiring engineers who turn to Hacker Rank to source top programming talent. It is their mission to help a programmer to find the right job.
"A webcomic of romance, sarcasm, math, and language." That is the summary of the website from the owner. xkcd is a hilarious daily webcomic often related to computing created by Randall Munroe who at the beginning decided to post a few comic-y sketches on a server he was testing out while going through some old notebooks to scan work he didn't want to lose. Click the link and check it out yourself.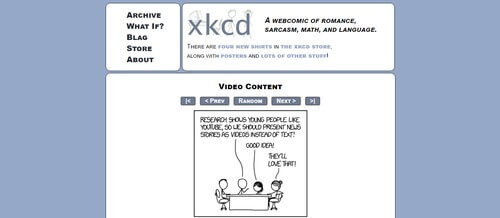 Right beneath the tile of Coding Horror writes "programming and human factors" @Jeff Atwood, the owner. It is rarely seen that a programmer can write. No offense. Just this blogger is so many fun writings to read. CodingHorror is a fantastic blog about programming and human factors. Atwood says the blog has changed his life, serving as a catalyst for many of his dreams to become reality – beginning with landing his dream job at Vertigo Software in 2005 and ultimately founding Stackoverflow in 2008. Atwood has since moved on from StackOverflow to other ventures, and he documents it all at Coding Horror.
I personally love his witty writing and he is very knowledgeable.
MIT OpenCourseWare (MIT OCW) is an initiative of the Massachusetts Institute of Technology (MIT) to put all of the educational materials from its undergraduate – and graduate-level courses online, freely and openly available to anyone, anywhere. Here is part of the course list MIT OCW offers. Make the best use of it.
If you're looking for more insider opinions on the best websites for programmers, check Quora, a new hub for programming lovers to talk about it.
Reference
https://stackify.com/18-websites-every-developer-should-visit-right-now/
https://www.wikipediea.com