ZenTao ManualBook Info
1

Introduction

2

How to Install ZenTao

3

Upgrade ZenTao

4

Users and Groups

5

Simple Application

6

Basic Application

7

Advanced Application

8

Configuration

9

Custom Development

10

Other Relevant Issues
Groups and Privileges
2015-09-10 10:38:09
azalea
1264
Last edited by Yves on 2017-12-01 11:04:31
In ZenTao, all the user privileges are assigned by groups. So after managing department, create user groups and assign privileges to each group. What is the differences between groups and departments then?
Department structure is set from the perspectives of the company. It defines the superior-subordinate connections among employees. The user groups in ZenTao are to distinguish the privileges of users. There is no relations required among them. For example, user A belongs to the Product Department while user B belongs to the Dev Department, but they both have the privilege to submit bugs.
1. Add Groups
1.1 Log in ZenTao as Admin and click the
Company
.
1.2 Choose Group and then the page of group lists will show. You will see a few buttons under Actions.
1.3 Click on Add a Group to create new groups.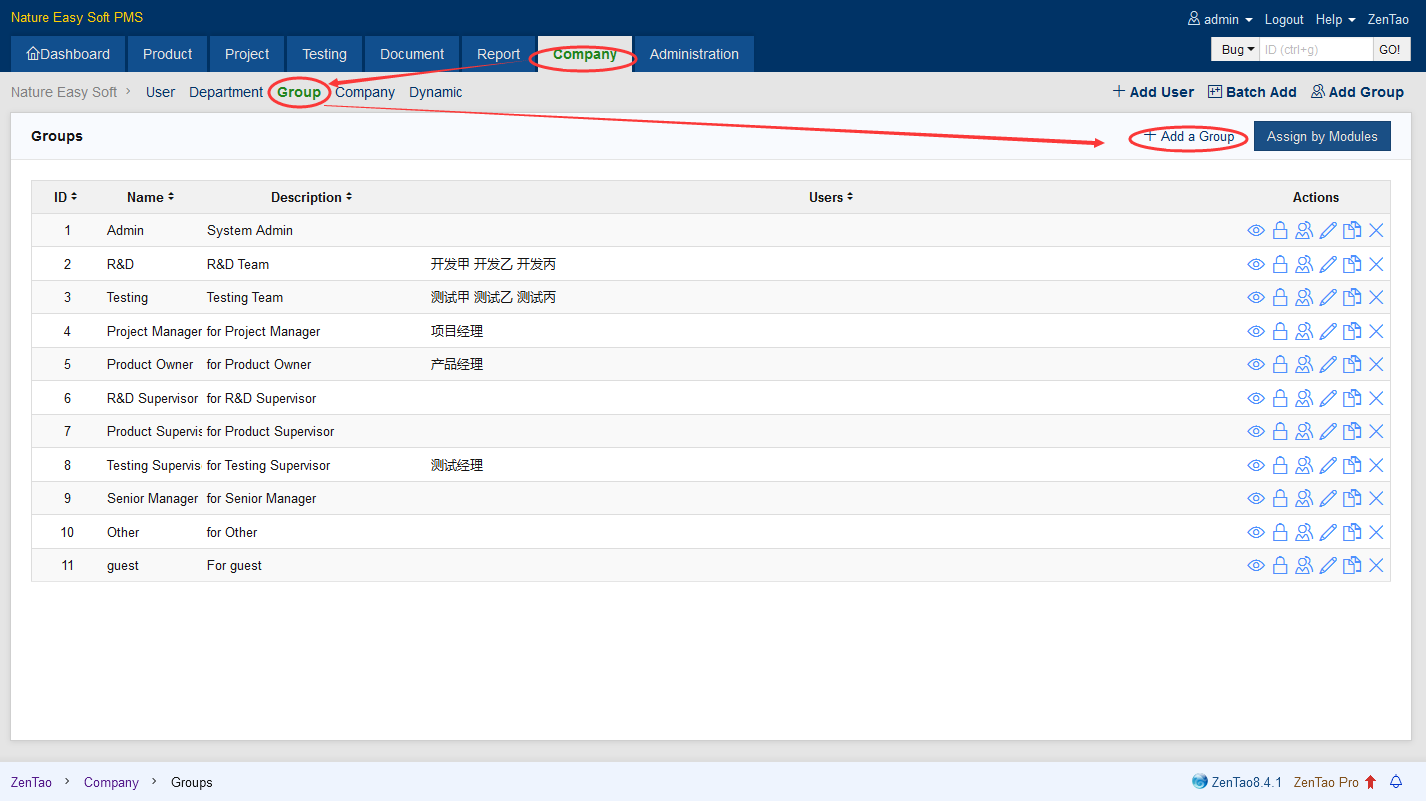 1.4 On the page of groups, you can maintain the privileges and members of a particular group, or copy a particular group.
2. Manage Privileges

2.1 Log in as Admin;
2.2 Click the
Company
;
2.3 Click
Group
and enter the page of group lists;
2.4 Choose a group and click Privilege to maintain the privileges of the group;
2.5 Check a module to assign the privileges of each module to certain group.
2.6 Privilege has been added since ZenTao 7.1. You can set a group which has access to certain product or project, e.g. set the privileges of Project Manager group.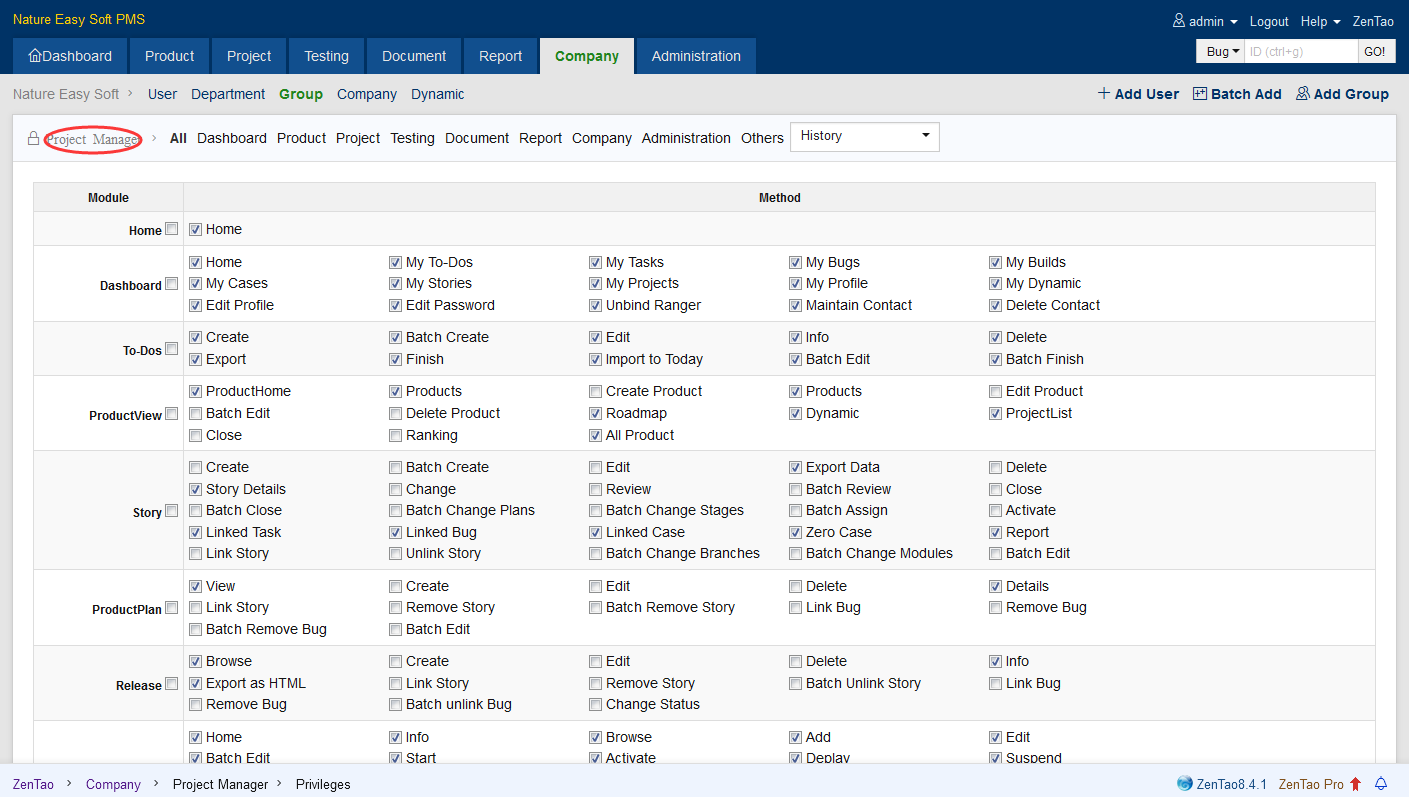 3. Manage Members

3.1 Log in as Admin and click Company->Group;
3.2 Click Member and a window to manage users of certain group will pop out, e.g. Testing team..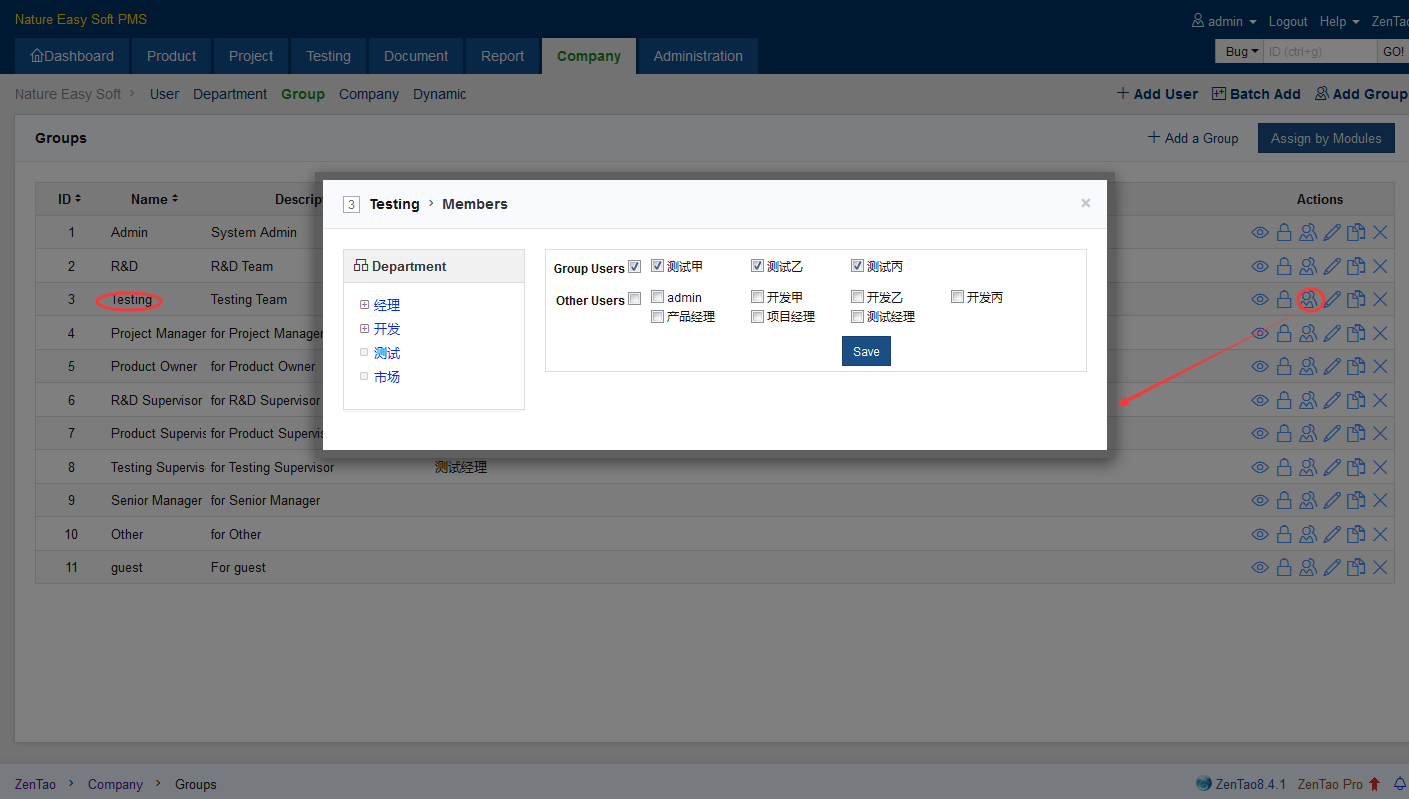 4. Other Shortcuts

In addition to actions mentioned above, you can also maintain members through copying or using modules. Choose a group and click the Copy button.
4.1 Log in as an administrator;
4.2 Click Company->Group;
4.3 Click Assign by Modules to assign privileges to multiple groups.