feature-introduce
ZenTao Open Source Features
ZenTao workflow
In ZenTao PMS, the core roles are product manager, project manager, development team and test team. If agile development is used by your teams, they can be corresponded with roles in Scrum as product owner, scrum master and team ( dev and tester). These roles will cooperate and coordinate with each other around the product.
Dashboard
My To-dos: ZenTao provides basic to-do management to help arrange routine work better.
My Task, Story and Bug: ZenTao provides action shortcuts for stories, tasks and bugs assigned to you in Dashboard. All tasks assigned to you have to be finished within a time frame. Therefore, every ZenTao user has to deal with the tasks, stories or bugs shown in Dashboard on time.
My Profile: On Dashboard, there is also a page of Profile. You can view and change your personal information there.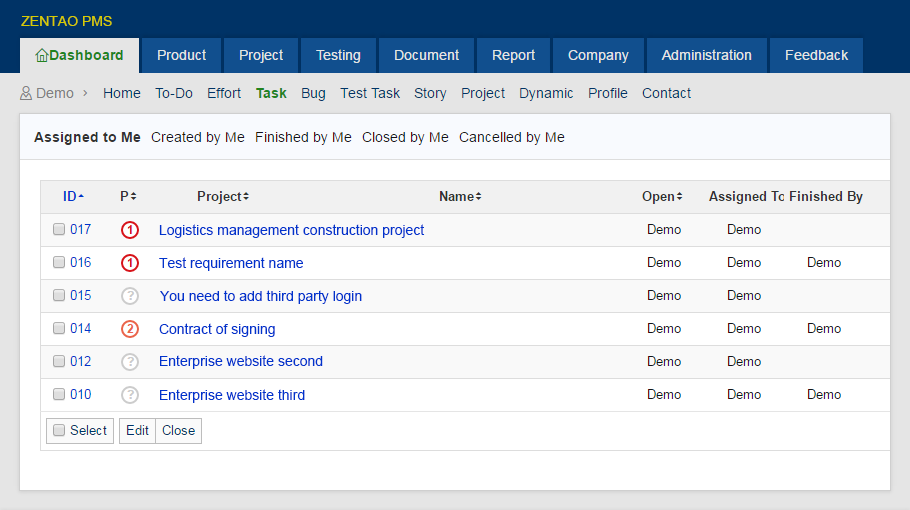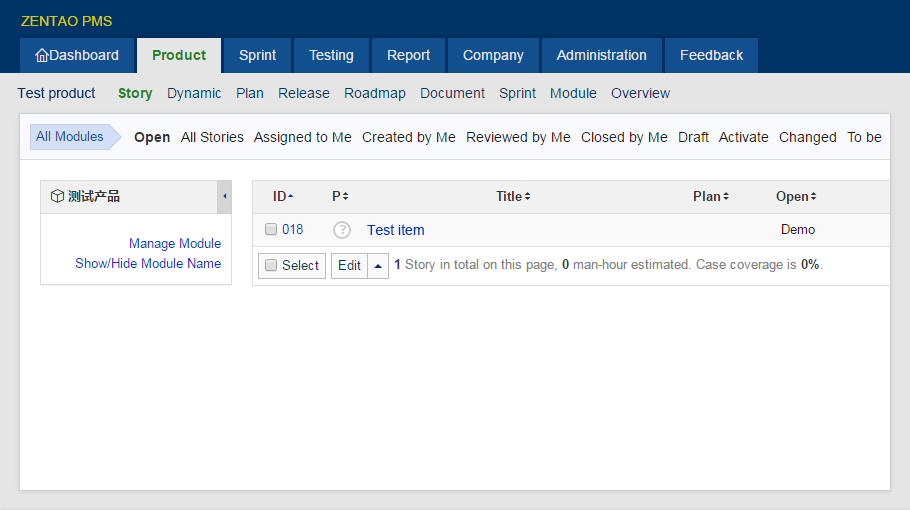 Product
In ZenTao, everything goes around the product which is the core of project management. This part mainly include story, dynamic, plan, release, roadmap, document, project, module, overview.
Project
Relations between products and projects in ZenTao are often asked. In Zentao, project is what sprint is in Agile development. This part mainly include task, story, bug, build, test, task, team, dynamic, document, product, overview.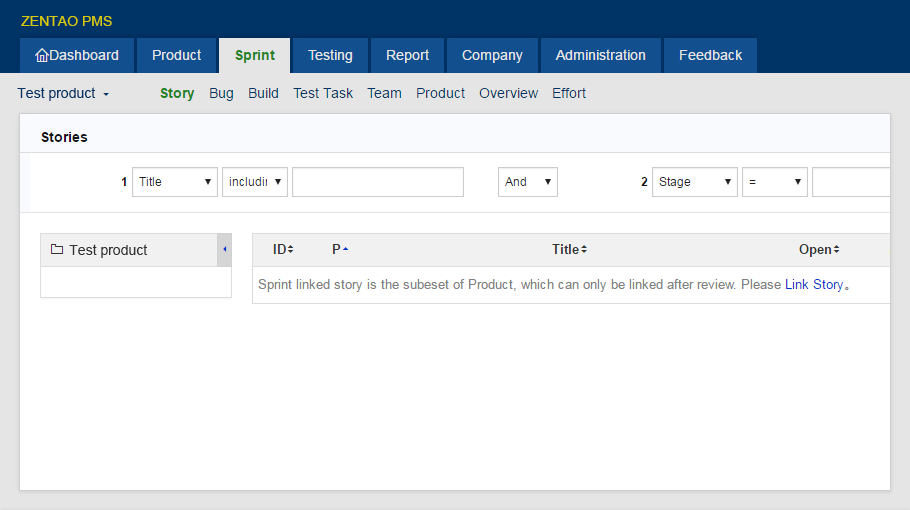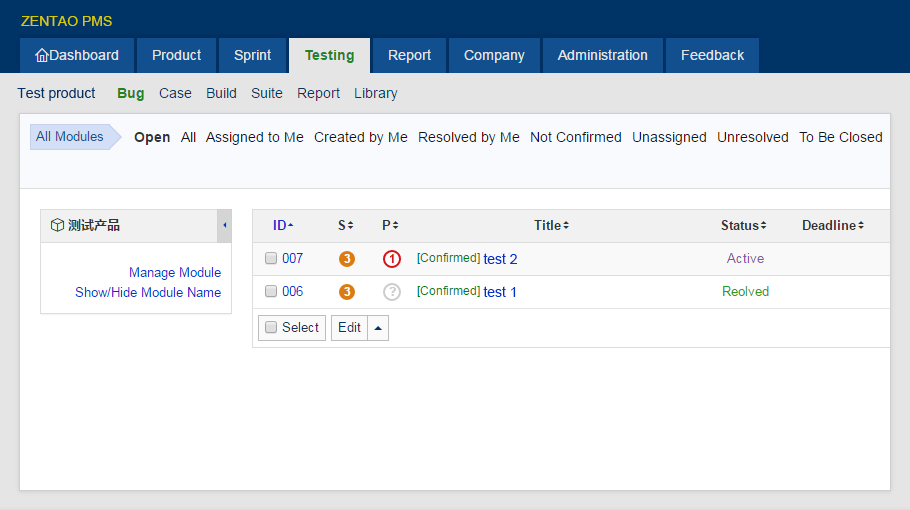 Testing
After builds are created, they can be submitted to testing teams for a testrun which in ZenTao is called Test Task. This part mainly include bug, case,build,suite,report,library.
Document
Agile development does not promote all-inclusive documents, but documents are necesary, such as design document of database, interface documents and test summary reports. ZenTao has the basic built-in document management which can work as a complementary to cover processes that is not recorded in ZenTao. There are three types of document library in ZenTao, product document library, project document library and customized document library.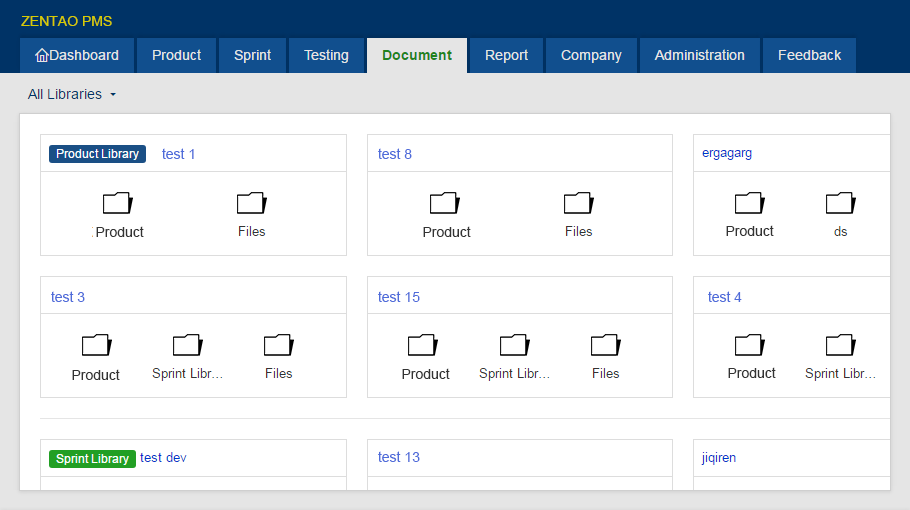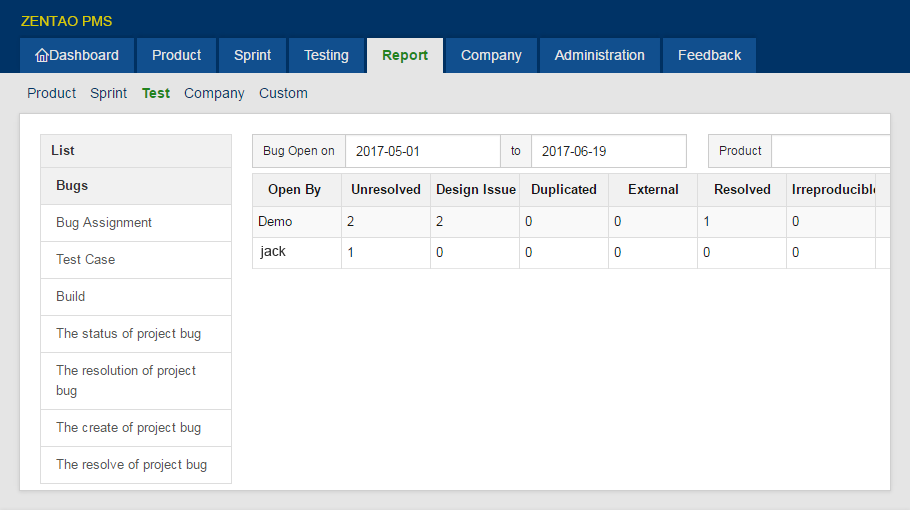 Reports
ZenTao provide all kinds of reports to check information including all task ststus and expenditure of time during some time, case data of all products, data of all versions.
Company
After ZenTao is installed, the first thing administrator needs to do is establish organization structure. This module mainly include user, department, group, company, dynamic.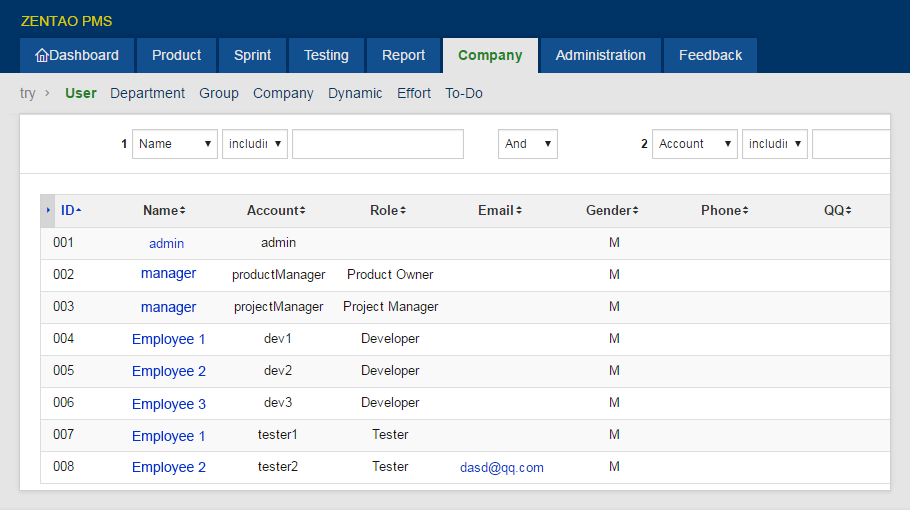 feature-function
The special functions for ZenTao Professional version
Gantt Chart
find out whole project schedule and achieve four standard task dependencies
Calendar
clear backlog, log, tasks and flexible drag
Work Log
browse log by label and convenient statistical reporting by log file exported
Excel Import/Export
batch import/export stories, tasks, bugs and cases
Word Import
stories are exported by "docx" file and recorded easily
SVN Integration
browse online SVN repository and review easily code

GIT Integration
browse online GIT repository and review easily code
LDAP Integration
import users from lamp and users from ldap server can login automatically
Reports Export
reports, custom reports and project pie charts are exported to local
Feedback Management
directly turn demands and bugs and connect with product development
Statistics Reports
report case data of all products, data of all versions and all task status and expenditure of time
Crystal Reports
built-in extensive report and custom SQL queries, powerful and flexible functions
feature-start
More refined More efficient
Our mission is to provide more refined and more efficient project management for IT enterprise.