1.

QuickStart

1.1.

QuickStart of ZenTao 12 series

1.2.

ZenTao 12 series Starter

1.3.

ZenTao 12 series Advanced

1.3.1.

Process overview

1.3.2.

Personal issues management

1.3.3.

Product Manager management

1.3.4.

Project Manager management

1.3.4.1

Create a project

1.3.4.2

Set up the project team

1.3.4.4

Task Breakdown

1.3.4.5

Daily standup meetings

1.3.5.

Development Team management

1.4.

QuickStart of ZenTao Biz 12 series

1.4.1

Gantt Chart
Create a project
2022-12-14 16:53:47
Kelsea
310
Last edited by Yujia Li on 2023-01-04 16:27:26
Share links
Summary : This article introduces the concept of a project and how to create a project in ZenTao.
One of the questions that many users often ask is the relationship between product and project. As described in the previous article, "The Correspondence between ZenTao and Scrum", the project in ZenTao actually corresponds to the concept of iteration in agile methodology. Only to make it easier for users to understand, ZenTao still follows the traditional concept of projects.
1. Create a Project
There are the ways to create a project in ZenTao:
Select Project > Project Home, and select Create Project in the drop-down menu.

Select Project > Create Project on the right side.

Select Project > Project Overview > View All, and jump to the project list and select Create Project.


Then access to the detail page of create project. Project Name, Code and Duration are the required fields.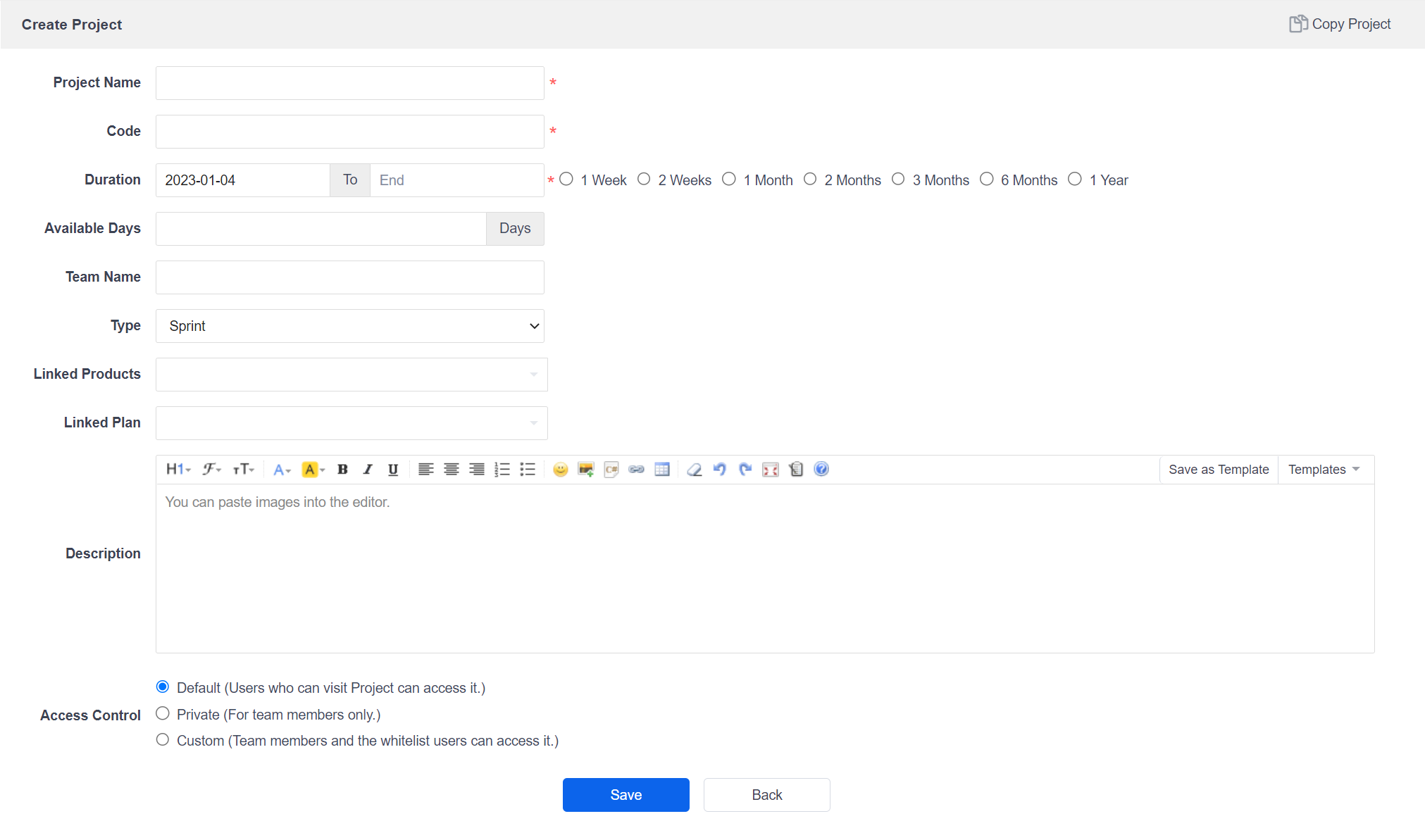 Note:
The project code is a metaphor, that is, the team can understand and know each other, for example, the ZenTao project has used "opensesame" as the project code.
Users can define their own team name, such as "ZenTao Development Team", etc.
When creating projects, users can select the associated product so that you can link the requirements subsequently.
Users can set the access control to projects, which are default, private and custom whitelist.
Users can choose five display methods in the Admin > Custom > Concept, which are Product - Project, Product - Iteration, Project - Iteration, Product - Sprint and

Project - Sprint

. These five ways only display different names, but the process is exactly the same.