Current Page : Blog Home
Five principles help agile digital transformation
Five principles help agile digital transformation
2021-10-20 16:21:27
philip

Original

218
Summary : Five principles help agile digital transformation
Five principles help agile digitaltransformation
Successfuldigital transformation is that —— radically changes business models andcapabilities through measurable steps as time, resources allow. It enables organizations tocontinuously learn and restart their digital transformation plans at any time,quickly responding to changing market conditions and customer needs.
Agile digitaltransformation contains five core principles:
Principle 1: Start with the vision of transformation
Ina survey released by Gartner, 63% of company leaders said they were not clearabout the possibility of new technology. Itis not unusual, as only 13% of respondents said they hadplanned future digital business investment plans.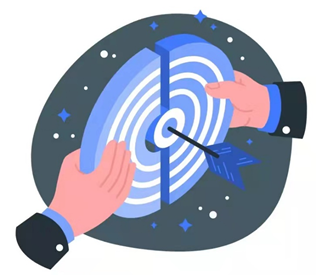 Business illustrations by Storyset
Mostcompanies now lack a transformation vision that can program digital strategies.After identifying the vision enables the business to measure progress and makeprocess optimization to improve outcomes. Therefore, management must create,articulate, and convey compelling digital visions. After all, digitaltransformation cannot happen bottom first.
Principle 2: Focus on establishing digital customerengagement
The core of the successful digitaltransformation is to improve customer intimacy and thus promote customerengagement. The method of digital customer engagement is different fromtraditional marketing programs.
They have three characteristics:
Digital technology builds on the front-end customer experience, unlike marketing campaigns in the past, it is more about back-end marketing automation and customer relationship management (CRM).
Technology and process cannot be purchased from the shelf as an integrated software package. Instead, a range of applications and emerging platform-tools create value by improving the customer experience through a digital ecosystem.
New Growth Opportunity —— is not by adding digital functionality for existing products, but by changing the market direction and considering how products and services adapt to digital customers.

Business illustrations by Storyset
Principle 3:Support the vision with a secure digital platform
KaiserPermanente has built a digital health platform that gives clinicians and its 9 millionmembers access to medical information in real-time. The digital platform allowscompanies to serve customers through mobile applications, self-managementservices, virtual consulting, and biometric consumer device data storage.
Traditional enterprise resourceplanning systems have been applied for more than 20 years, forming a model offixed structure, high cost and limited flexibility. When we use mobile devicesand tablets, little would consider the underlying infrastructure for thedigital experience. And over the past few years, the cloud has begun toliberate the application space to take control from a handful of dominanttraditional development vendors.
In this environment, digitalplatforms have become the mainstream innovation channel.These powerful digitalplatforms with open application interfaces (API), open datasets, servicecatalogues, integration frameworks, solution guides and collaboration toolsenable businesses to quickly create customer-based solutions usingenterprise-level information and services. Digital platforms have unlimitedtechnology partners that allow for the intelligent use of the cloud, big data,social media, smart "things," and mobile devices. Response responsiveorganizations are gradually implementing digital platforms that connect astable and predictable world of enterprise systems together with an agile,opportunistic vision of digital transformation. Digital platforms driveenterprise owners, partners and even consumers to quickly create nextgeneration solutions based on the market or customers.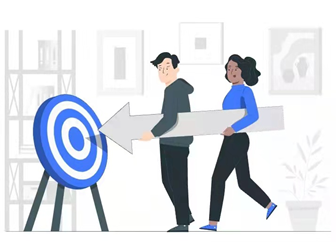 Business illustrations by Storyset
While digital platforms lead to arange of new, low-cost, dynamic solutions, they also open Pandora's box. Thedigital world has connectivity and open architecture, giving the IT sectorsignificant security and risk management solutions challenges, such as theslowness inherent in the backend IT conflicts with fast and agile digitalplatforms. These problems hiding behind indestructible firewalls are killers ofdigital innovation, and therefore these new risks must be adequately addressed.
Organizationsshould first prioritize relevant risks and second use tools to manage risks todetect intrusion and respond in real-time quickly. The secure interface ofdigital platform components is key to freeing existing IT assets and achievingdigital innovation and growth. While the security of assets and data iscritical, the right strategy will provide the speed, security, and growthtrends needed for today's digital economy.
Principle 4: Insight-driven by data-drivenvisualization
Active digital organizationsconstantly collect data and connect and visualize it, generating insights thatcan be acted on that data. The key to this step is understanding, analyzingcustomer roles as well as market segments.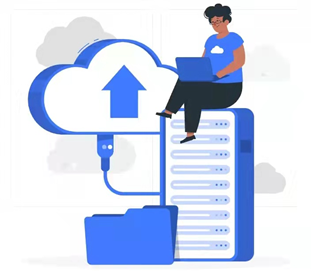 Business illustrations by Storyset
In the traditional model, companieshave a pretty strong sales trading database. However, these data often lack thedimensions necessary to create meaningful user portraits, predictors, andinsights.
Many organizations today are usingdata visualizations to communicate clear and effective information to usersthrough statistical graphics, graphs, information graphs, and dynamic tablesand graphs.Effective visualization helps users to analyze and infer the dataand evidence.Data visualization makes complex data more accessible, understood,and used.It accelerates the understanding and functionality of technology anddecision making by stakeholders and executors, reduces rework, and ultimatelyreduces application development costs.
Principle 5: Take advantage of digital agility
Managers often struggle to expandprojects due to changing market and customer conditions. The traditionalbusiness model features business functions and projects, with a 6-to 18-monthlife cycle as a separate, non-integrated platform. When the project iscompleted, market and customer needs have often changed with success criteria,while ROI is low.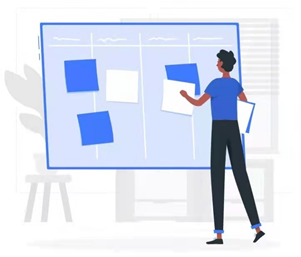 Business illustrations by Storyset
To avoid stepping into these pitfalls, companies must achieveadaptive differentiation by developing "agile digital advantages," enablingcompanies to turn market and operations into a routine through digitaltechnology. Embrace digital agility, which requires continuous experimentingand tuning —— learning, starting, re-learning, and restarting —— refinement andrefining methods in manageable iterations. In the digital age, successfulcompanies must perform —— in an agile way, including how they manage innovationand governance.
Digital Agile supports digitalinnovation, enabling companies to continuously improve their digital strategybased on previous results and project feedback. Best practice companiestypically assess their digital maturity across capabilities while exploringinnovative solutions to drive substantial growth in the business. The digitalinnovation framework is essential to successful transformational management.
What ZenTao Can Do For You
ZenTao is currently available in 4 versions: Open Source, Pro, Biz, and Cloud. From a free solution to optimized features that can be managed anytime and anywhere, every version comes with its own set of features that fit every requirement.
ZenTao is the only agile development solution that allows you to seamlessly manage all stages of your project, from product management and design to bug tracking, testing, and release planning – all in one place with real-time updates on progress for greater transparency between team members. So whether it's a small business or a Fortune 500 company, ZenTao has the solution for you.
Find out which ZenTao version is right for your team. Contact us to know more!
What's more