Repository (GIT SVN) and review
2016-06-17 10:22:47
azalea
987
Last edited by Yves on 2017-12-01 14:43:31
ZenTao Pro has a more comprehensive integration of Git and SVN, through which your can browse file directories in source code, check the amendant records, and compare files etc. on a web page.
1.Set repository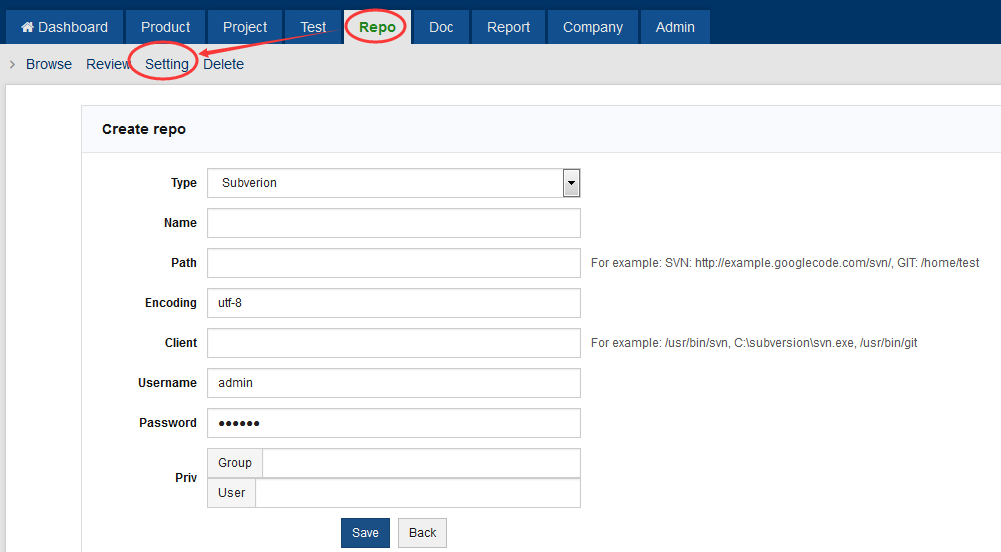 Name is the name of the repository in subversion.

Path is to access a subversion repository, such as http://zentaoms.goglecode.com/svn. This path does not have to be a root one. A sub path is ok too.

Encoding is Subversion repo encoding.

Client path. In Linux, it may be /usr/bin/svn. In Windows, you can download sliksvn which has been integrated in the one-click installation package( For GIT, use msysGit), and then specify the path of svn.exe.

(Tips 1. the client needs to be installed on the same server as ZenTao; 2. the path of the SVN should not contain spaces.

Username and password. If you do not need a user name and password, just ignore.

After clicking save, the system will be initialized and the record of the previous amendments is saved.
2.View subversion repo
You can view subversion repo after configuration.

3.View files for comparison

This feature can be purchased separately as extension and installed in the open source version.
Contact us to buy this extension at renee@cnezsoft.com