ZenTao ManualBook Info
1

Introduction

2

How to Install ZenTao

3

Upgrade ZenTao

4

Users and Groups

5

Simple Application

6

Basic Application

7

Advanced Application

8

Configuration

9

Custom Development

10

Other Relevant Issues
Add an User
2015-09-10 10:38:09
azalea
1835
Last edited by Yves on 2017-12-01 10:56:04
After organization structure is done, the next is to add users to your company.


1. Go to Company->Users

2. Click Add a User and then enter the page of adding users.

3. After adding users, you can link the users to a particular group.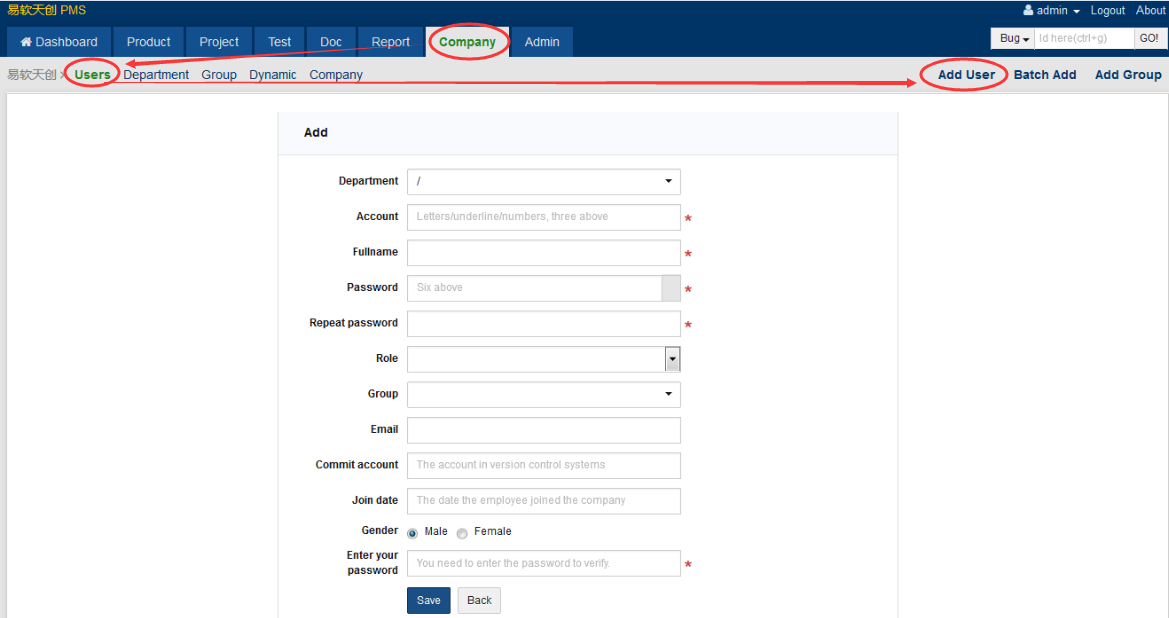 Notes
1. The field of Role has been added since ZenTao 4.0. You can choose corresponding Roles when adding users. Roles will affect the order of AssignTo list. For example, when you are creating bugs, users from Dev team will be automatically put up in the list by default. Roles will also affect the sequence of the content in Dashboard. For instance, when product managers log in, Dashboard will show "My Stories" first, while users from Dev team will see "My Tasks" first when login.
2. All the user privileges are assigned by groups. So after assigning the user with a specific role, it should also be linked to a group.
3. The user account used to submit source codes in subversion or other source code management system can be empty, if subversion is not on.